Dallas Cowboys: Final thoughts before Sunday's divisional battle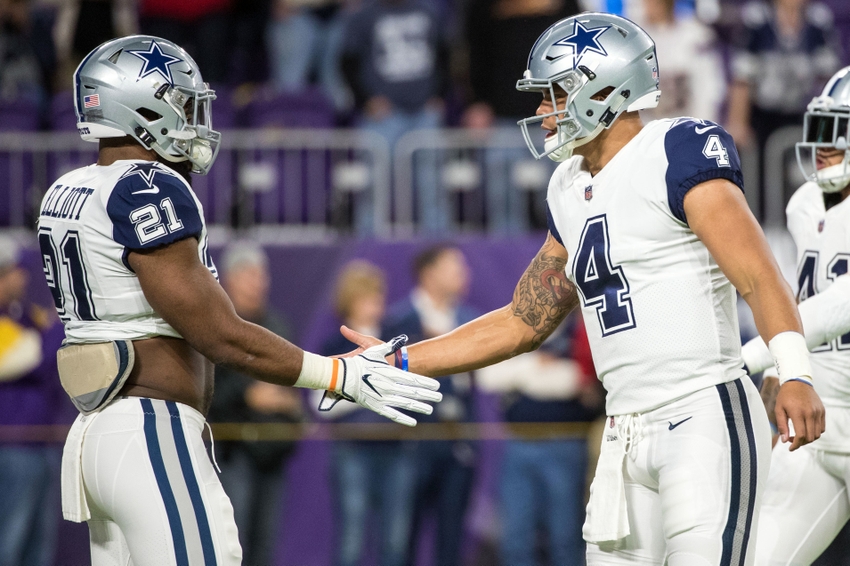 The Dallas Cowboys will square off with the New York Giants on Sunday Night Football. Here are some thoughts on this divisional battle prior to the game.
The Dallas Cowboys are about to square off with the New York Giants on what should be a cold, hard hitting, divisional matchup. The forecast has already predicted snow during the second half of the game as both fans and players must be ready for some brutally cold conditions.
The Cowboys are coming off of a big Thursday night game in Minnesota so they should be used to the cold by now. Dallas will be hoping to get revenge on the team that gave them their only blemish on their record.
Not only can the Cowboys defeat their NFC East rivals in their own stadium, they can solidify their hold on the division title on Sunday night.
There will be several big matchups in this game that should be watched throughout the contest.
Giants starting cornerback Janoris Jenkins should shadow Cowboys star wide receiver Dez Bryant throughout Sunday's contest. Bryant has been facing some of the best cornerbacks the NFL has to offer in recent weeks so he should be ready to take on Jenkins as the Giants attempt to quell his playmaking ability.
Jenkins has been a pretty productive defensive back for the Giants but their secondary will be hard pressed to stop the variety of weapons the Cowboys have on offense. Bryant was not targeted much in the Cowboys first meeting with New York however that was also the first time, starting quarterback Dak Prescott saw real NFL action.
Since then, Prescott has gained a ton of chemistry and experience with the Cowboys wide receiving corps especially with number 88.  Currently the Giants secondary is ranked 25th in pass yards allowed per game so Dez does have a favorable matchup this week.
This will be a new test for Jenkins as the Giants face a completely different Cowboys team.
#2 – Ezekiel Elliott versus the Giants defensive line
The Giants held the Cowboys rookie running back, Ezekiel Elliott to a very modest outing the first time these two rivals squared off.
Since then, Elliott has become an MVP candidate and is currently the NFL's leading rusher. The quiet outing versus the Gmen could have been the spark that Elliott needed to really shift into high gear.
Now the Cowboys star running back will have a chance for revenge as he goes up against banged up Giants defensive line. New York's sack leader for the last three games, defensive lineman Jason Pierre-Paul will miss this contest after undergoing sports hernia surgery and his season will likely come to an end.
New York defensive lineman, Johnathan Hankins will also be dealing with an injury however he is likely to play in this contest. The Giants will be a bit weaker on the left side of their defensive line in this matchup than they were in the first.
The Cowboys coaches should let Zeke run wild along the left side of the Giants defensive line as Dallas looks to control the clock in what should be cold, snowy, conditions.
Elliott should have a big day as he looks for revenge against the Giants defense.
#3 – Cowboys secondary challenges Odell Beckham Jr
All of the Cowboys cornerbacks will face New York Giants star wide receiver, Odell Beckham at some point.
OBJ will line up in multiple positions as the Giants try to get him favorable matchups when they attempt to convert a third down or make a play deep down the field.
Giants quarterback Eli Manning has struggled to get the ball to Beckham on plenty of occasions this season. The Cowboys defense are ranked fifth in the NFL in terms of defensive points allowed per game while the Giants are ranked eighth.
It appears if the Cowboys want to slow down OBJ then the Giants will be in relatively the same position to stop Bryant.
The Cowboys will still be without backup safety JJ Wilcox as he continues to recover from a thigh injury. They will also be missing breakout cornerback Morris Claiborne who will still be recovering from a thigh injury.
Dallas should be able to throw off the Giants passing attack as their defense continues to be tough on opposing offenses in the red zone. 
One of the key cogs of the Cowboys offensive line, left tackle Tyron Smith has been dealing with back issues all season.
However Smith will start in this game much like he has all season long.
He has struggled in the past against Olivier Vernon but there is a big difference in this matchup.
The Giants have a great run stopper in former New York Jet, Damon Harrison. However he is not a pass rusher.
The loss of JPP hits hard as this unit will now be missing one of their more dynamic pass rushers. Vernon will be relied on as the best pass rusher the Giants have left so expect him to see some double teams.
With Ezekiel Elliott becoming a fantastic pass blocker the Giants could have some trouble getting the same amount of pressure they have been able to generate all season long.
This offensive line will be the key to the Cowboys success on Sunday.
This article originally appeared on