Dallas Cowboys Fans: Be Thankful for Dak Prescott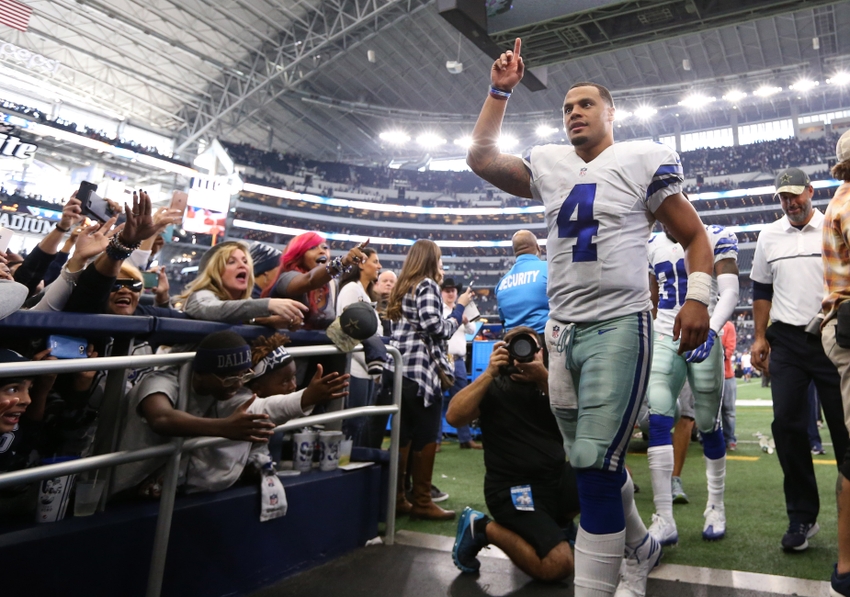 On a day we give thanks, it's important to appreciate what we're seeing out of the Dallas Cowboys quarterback position, and not repeat the same mistake.
Today while people all over the country are gathered around their tables and give thanks for their loved ones and their health, the Dallas Cowboys executives will gather in AT&T Stadium and give thanks for the blessing they received this past spring; namely rookie running back Ezekiel Elliott and rookie quarterback Dak Prescott.
While everybody in the league knew that pairing a top-five talent at running back with the best offensive line the NFL has to offer would result in big numbers; very few foresaw the season Prescott has enjoyed so far this season. And that is simply because of how rare it is.
Everybody knows the best place to look for a stud quarterback is the top of the draft. That's where the Peyton Manning's and the Cam Newton's come from. The story of Tom Brady being taken in the sixth round is rehashed every draft season.
Some teams have even had luck grabbing undrafted guys such as Kurt Warner and of course Tony Romo. However, there have not been many great signal-callers grabbed in the middle of the draft; rounds three through five.
From 2000 to 2015, there were 52 quarterbacks taken in between the third and the fifth rounds. Only 23 of those have started 10 or more games in their career. Of those 23, nine are still active, and only two are starters: Washington's Kirk Cousins (4th round, 2012) and Seattle's Russell Wilson (3rd round, 2012).
Cousins only had one start as a rookie, but comparing Wilson's first 10 games of his rookie season to Prescott's first 10 games gives Dak the edge in touchdowns (17 to 15), interceptions (2 to 8), yards (2640 to 1827), as well as pretty much every other key stat. Getting this kind of production out of a mid-round rookie quarterback is very rare, and it remarkable that we have seen it twice in 4 years.
While it's not fair to expect him to mirror Wilson, and it's certainly too early to expect him to follow in his footsteps and bring a Super Bowl home in his second year. But the Cowboys have something special in Prescott, and fans can take a look at Wilson to see what they potentially have.
It's obviously early, but Dak has outperformed Wilson statistically to this point in his career, and doing so with significantly more pressure than Wilson endured his first season. Prescott is taking over for the best quarterback in Cowboys history, the most scrutinized job in all of professional sports.
As Cowboys fans, we've been absolutely spoiled by great quarterback play. Dallas has sent two quarterbacks to the NFL Hall of Fame. The quarterback that Dak Prescott has taken the torch from, Tony Romo, holds every passing record the Cowboys have to offer. Yet for his decade plus career as our quarterback, Romo has been treated like a failure due to the team's failure to deliver a championship.
As the team makes the quarterback transition for the first time in a decade, let's not treat Dak the same way we treated Romo. When we finish giving thanks before our big meal today, and we sit down to watch the Cowboys try to extend their division lead, we're going to appreciate Dak Prescott's play; we need to put forth the effort to keep that feeling throughout what looks like a long, successful career.
This article originally appeared on