Dallas Cowboys: Ezekiel Elliott even better than advertised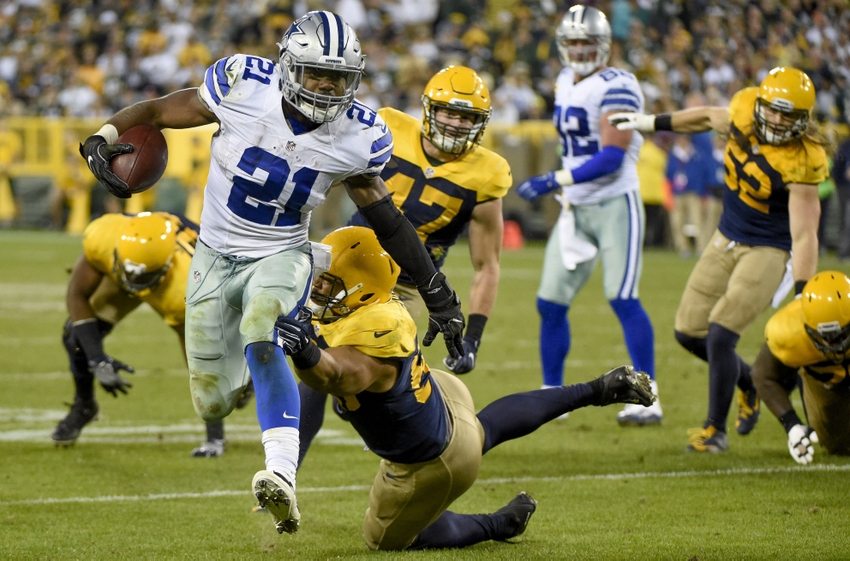 The Dallas Cowboys made a bold move in the 2016 NFL Draft, selecting Ezekiel Elliott over the draft's top defensive players. They made the right move…
Ezekiel Elliott is currently the best running back in the NFL. It seems ridiculous to say that, just six weeks into the NFL season, but it's true.
Elliott was not necessarily a surprise selection by the Dallas Cowboys near the top of the 2016 NFL Draft, but the Cowboys passed up on some of the draft's top defensive players to get him. It was a bold move for a team that had seemingly resurrected the career of Darren McFadden, and also made a move to get Alfre Morris away from division rival Washington.
At the end of the day, Elliott was too good of a talent to pass up, and the Cowboys are seeing the payoff early on…
Ezekiel Elliott Mid-Season Mix // NFL Leading Rusher @EzekielElliott pic.twitter.com/ZjG1PXeJuG

— tOSU Recruiting (@tOSURecruiting) October 10, 2016
Elliott runs with toughness. He runs with power. He has incredible vision. He has elite speed. He is more than just a running back — he's an elite playmaker. With the football in his hands, Elliott is capable of taking over a game. After a slow start (41 carries for 134 yards in two games), Elliott has not run for less than 134 yards over the course of the last four games.
He was unstoppable in the team's victory over the Green Bay Packers, rushing for 157 yards on 28 carries. Behind this vaunted Cowboys offensive line, Elliott has elite potential for the foreseeable future. We saw what he could do while at Ohio State, and he's already translating that to the NFL game in just his first two months in the league.
His personal success has been critical to the success of the Cowboys, who have only lost one game this season after a preseason injury to quarterback Tony Romo. Obviously, Dak Prescott has been phenomenal as well, but that's another story for a different article.
This tweet pretty well sums up what we have seen thus far from Elliott:
Ezekiel Elliott is even better than I thought he'd be. And I watched every game he played in college and picked him as OROY in August.

— Albert Breer (@AlbertBreer) October 16, 2016
I was often amazed at what I saw from Elliott at Ohio State. There were times when you just knew he was destined for NFL stardom, but somehow, it's been even better that we imagined.
More from NFL Mocks
This article originally appeared on