Dallas Cowboys' Dynamic Duo Stays on Top of NFL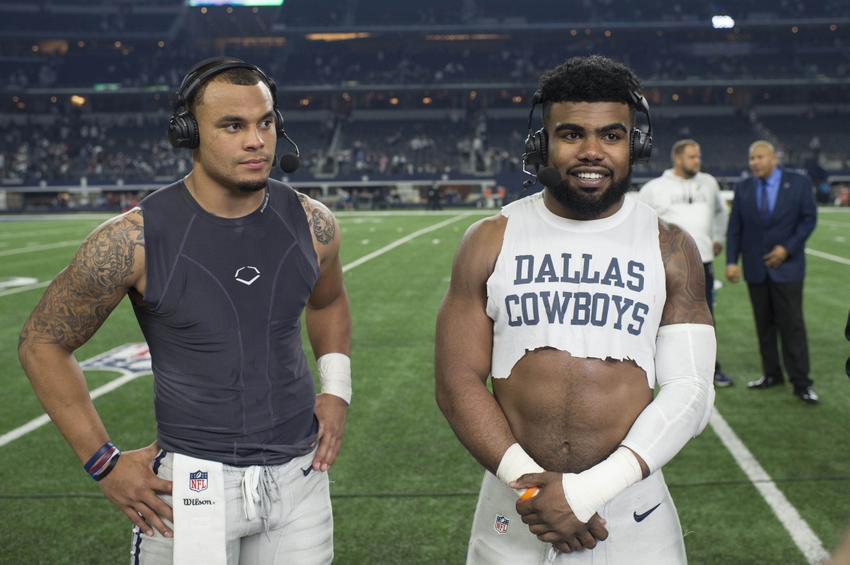 Here we are, 11 games into the season and the Dallas Cowboys' rookie dynamic duo is still at it.
Dynamic duo Ezekiel Elliott (RB) and Dak Prescott (QB) lifted the Dallas Cowboys to another win Thursday. This is win No. 10 as the two rookies have guided the team to for the 2017 season. The Cowboys are the first team in the NFL to win 10 games this year.
The world is waiting for the two rookies to make mistakes, hit the rookie wall or expose a fatal flaw. But they have kept mistakes to a minimum, they haven't been rattled and there is no rookie wall in sight. And that was on display on Thanksgiving Thursday.
Elliott, the 1st-round pick this year, rushed for 98 yards and two TDs on 20 carries. For the season, he has an even 1,200 yards and 11 TDs for a historical run for a rookie. He leads the NFL in rushing while seeing plenty of 8-man fronts and three Top-10 run defenses.
Prescott, amazingly picked in the fourth round, was steady with just 195 yards passing. But he was efficient and had a TD pass along with a TD rushing. He's having a historic rookie season with 18 TDs and just two INTs while facing one Top-10 pass defense.
The offensive line and receiver corpse definitely has a lot to do with it. But you have to give it to this rookie dynamic duo for getting the job done and then some. They are having a big impact on the Cowboys right now and as hey have the Cowboys on top of the NFL!
More from With the First Pick
This article originally appeared on