Dallas Cowboys dream situation vanishes in three plays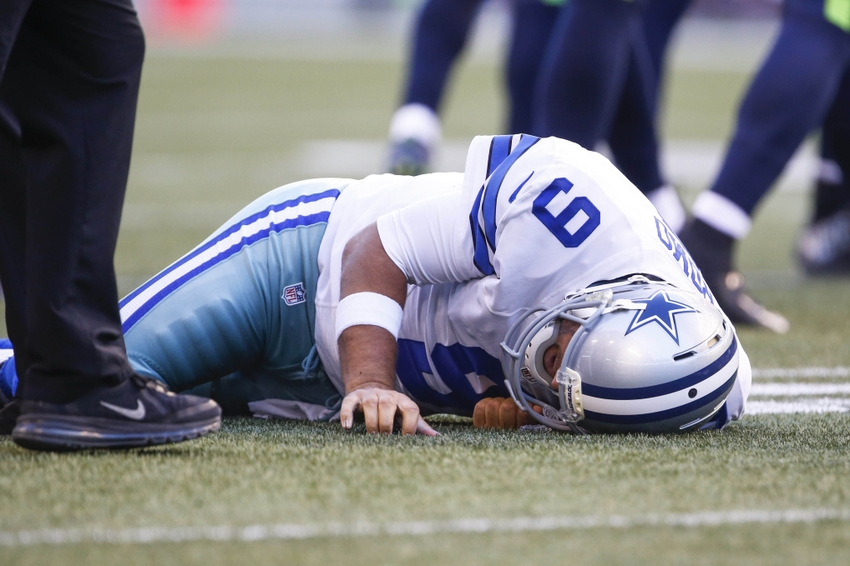 The Dallas Cowboys were on cloud nine a week ago with a promising rookie quarterback and an elite veteran to teach him. This all changed in three plays.
Just a week ago the Dallas Cowboys were on cloud nine after the promising start of the preseason for rookie quarterback Dak Prescott, and the thought of him being the backup to starter Tony Romo. Three plays into last weeks game against Seattle, now the Cowboys have a nightmare on their hands and a decision on Romo's future looms large in the not-so-distant future.
Oh, Tony. Cowboys Nation cannot begin to express their condolences for you after suffering another serious back injury. What was shaping up to be a very promising season for Romo after missing the majority of last season, took a huge hit three plays into the exhibition game against the Seattle Seahawks. It appears that Romo will miss substantial time – up to 10 weeks – and it is bringing up some questions about his future in the NFL.
Over the past five seasons Romo has suffered two broken collarbones, two back surgeries, a punctured lung, and two back fractures. At some point, Romo and his family will have to ask themselves if this punishment is still worth the risk. Romo has a family to think about when he's not on the field, and many fans can't help but think after this latest back injury – which could have been catastrophic had it been any worse – that the end is upon his career. Enough is enough, time to throw in the towel!
Back to the team aspect, just a week ago the team and fans were beaming with confidence after rookie quarterback Dak Prescott posted the highest preseason overall quarterback rating in more than two decades. Fans were asking themselves if the front office truly could have struck gold and found the heir apparent to Romo in the fourth round of the draft.
Things were looking great, and the future was looking even better, it was a dream come true. After all, there isn't a much better scenario than for Prescott to learn from one of the Cowboys all-time greats in Romo for a year or two. Oh, how quickly the sadness of reality can set in to a team who has a quarterback that has taken the beatings Romo has.
The once promising season to groom a young quarterback that looked to be the next big thing in Dallas has abruptly ended. That rookie quarterback has now been thrown into the spotlight and is the starting quarterback for America's Team. Most fans can't help but feel bad for Romo, but excitement for the sensational Prescott at the same time.
This has the feeling of Drew Bledsoe exiting to an injury and a young Tom Brady entering back for the New England Patriots all those years ago. I personally haven't seen a quarterback excite me with his play to the level Prescott has this preseason since Romo was a young-gun himself back in his second year.
I wrote earlier this month after backup quarterback Kellen Moore went down with injury that fans shouldn't expect too much out of a rookie quarterback, but sometimes certain players step up and shine when their number is called.
All Prescott has done is shine when his number has been called, and he appears to be the real deal. Whatever it is about Prescott, he has it. For Cowboys Nation this could be a much needed transition as Romo certainly can't continue to play at this level for much longer if he sustains many more injuries.
Football is the ultimate team sport, and as fans you never want to see a great guy like Tony Romo go down with serious injuries. As a person he deserves so much more credit than he gets, and as a player he deserves to be recognized as a Cowboys all-time great.
If this is it for Romo, hopefully the team can finish this season in storybook like fashion and win a ring for him. The future is bright with Prescott, and with a little luck – and guidance from Romo – maybe he will continue to shine with his number being called for the foreseeable future.
This article originally appeared on