Dallas Cowboys disrespected defense key to next victory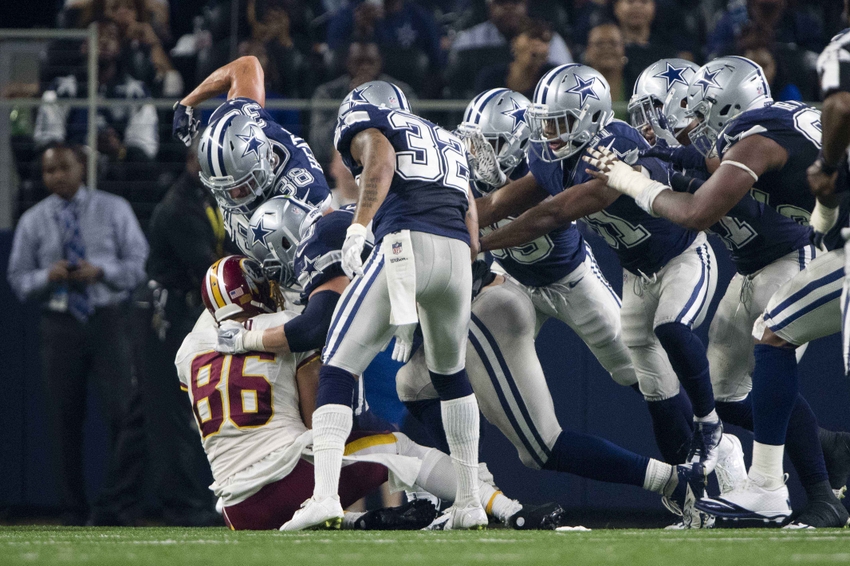 With the Dallas Cowboys defense questioned by the national media, Thursday's game is the perfect opportunity to make a statement and get another win.
The Dallas Cowboys are 10-1 with ten straight wins and one loss by just one point.  They lead their division two games over the New York Giants.  They have a 2.5 game lead over everyone's favorite Seattle Seahawks for the best record in the NFC.
The Cowboys have only been in danger once during this streak of taking a loss.  In that situation, all the Dallas Cowboys did was outscore their opponent 16-0 in the fourth quarter and overtime.
With all of that, this team is still being disrespected.  Especially this Dallas Cowboys defense.
Maybe you happened to catch ESPN's NFL Countdown on Sunday morning, maybe you did not.  During their obligatory discussion about the Cowboys, analyst Trent Dilfer took the opportunity to be the little black cloud over this amazing run.
Speaking on the defense, Dilfer said the following:
"Can [the Cowboys] win a Super Bowl?  Super Bowl teams play defense.  This team doesn't have to play defense," Dilfer said. "They're only on the field for 27 minutes a game but they're worst in the league at three and outs.  The worst.  Only 23% percent of the time do they get a three and out.  They are 24th in takeaways, 22nd in third downs (conversion percentage), 20th in red zone (opponent touchdown percentage).  All the areas that matter defensively to go the distance to win a championship, they stink at."
He went on to predict that Dallas will face a team in the postseason that will expose all these flaws.  Dilfer says Dallas might win one playoff game but won't do more than that because the defense lacks "critical intelligence."
The numbers that are being thrown about cannot be argued.  They are what they are.
I don't think you would find anyone in the locker room, on the coaching staff, in the front office or those who live and die by the results on the field that would say they are happy with those statistics.
The problem with this reasoning, however, is that it is cherry picking the negative to prove a point.
You see, for every negative number you want to point towards, I can find a positive statistic that makes this defense look good.
Guess who has the third best run defense in the NFL, giving up just over 80 yards per game?  Let's talk about the team that is tied for 5th in overall points per game, allowing just 19.4 per contest.  How about which team is in the top ten (at 2.8) for fewest defensive penalties per game?
All three are none other than the Dallas Cowboys.
No one in their right mind would tell you this defense is reminiscent of the '00 Ravens or '02 Buccaneers.  They don't need to be either.
What everyone seems to forget is that those historic defenses carried some pretty atrocious offenses.
The 2000 Ravens scored less than 17 points in nine games.  The 2002 Bucs were 18th in points per game, 24th in total yards and 27th in rushing.
The 2016 Dallas Cowboys are 4th in yards per game, 2nd in rushing and third in points per game.  It would not be the first time a high-powered offense has "carried" an average defense to the promised land.  All is not lost because these Cowboys are not the reincarnate of the Doomsday defenses of the 1970's.
Let's also not forget that this defense has been playing without some of their best players all year long.
Demarcus Lawrence, Orlando Scandrick, Morris Claiborne and Barry Church have all missed four games.  They have only played in one game together all season.  Randy Gregory has yet to play a single down.
There is still time for this defense to improve.  That needs to start this Thursday night when the Dallas Cowboys take on the Minnesota Vikings.
The Vikings are not what you would consider an offensive juggernaut.  They are dead last in the league in yards per game as well as rushing yards per game.  They are the 24th best passing team and are 24th in points per game too.
The Vikings also have one notable weakness.  Their offensive line.
In their five losses, the Vikings have allowed 16 sacks as opposed to just 10 sacks in their six wins.
Dallas needs to put pressure on Minnesota quarterback Sam Bradford.  He is not going to beat you deep.  This is evident by the fact that Bradford averages a league-low 5.9 air yards per attempt.
If ever there was a time for the Cowboys to get some swagger back defensively, this is the game.   If they need any bulletin board material, they can pin that Dilfer quote up in there defensive meeting room.
Whatever the motivation is, Thursday's game is the perfect opportunity to make a statement and collect another win.
This article originally appeared on