Dallas Cowboys: Dak Prescott pushing Tony Romo out of job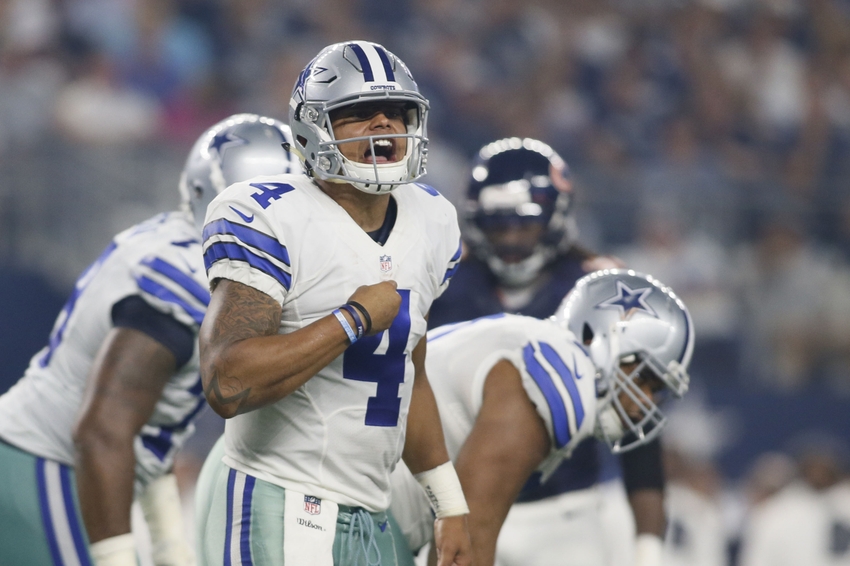 Dallas Cowboys rookie quarterback Dak Prescott is pushing Tony Romo out of a job. What has made him so successful so far in 2016?
Dallas Cowboys quarterback Dak Prescott is driving Tony Romo out of a job.
He may have already convinced the coaching staff in Dallas that he's the best option moving forward, regardless if Romo is able to come back this season or not.
Have we actually seen the last of Romo in Dallas?
I don't pose that question to cause an uproar. I also realize that it's incredibly early in Prescott's career, but this is an opinion that is shared by Terry Bradshaw, so it must be right…
"I would not put Dak Prescott on the bench, I would leave him the starter." — @terrybradshaw pic.twitter.com/InIxuLMg3E

— Herd w/Colin Cowherd (@TheHerd) September 30, 2016
This is a great situation for the Cowboys, one that they're not used to. Their success has typically been dependent upon whether or not Romo can stay healthy, and for the most part, that hasn't been the case. Prescott has been Pro Football Focus' fourth-best quarterback in the NFL this season, and it's incredible to even think about, considering how maligned he was in the pre-draft process.
His rapid development within this offense has provided Jason Garrett a luxury he's not known in his time as head coach of the Cowboys. He is now going to have the luxury of Tony Romo being the backup quarterback whenever he's healthy enough to do so.
This is also a luxury Romo has not had in his career with the Cowboys, at least in recent years. The competency of backup quarterbacks in Dallas has been laughable at best, and with the ability Prescott has shown, Romo can afford to take his time getting healthy and help the Cowboys down the home stretch of the season. Heck, they might just be competing for something, thanks to Prescott's emergence.
Prescott has been poised, accurate, and decisive. He's got an amazing feel for the game of football and that was evident in his college career at Mississippi State. It seemed like an impossible task for a fourth round pick to come in and take Tony Romo's job, but Prescott has done just that.
The future is here, and it's great news for the Cowboys and their fans. Romo has the chance now to be a supporting role player and while no injury is 'good', you certainly have been able to see the positive in it for the Cowboys. It has opened a door that won't get shut for the foreseeable future.
Prescott is here to stay, and his presence is going to allow the Cowboys real flexibility in a playoff run.
This article originally appeared on