Dallas Cowboys: Dak Prescott leads Cowboys to comeback win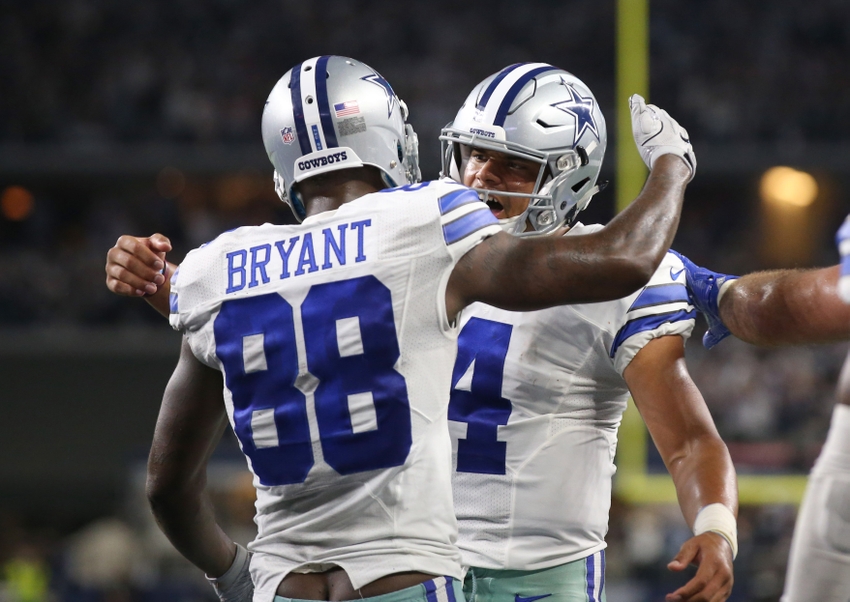 When the Dallas Cowboys needed it most, rookie QB Dak Prescott came through with big throws and led them to a comeback victory over the Eagles…
The Philadelphia Eagles were in cruise control most of their Sunday night game against the Dallas Cowboys, but Dak Prescott had other plans late in the game and the Cowboys forced (and won in) overtime.
Prescott was largely not good in this game, but started off the Cowboys' scoring with a rushing touchdown and had a 10-3 lead into the second quarter. The Eagles fired back with 17 unanswered points to take a 20-10 lead and each team traded field goals to put the Philadelphia lead at 23-13 in the fourth quarter.
After a Dan Bailey field goal cut the Philly lead to 23-16, Dallas got the ball back and had an 11-play, 90 yard drive capped off by this great play by Dez Bryant:
DEZ. BRYANT.@Dak finds #88 in the end zone to tie the game! #PHIvsDAL https://t.co/ATTABk7DiN

— NFL (@NFL) October 31, 2016
Bryant gave the Cowboys new life, and Dallas had another spectacular drive down the field in overtime. That drive ended with this:
Dak Prescott comes back to defeat the Eagles 29-23. The #DallasCowboys (6-1) have won 6 in a row. #PHIvsDAL https://t.co/xSgOaV9oDp

— Dylan (@DylansFreshTake) October 31, 2016
This game as a whole was dominated by the Eagles, but Dallas stuck around just long enough and made the necessary plays at the end to get a huge division victory. Dak Prescott didn't necessarily out-duel Carson Wentz in this game, though he made more plays down the stretch and vaulted his team to a two game lead in the division.
With Prescott's big fourth quarter/overtime, the Cowboys are faced with a tough decision of what to do when they get Tony Romo back. It feels like we've talked about it ad nauseam, but it's a legitimate question considering the fact that Prescott has proven capable of leading this team in trying moments.
When healthy, Romo is a very good quarterback. When he's not quite right, he can be the most erratic passer in the league. The Cowboys have the luxury of a nice division lead at this point. They have another luxury of a rookie quarterback playing well above expectation. Perhaps Romo will find his best role for this team is as a cheerleader and key reliever out of the 'bullpen'.
This was an impressive show of fortitude by the Cowboys, who probably should have lost this game.
This article originally appeared on