Dallas Cowboys can clinch a playoff spot this weekend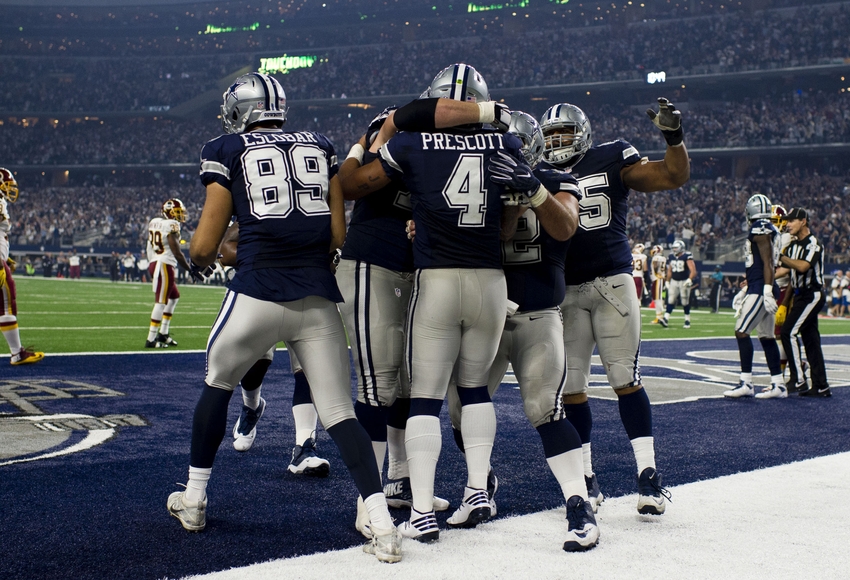 The Dallas Cowboys can clinch a playoff spot in the NFC this weekend if these scenarios take place in the NFL on Thursday and Sunday.
Fans of the Dallas Cowboys were on an all-time high following the team's success in 2014. Bolstering the league's leading rusher in running back DeMarco Murray, the Cowboys slashed through the regular season with a 12-4 record and were undefeated on the road. In the postseason, they got their first playoff win in five years and were one controversial catch and a win away from the Super Bowl.
So as anyone would expect, Cowboys fans had high expectations going into the 2015 NFL regular season. Unfortunately, America's Team would spiral downwards that year, with the loss of Murray to free agency and starting quarterback Tony Romo to two separate collarbone injuries. All hope was lost as Dallas posted a dismal 4-12 record.
But soon, the Cowboys would find redemption. And it would come in the form of two rookies: Running back Ezekiel Elliott and quarterback Dak Prescott. Despite Romo once again suffering from a major injury, this time in the preseason, Dallas found success without him.
Entering Week Thirteen of the 2016 regular season, the Cowboys now sit atop the NFL standings at 10-1. And they are scheduled to face the 6-5 Minnesota Vikings at home this Thursday night. Although the reeling Vikings have lost four of their last five contests, they also have an impressive record of 4-1 in their new arena, U.S. Bank Stadium.
But if the Cowboys can defeat the Vikings on Thursday, they might actually be able to clinch a playoff spot as well. According to the NFL's Director of Football Communications, Randall Liu, Dallas could be guaranteed a spot in the postseason with a win and a little help from either the Tampa Bay Buccaneers or the Washington Redskins.
According to Liu, a Cowboys victory over the Vikings play a loss or tie by the Bucs this weekend clinches an NFC playoff spot for Dallas. Same goes for a Dallas win and a loss by the Redskins.
6-5 Tampa Bay play at the 5-6 San Diego Chargers on Sunday. And 6-4-1 Washington will head to Arizona to face the 4-6-1 Cardinals. If the Cowboys can pull out a win over the Vikings on Thursday, Dallas fans may want to keep an eye out on these other two contests on Sunday.
If Dallas can go ahead and lock down a playoff spot this weekend, the only things the team will have to worry about for the rest of the year is obtaining home-field advantage and staying healthy. For fans of Dallas Cowboys, welcome back as we once again near the top of the rollercoaster ride. Let's hope it lasts longer this go around.
More from The Landry Hat
This article originally appeared on