Dallas Cowboys: 5 Takeaways From Win Over Packers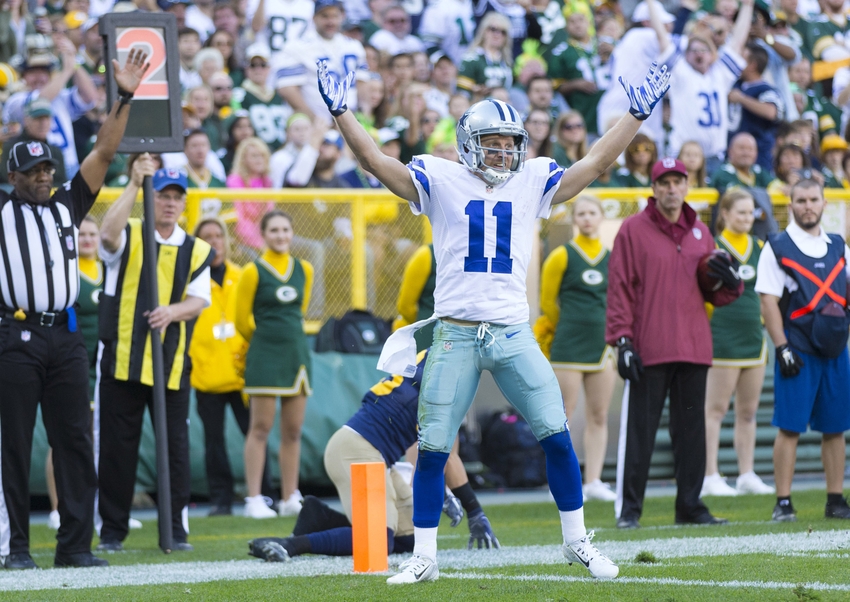 Five biggest takeaways from the Dallas Cowboys enormous victory over the Green Bay Packers in Week 6
The Dallas Cowboys surprised many by the way they defeated the Green Bay Packers, 30-16 on Sunday. The win moved them to 5-1 overall as they enter their bye week.
Dak Prescott, Ezekiel Elliott and the Dallas Cowboys are tied for the most wins in the NFL six weeks into the season. With that, they've become the talk of the NFL. In the win over the Packers, the Cowboys showed they are a team to be reckoned with.
Get this: the Cowboys moved to 5-1 without veteran quarterback Tony Romo and veteran running back Darren McFadden since the year began, not to mention being without wide receiver Dez Bryant for multiple games thus far.
The defense hasn't had starters Randy Gregory and Rolando McClain all season, either. Guess what, the defense is much better than expected too, keeping the Packers without a touchdown until the fourth quarter on Sunday.
Dallas held the Packers to just 16 points, including just the one touchdown, against a quarterback in Aaron Rodgers who continues to struggle this season. Part of that was due to his own play, and another part was the Cowboys defense did their job and made life a little rough for him through all four quarters.
Entering the bye week, the Cowboys have the second-most rushing yards per game (161.2) and the most rushing touchdowns with 11 through six games. They also have eight rushes of 20 or more yards this season. The offense of the Cowboys ranks third overall with 401.5 yards per game, averaging 6.1 yards per play.
A lot of that stayed level with the way the Cowboys played on Sunday. Still, here are five takeaways from the win over Green Bay at Lambeau Field.
5. Not Reaching for QB in Draft Paying Off
Who says you need to draft a quarterback in the first round to select a franchise quarterback? The Cowboys grabbed Tony Romo off the undrafted rookie free agent list in 2004. Since then, he's pretty much been the franchise quarterback.
With Romo having been injured and getting older, though, the Cowboys eventually drafted Dak Prescott in the fourth round of this year's draft. More injuries to Romo and Kellen Moore have left Prescott as the starter. That sequence of events led to this past Sunday where Prescott set the record for consecutive pass attempts without an interception to start a career at 177.
Prescott finished 18-of-27 for 247 yards with three touchdowns and one interception against Green Bay. Not only did he get to meet Brett Favre at halftime and set the aforementioned rookie record on Sunday, but he solidified his spot as the Cowboys starter until he proves otherwise—at least in my opinion and that of many others.
This game is just the icing on the cake that makes a tough decision easier. With how Prescott played on Sunday and how he's played so far this season, Prescott must be on the field with the offense. Too much good is happening for the offense to think otherwise.
4. David Irving Plays "Takeaway" with Packers Offense
Where has this David Irving been all season? During the preseason, Irving had two forced fumbles. But in the first five games of the season, he failed to record any. However, in the sixth game of the season, Irving was all over the Green Bay offense and forcing turnovers.
Irving finished with three forced fumbles at Lambeau Field. Needless to say, the 6-7, 273-pound defensive tackle had one heck of a day at work. The defensive tackle also recorded four combined tackles (three solo) and a sack.
As for those forced fumbles, those were the first three of his career. His sack on Sunday was the first solo sack of his NFL career, too. Last season as a rookie, he recorded a half sack.
There was also the pass defended too, making him a household name to many at least on Sunday with the Cowboys playing in front of a national audience in "America's Game of the Week."
Irving is in his second season with the Cowboys and, at least on Sunday, the 23-year-old sure didn't play like a second-year pro, but instead more like a seasoned veteran. Play like that from the interior line is always a much-needed thing for any defense, but especially with the Cowboys, as they are continuing to play above expectations right now.
3. Red Zone Play a Difference-Maker
The Cowboys were 50-percent (2-of-4) in the red zone on Sunday, while the Packers finished at 25-percent (1-of-4). Add that with the Cowboys being 66-percent in goal-to-go efficiency and the Packers being 0-for-1, and that is a big difference in the final outcome.
The Cowboys also kicked three field goals in the win, with Dan Bailey being 3-for-3. The Packers were 1-for-1 in their field goal attempts, making a difference of six points just on that stat alone.
Even for the season, the Cowboys' red zone play is excellent. They have scored points of any variety 65 percent of the time this season in the red zone. Compare that to last year, where they finished 44.4 percent in the same situation. Those numbers are very instrumental in the Cowboys being 5-1 this season after their first six games, not 2-4 after six games like in 2015.
According to teamrankings.com, the Cowboys are eighth in the league in red zone efficiency. That's a huge difference to the 44.4 percent they had last season, a number that left them 30th in league last season.
This past Sunday and this season as a whole, there is a good feeling that when this team reaches the red zone, they will leave with some type of points.
The slot receiver for the Cowboys, again, had a very solid performance on Sunday, finishing with a team-high six receptions for 58 yards and two touchdowns. Though he's not the flashiest player or the most popular, Beasley has become one of the best at what he does in the NFL this season.
Beasley was the second-leading receiver on Sunday for the Cowboys with his aforementioned 58 yards, and it isn't like he's a secret weapon anymore because he's been playing well all season.
For the season, the fifth-year player has 33 receptions for 390 yards with three touchdowns. He's just 19 receptions away from tying his season total from last year (52). Moreover, he's also close to surpassing his yardage numbers from the 2015 season, too (536).
Beasley is also catching nearly two more yards per reception this season at 11.8 (last year it was 10.3), and he's only two touchdowns away from tying his total from a year ago (5).
The wide receiver is doing this and had a heck of a game on Sunday without Dez Bryant being on the field for parts of this season. Even when Bryant returns, teams still won't make Beasley the top focus. Thus, he'll continue to reap the rewards of possible matchups that go to his favor.
1. Ezekiel Elliott Not Playing Like a Rookie
The No. 4 overall draft pick from April is doing his thing. Also, he's making many who weren't sure if he was worth a No. 4 pick (including myself) eat their words thus far this season. He didn't start out well his first two games, but since Week 3, he's not rushed for fewer than 130 yards in any game.
Having a streak of four-straight games of 130-plus rushing yards is unheard of, as he's the first to do so. On Sunday, he and his offensive line dominated the No. 1 run stopping defense (at least on the stat sheet) with a gem of a game.
Elliott totaled 157 yards on the ground on 28 attempts. His longest rush went for 29 yards at Lambeau Field. Elliott for the season has 137 carries with 703 yards. He's averaging 5.1 yards per carry and has rushed for five touchdowns. Watching Elliott with this offensive line that consists of Tyron Smith, Ronald Leary, Zack Martin, Travis Frederick and Doug Free has been quite a sight recently.
The rookie is catching some passes, too. He's totaled 11 receptions for 98 yards though the first six games. This upcoming bye week will be good for the rookie and his offensive line, as it will be very exciting to see if they can continue at this pace for the rest of the season.
This article originally appeared on