Dallas Cowboys 2017 Draft: Five Cornerback Prospects
Ronald Smith/FanSided via The Landry Hat

Fansided
The Dallas Cowboys have key free agents in a secondary that failed to generate turnovers. Here are five prospects that could potentially fill the void.
In case you missed last week's article the plan for the next few weeks is to take an in-depth look at prospects for the 2017 NFL Draft. Keeping things relative to the Dallas Cowboys, the intention is to focus initially on players that fit two criteria:
They play at a perceived position of need.
It is likely, at this point in the process, that we have a shot to draft them.
What does that mean? Well for one it means the first three articles (at least) will be on defensive players. It also means that players projected in the top ten wont be on the radar just yet. In order to maintain some consistency, the player rankings will always be according to the CBS rankings. I will use footage found at Draftbreakdown to assist in my analysis of the players.
Previous installments:
1. Dallas Cowboys 2017 NFL Draft: Five Defensive End Prospects – A blind man could see that the pass rush was in dire straits at times in the season. Hard not to think it would be a top priority.
This week's installment:
Considering the fact that the two players that started at cornerback for the Cowboys at the beginning of the season are both free agents I figure it should be high up on the list of needs. Even if re-signed Morris Claiborne, in particular, can't be trusted to stay healthy. Therefore this week's focus will be on corners and I have chosen the following five players to assess:
21. Marlon Humphrey, CB, Alabama
23. Sidney Jones, CB, Washington
35. Desmond King, CB, Iowa
39. Tre'Davious White, CB, LSU
40. Jourdan Lewis, CB, Michigan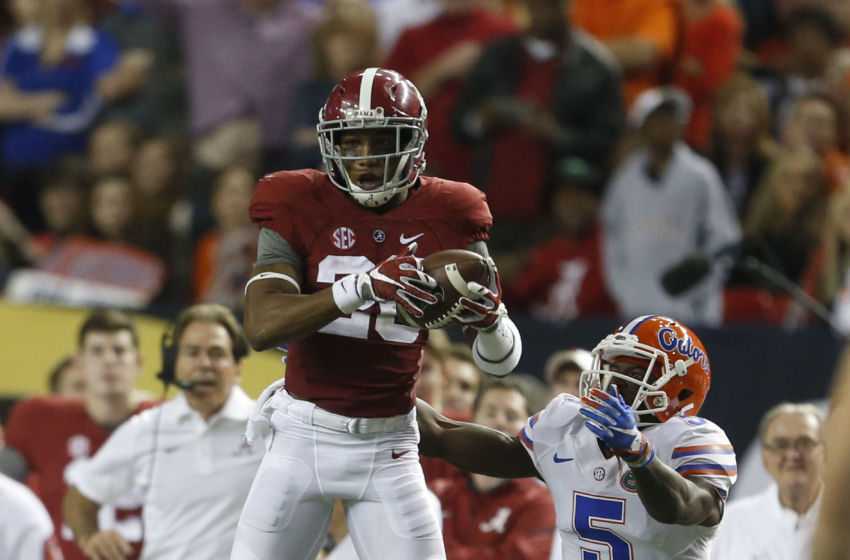 Marlon Humphrey, CB – Alabama
Strengths
The first thing that has to be mentioned about Alabama Crimson Tide corner back Marlon Humphrey is something that shows when his film is really studied, not something that jumps out to you when just watching a game. He spends time in the film room!
His next level awareness is evident on every snap and it is clear that he is a student of the game. Those are the players that reach their ceilings because they put in full effort on and off the field.
Speaking of ceilings, Humphrey's is a high one. Equipped with the size and athleticism to excel at the position, Humphrey is an absolute natural. His size comes along a pair of impressively long arms that he makes good use of. He is impressive using those long arms to bump wide receivers in press coverage.
Marlon is very adapt at making a play on the ball in-flight. He does a good job of tracking the ball and timing his jump as well. Cowboys fans would be excited to know that he has shown good hands, allowing him to come down with five interceptions in the two years that he played for the Crimson Tide.
As is the case with just about any player on the defensive side of Alabama's team, Humphrey is a very willing and able tackler. He doesn't shy away from contact; instead he seeks it out and looks to lay the boom when he arrives.
Weaknesses
He isn't bad at taking on blockers but could definitely stand to improve in this area. Also, as physical as he is in the run game he doesn't wrap up consistently. Like many of today's defensive players Humphrey gets lured into the glory of the kill shot which often times results in sacrificing technique.
The 'Bama corner doesn't excel in man coverage as much as he does in zone. He will hold his own in man to man but has the skill set to shine in zone coverage. He is also not as fluid in his transitions as the better slot corners in the game so don't expect him to cover the shifty guys on the inside.
Outlook for the Dallas Cowboys
If he is there at #28, I think it's an easy call because he has the makings to be a great one. His strengths also align well with what the Cowboys may be in the market for. Dallas plays a considerable amount of zone coverage which is Humphrey's strong suit. Cowboys defensive coordinator Rod Marinelli prefers corners that can come up and make tackles which is another strength of this prospect.
Marlon's set of physical skills (size and athleticism) coupled with his work ethic and drive to excel bode well for his future in the NFL. In all reality I fully expect Humphrey to be selected in the top 20, well out of the Cowboys reach. Considering the depth at the cornerback position in this draft, his talent, although intriguing, doesn't warrant a trade up.
Sidney Jones, CB – Washington
Strengths
Sidney Jones, from what I read and see, is a high character guy that really exemplifies what you would want in a teammate. He has a calm confidence that is needed for anyone that hopes to thrive out on an island. That confidence, however, doesn't translate into the constant chirping and showboating that is often seen with talented cornerbacks. He can also be seen communicating effectively with his fellow Huskie defenders while on the field.
Sidney plays with a fluidity that can't be taught. He appears naturally light on his feet and does a good job of keeping them moving. He shows good change of direction which suggest that his hips are loose enough to turn and run. These athletic traits are what aides him as he shadows receivers running their routes.
Jones plays bigger than his look predicts. Despite being thin he is actually quite long, listed at 6'0″, and has good reach to match. He has enough belief in himself to play without safety help and the smarts to back it up. His mixture of confidence and smarts makes him a calculated risk taker, often jumping routes with success.
MUST READ: Ranking every top-10 pick in Dallas Cowboys' history
Weaknesses
Now back to that thin frame. All too often the Huskie corner can be seen being bullied by bigger, stronger wide receivers. He lacks the ideal strength to be consistently dominant in press coverage. Although he has shown to be a pretty solid tackler his willingness to get involved in run support is somewhat inconsistent.
Outlook for the Dallas Cowboys
I believe Jones could be in the neighborhood of the Cowboys draft pick depending solely on draft needs of the teams ahead of us. If he is there at #28, I believe he has to at least be in the conversation. But I doubt Jones will be the highest rated player on the team's board if he is there.
Does Jones even fit? Well one thing is for sure, head coach Jason Garrett would love that he is a high character guy. However, with two free agent corners who aren't exactly all that physical I hope Marinelli stays away from the oft disinterested tackler. I think coach Rod made due with Cowboys cornerbacks Morris Claiborne and Brandon Carr simply because he inherited them. I doubt very much that he would want to draft a contact shy corner in Round 1.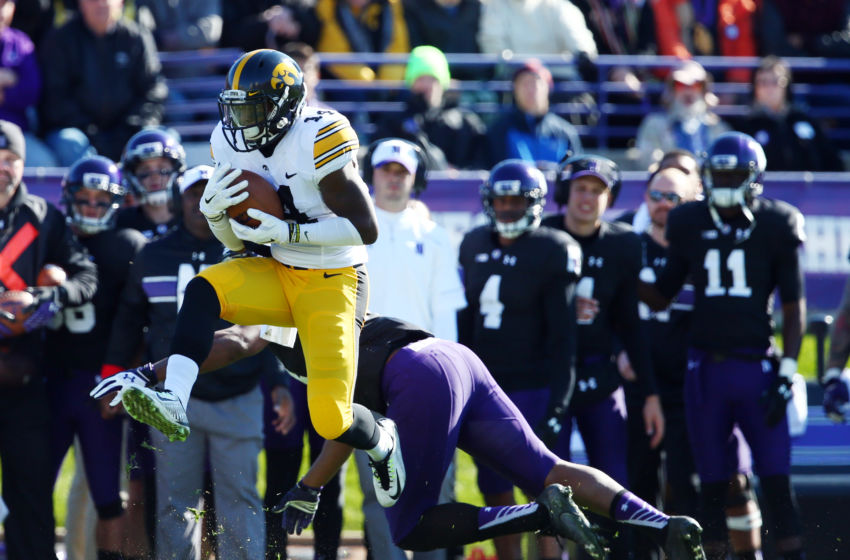 Desmond King, CB – Iowa
Strengths
The first thing about King that should stand out to any fan of America's Team is his 14-career interceptions. His tape backs up those numbers; he is a defensive back that tracks and attacks the ball in the air. The Iowa cornerback has good hands too, often high pointing the ball and snagging it with his hands.
Once King has the ball in his hands he has the athletic ability to not only make decent returns, but he can get to the end zone. He displays this same ability on special teams as a punt and kick returner, adding value to his stock.
The Iowa Hawkeye plays very well in zone due to his knack for reading the quarterback and breaking on the ball. King is very aware and confident when he can see the play in front of him. This awareness also allows him to be efficient as a nickel back in the slot when needed.
One of the more fundamentally sound tacklers in the draft; usually going for a sure wrap up tackle as opposed to the kill shot. King isn't afraid to mix it up with blockers and does a good job keeping contain on the edge.
Want your voice heard? Join the The Landry Hat team!
Weaknesses
He's not exactly a speedster and could probably struggle with make-up speed if he gets beat at the next level. He isn't as long as some of the other corners either so he could really struggle one on one against the better wide receivers in the NFL, which is why he should be in a zone scheme.
Outlook for the Dallas Cowboys
There is a lot of talk about whether or not he would make a better safety in the NFL. I for one think it would be wise, assuming he could add a little weight to his frame. He is a very sound tackler who is at his best with the play in front of him; textbook safety.
Projecting him is difficult because he probably slides some due to the questions about whether or not he is a corner in the league. Then on the other hand his return ability bodes well for him. Verdict? If he is there in the second round snag him and figure it out, he is a playmaker on the side of the ball that Dallas sorely lacks playmakers.
Tre'Davious White, DB – LSU
Strengths
Tre'Davious White has good length for the corner back position and long arms to boot. He uses his long arms very well in press coverage, jamming wide receivers and forcing them in the direction of his choosing. He also makes good use of that arm length to get his hands in the mix and break up a lot of passes.
White is one of the more agile corners in the 2017 draft. He is very light on his feet and he moves them effortlessly. His hips are very loose and he changes direction with smooth transitions. He also hits his highest gear quickly after turning. His resume is bolstered by the fact that he is also a very capable punt returner.
Weaknesses
The LSU corner doesn't appear as comfortable when he is not in press coverage for a couple reasons. White doesn't appear confident in his route reading and recognition ability, which affects his reaction time. Plus it appears as though he isn't very instinctual, which would also slow his response to a wide receiver. Considering White fields punts his interception numbers, relative to the amounts of passes he gets his hands on, are alarmingly low.
Tre'Davious isn't the most willing tackler either, and that may be putting it lightly. There are times were it seems that unless the ball carrier is in his face he would rather avoid getting in on the action. A term used often when discussing White is "finesse player".
Outlook for the Dallas Cowboys
I would bet money that White wont be taken in the first round, and he shouldn't be. Dallas shouldn't even consider him unless he falls to their third pick; there will be better value elsewhere in the first two rounds.
A defensive back that avoids getting physical and lacks turnover production isn't appealing. He will be solid in the right scheme, but will often be a liability I believe. Besides the Cowboys have suffered enough with secondary players that can't tackle or catch.
Jourdan Lewis, CB – Michigan
Strengths
Jourdan Lewis of Michigan has incredibly good footwork that enables him to stay with wide receivers step for step. When it is time to turn and run he gets his hips around and explodes, getting to full speed in the blink of an eye.
His ability to mirror a receiver's route is aided by the fact that he has terrific route recognition. That recognition helps him to play very instinctual as opposed to reactive. He seems as though he puts in a considerable amount of time in the film room which is always a plus.
Weaknesses
Lewis is one of the corners in this draft that has the ability to excel in the slot. Problem is I don't believe he will be much of an asset on the outside. He has the speed to keep up with most wide outs, but he isn't big enough or strong enough to go against the better outside receivers in the NFL.
Tackling is also not Lewis' favorite past time. He avoids any real contact every chance he gets. He shows a preference for going low and dragging ball carriers down by the ankles. I am afraid to think of what the strong wide outs in the NFL will do to him, let alone a running back coming around the edge.
Outlook for the Dallas Cowboys
Not in the first. Not in the second. The third? It's the earliest I would pause and think about it, but I would still pass. Lewis has the makings of a very good slot corner, but if the Cowboys haven't selected a cornerback by the third round I would hope they would be looking for an outside corner (assuming Carr and/or Claiborne aren't re-signed). Of course, if Dallas takes a corner in either of the first two rounds, there is no reason to even consider Lewis in the third.
This article originally appeared on