Dak Prescott Throws First Career Touchdown Pass (Video)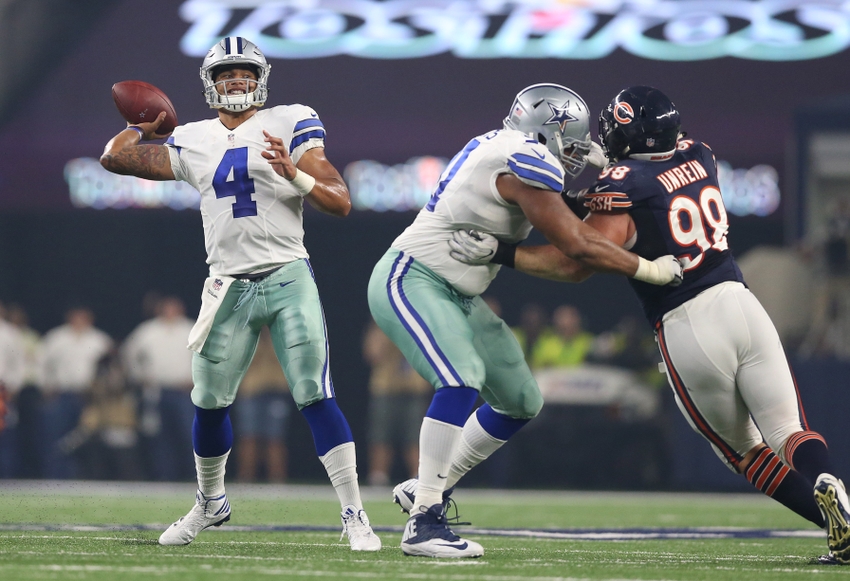 Dallas Cowboys rookie Dak Prescott threw his first career touchdown pass in the fourth quarter on Sunday night in Week 3 against the Chicago Bears.
It finally happened Dallas Cowboys fans; rookie quarterback Dak Prescott threw his first NFL touchdown pass. Fans may have had to wait until the fourth quarter on Sunday Night Football against the Chicago Bears. However, it was a big one as the touchdown put the Cowboys ahead at AT&T Stadium by a 31-10 score.
Here is the touchdown pass to Dez Bryant that went a total of 17 yards. Bryant went over the middle and broke away from a defender for the score. At the time of the touchdown throw Prescott had 248 yards passing, as it was his 19th completion of the game.
.@15_DakP's first career TD pass?!

A strike to @DezBryant! 👏 #CHIvsDAL https://t.co/suINJbClCX

— NFL (@NFL) September 26, 2016
This was really good to see finally occur for Prescott. Though he made a few miscues on some high throws at times on Sunday night, he's really staying poised and collected in the pocket when making throws, including the touchdown.
It has be great to see Prescott develop in front of the football world thus far through the first three weeks. He's out-playing expectations had for him when selected on Day 3 of the NFL Draft.
It helped on Sunday he faced the Bears defense, but he's showing improvement from week-to-week. That's what the Cowboys need to keeping happening to stay in the race for the NFC East title, especially with the Philadelphia Eagles rookie quarterback Carson Wentz playing at a high level too.
This article originally appeared on