Dak Prescott Stiff-Arm Freezes Donte Whitner (Video)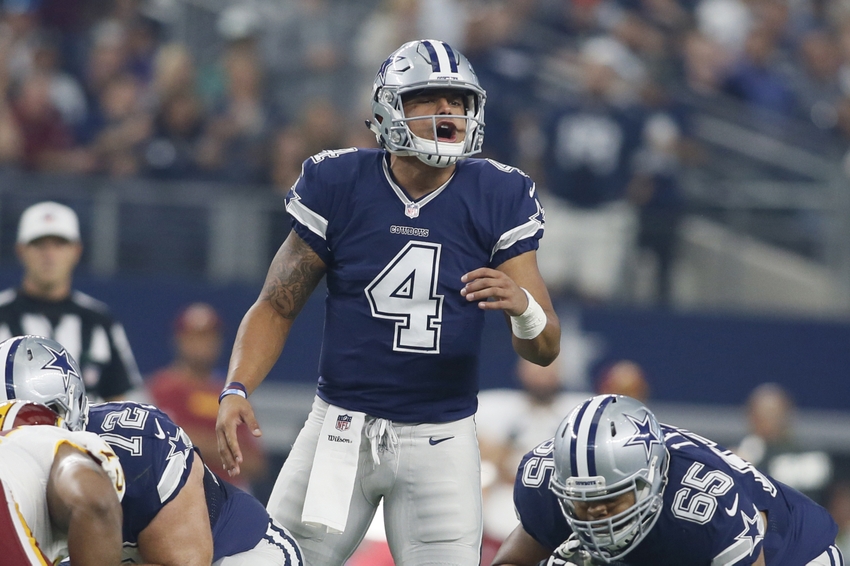 Dallas Cowboys quarterback Dak Prescott has made plenty of plays with his arm, but he can also hit the highlight reel when he decides to take off running.
Ezekiel Elliott will run away with the Rookie of the Year award, but Dallas Cowboys quarterback Dak Prescott has also been indispensable to the success of the 9-1 Cowboys. In Thursday's Thanksgiving Day game, Prescott kept making important plays,
That include a beautiful, vicious stiff-arm of veteran Washington Redskins safety Donte Whitner.
Whitner used to be one of the best strong safeties in the NFL, but he looks like a shell of his former self in Washington, providing the Cleveland Browns vindication for releasing the area native. On this play, Prescott put Whitner on a poster shoving him aside before going out of bounds.
That stiff-arm capped what was an 18-yard run by the former Mississippi State legend, and Prescott finished off the drive with a killer ten-yard touchdown pass to No. 3 wideout Terrance Williams. It was Prescott's first touchdown of the ballgame, because the Cowboys first score was a touchdown run by none other than Elliott.
Prescott came into the Redskins game with 33 rushing attempts for 141 yards (4.3 yards per carry), but his best rushing stat is the fact that he's produced four touchdowns on the ground. Following his touchdown pass to Williams, Prescott had accounted for 22 total touchdowns on the season, which is excellent in contrast to just two interceptions and three fumbles lost.
The touchdown from Prescott gave the Cowboys a commanding 17-3 lead over a Redskins team that found it difficult to nail field goals. However, Washington hit one just before the half to make it 17-6.
This article originally appeared on