Dak Prescott Hits Dez Bryant for Cowboys Go-Ahead Touchdown (Video)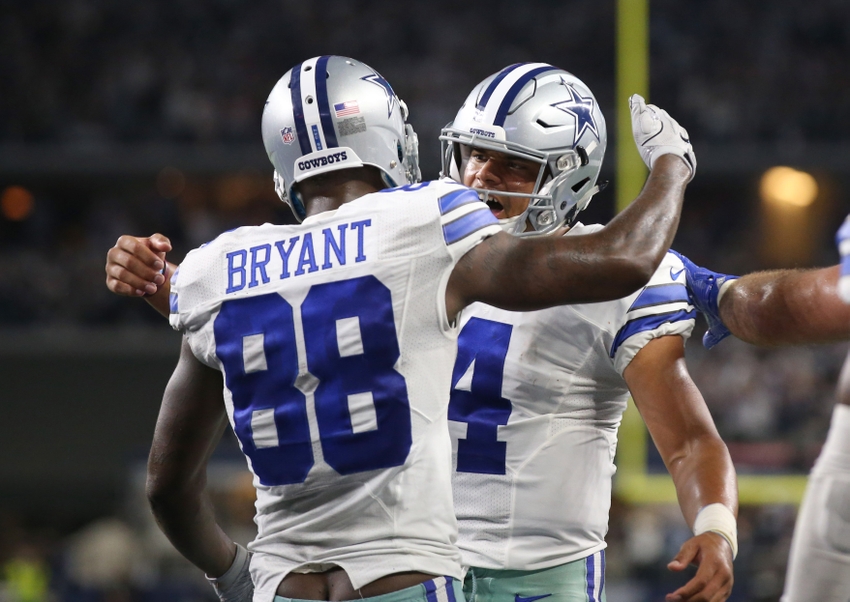 The Dallas Cowboys took a late third-quarter lead over the Pittsburgh Steelers thanks to a long Dez Bryant touchdown on a dime dropped by Dak Prescott.
Momentum had been swinging every which way between the Dallas Cowboys and Pittsburgh Steelers throughout leading up to the end of the third quarter. Time and gain, though, the visiting Cowboys never seemed to break when on defense. Subsequently, Pittsburgh kept settling for field goals and Dallas remained in the game. Late in the third quarter, that set the stage for a big play from Dez Bryant and Dak Prescott.
Bryant had come up with some nice catches throughout the three frames up to that point, but hadn't yet been able to break off a huge chunk of yardage. Lined up wide on the left side and matched up with Steelers rookie Artie Burns, though, Bryant saw his opportunity and went for it.
There was surely some jostling between the receiver and defensive back the entire way down the field. However, Dez was able to use his superior size and physical attributes to create space over the top. His rookie quarterback, Prescott, was then able to drop an absolute dime right into the hands of the veteran receiver. Bryant bobbled it for a second, but was able to haul it in for the massive 50-yard touchdown:
.@DAK. DEZ.

50-yard @DallasCowboys TD!!! #DALvsPIT https://t.co/R9lDN23lDU

— NFL (@NFL) November 13, 2016
Of all of the great things that we've seen from Prescott throughout his rookie season, Bryant's early injuries have limited their potential connection. However, they're clearly developing a rapport and it's budding before our eyes. Considering how talented both players are and how lethal that connection could potentially be, this touchdown against the Steelers might just be a preview of things to come.
Dallas converted on the extra point to go ahead 23-18 over the home Steelers.
This article originally appeared on