Dak Prescott Helps Give Eagles Lead with Costly Interception (Video)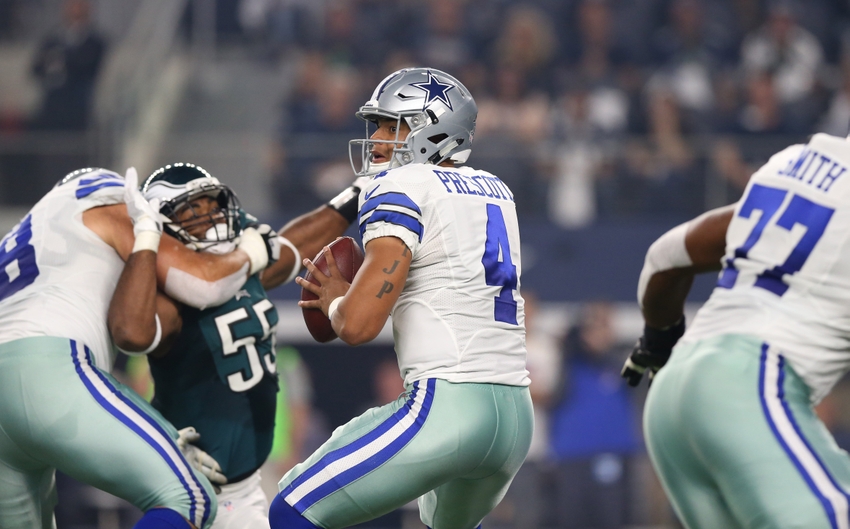 Dallas Cowboys quarterback Dak Prescott had a costly interception, which allowed the Philadelphia Eagles to take the lead before halftime.
A big part of the buildup between the Dallas Cowboys and Philadelphia Eagles game is the battle between rookie quarterbacks Dak Prescott and Carson Wentz.
Wentz has been spectacular this season, leading his Eagles to a 4-2 record. His play has been everything the Eagles have needed and then some. After they traded Sam Bradford, the thought was that Philly wouldn't be good in 2016. However, its's been the exact opposite and that is because Wentz has played like a veteran.
Prescott has also played like a veteran as he has filled in for Cowboys starting quarterback Tony Romo. His best asset for his team has been his ability to take care of the football. But on Sunday Night Football, Prescott showed his rookie colors right at the end of the first half.
From the beginning, the play call seemed wrong. Cowboys rookie running back Ezekiel Elliott had been crushing the Eagles, but Dallas decided to throw the ball with 1:35 left before the half. Prescott made a terrible read, throwing the ball right to Eagles linebacker Jordan Hicks. Rookies will make mistakes and this was just a lesson for Prescott. He should have never thrown the ball to begin with and, if Hicks didn't pick it, Eagles defensive back Jalen Mills could have also ruined the Cowboys drive.
With the game tied 10-10 at that point, this was a costly pick. The Cowboys could have gone into the half leading. Instead, Wentz drove his team down the field with some solid throws. He got his team in field goal range and the Eagles kicker Caleb Sturgis made Prescott pay.
Sturgis knocked down a 55-yard field goal to give the Eagles a 13-10 lead heading into half.
This article originally appeared on