Dak Prescott having similar rookie season as Ben Roethlisberger did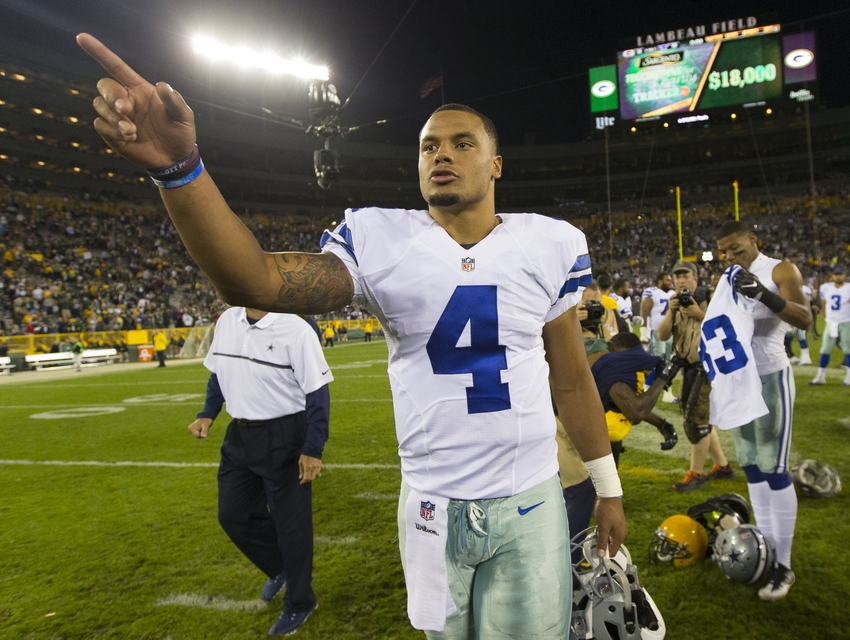 As the Pittsburgh Steelers prepare to play the Dallas Cowboys this Sunday, Steelers' star quarterback Ben Roethlisberger sees similarities between Cowboys Dak Prescott and his rookie season.
Riding a seven-game winning streak into Pittsburgh this Sunday to face a 4-4 Steelers' squad, many contribute the Dallas Cowboys success to the rookie starting under center. Thrust into action due to a back injury suffered by starting quarterback Tony Romo during the preseason, fourth round rookie quarterback Dak Prescott has been a revelation for the Cowboys.
Through the first eight weeks of the 2016 regular season, Prescott has thrown for 2,020 yards, 12 touchdowns and only two interceptions. Dak has also ran for more four scores. More important than his personal stats is the fact the 23-year old has been able to lead the Cowboys to a 7-1 record.
It has been very similar to the rookie season Steelers' veteran quarterback Ben Roethlisberger had back in 2004. The 11th overall pick in the draft replaced an injured Tommy Maddox in Week Three that year and would go on to lead his team to a 13-0 record in the regular season as the starter.
Cowboy fans will remember the Week Six loss to Pittsburgh that season, where a young Roethlisberger completed 21 of his 25 passes for 193 yards and two touchdowns. Despite Dallas leading through most of the second half of that contest, the Steelers' came back to win 24-20 on a two-yard touchdown run by running back Jerome Bettis with only 30 seconds left in the game.
Preparing for this Sunday's matchup against the Cowboys, the now 34-year old Roethlisberger, who is going into his 13th season in the NFL, sees the similarity between himself and Dallas' rookie sensation Prescott.
"[Prescott's] been awesome. Very similar to what I had, he's got a great running game, good defense, he's not just managing games, he's taking games over. He's doing some pretty awesome stuff. It's fun to watch," Roethlisberger told ESPN's Brian Franey. "…when you're just kind of rolling and you're not losing games, it's really hard to kind of change that position especially .Take nothing away from Tony. He's been doing it at a high level. When you're winning football games, it's really hard to replace that one spot."
As a rookie in 2004, Roethlisberger would lead the Steelers all the way to the AFC Championship game before losing to the eventual Super Bowl champions, the New England Patriots. The following season, Big Ben became the youngest quarterback to win a Super Bowl at the age of 23. Cowboys fans can only hope Prescott, who is currently 23-years old himself, can have similar success in Dallas.
This article originally appeared on