Dak Prescott Does It Himself With Speedy Touchdown (Video)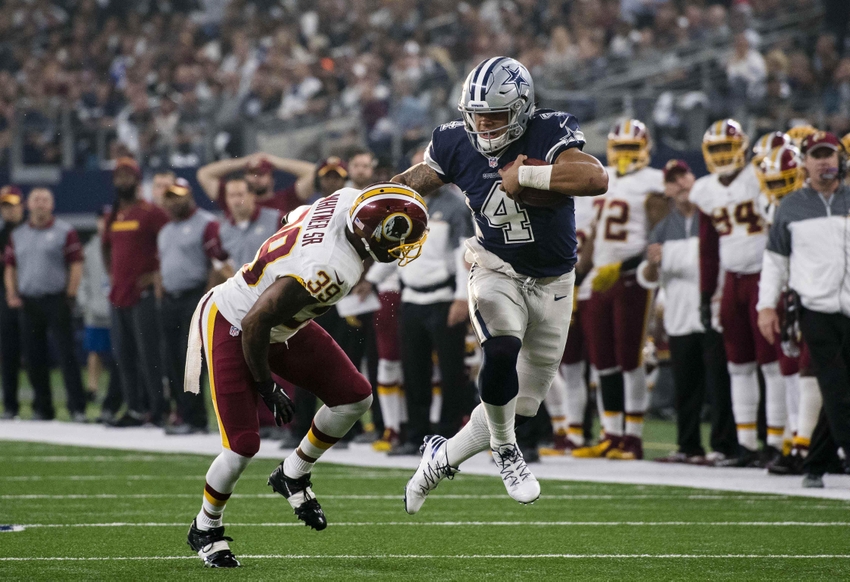 Dallas Cowboys quarterback Dak Prescott was on fire against the Washington Redskins on Thanksgiving Day, adding his fifth rushing touchdown of the year.
There's no doubt that Dak Prescott is one of the best players in the league right now and he came into today's game with 17 passing touchdowns and just two interceptions. Prescott knows how to spread the ball around among a variety of targets, he knows how to stay poised in the pocket and create plays when he needs to.
His touchdown run against the Washington Redskins was an example of his ability to create, and the Dallas Cowboys made it a 24-12 game with his six-yard rushing score.
Prescott ran the play-action and he saw that Redskins underrated strong safety Duke Ihenacho had star tight end Jason Witten covered perfectly. So instead of throwing the ball away, Prescott faked the throw and then ran to the edge, making like his teammate Ezekiel Elliott.
There was no doubt that Prescott would be able to blow by Redskins star edge defender Preston Smith for the score and the touchdown capped off a 75-yard drive by the Cowboys.
Dallas has done a great job of building long drives this season, and this one was no exception. Prescott had 34 yards on five carries after that touchdown to go along with his 14-of-20 passing day at the time. The Rookie of the Year candidate also tossed an excellent touchdown pass to Terrance Williams, giving him 23 touchdowns on the season.
Making plays is against the Redskins is important, because Kirk Cousins has been busy piling up the points in recent weeks and continued throwing like wild on Thursday.
This article originally appeared on