Creating Pressure On Alex Smith Key For Buccaneers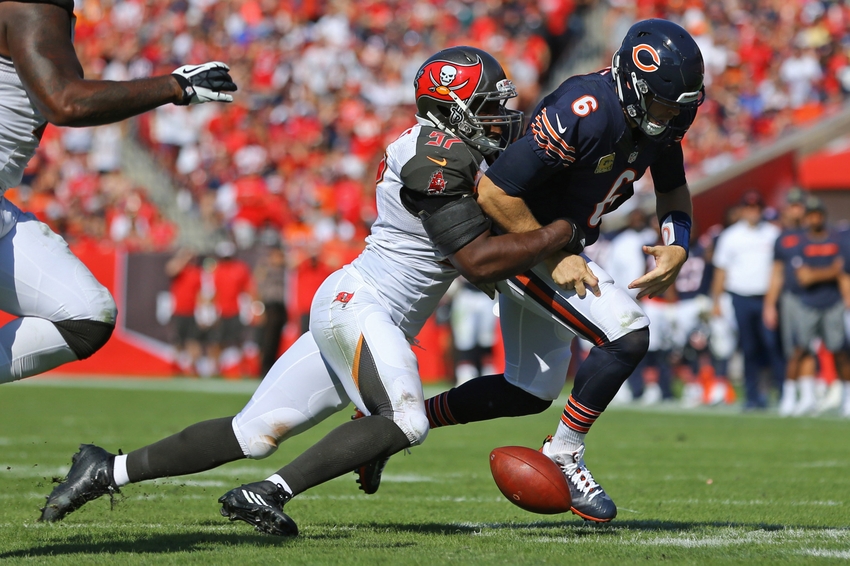 When you get pressure on a quarterback the way the Buccaneers did on Jay Cutler, good things happen. In order to beat the Chiefs, getting that kind of pressure from the front seven will again be key.
The Kansas City Chiefs don't make mistakes. Andy Reid teams usually don't as he is able to instill fundamentally sound basics into his teams, creating an environment where mistakes are far and few between. The Buccaneers, who have a plus-nine turnover differential since week five – second in the NFL – found themselves forcing four turnovers against the Bears, three of which by quarterback Jay Cutler.
With a healthy Gerald McCoy, Clinton McDonald, and Robert Ayers in addition to a constantly evolving Noah Spence, the defensive line is becoming the force many of us believed it was going to be at the start of the season. In order for the Bucs to have even the slightest chance to upset a very impressive Chiefs team in Kansas City, that front line has to get pressure on Alex Smith and force him into mistakes.
Mike Smith, who was impressed with the defense's overall performance last Sunday, spoke witht he media about the importance – and ability – to generate pressure;
"I thought that when we ran four-man rushes, the guys did a nice job and we did a really good job there on the back end matching our coverages for the most part and it was very complementary. When we covered well, the quarterback had to hold the ball and had to move and when we got him on the move, we were able to either get him on the ground or we had a couple of turnovers in those situations. I do think that the guys had a much better understanding of what we were trying to get accomplished. Our communication was leaps and bounds better than what it's been in the previous games. So, we're starting to see some progress in that area."
This game is no easy task, by any stretch of the imagination. The Chiefs are one of the toughest teams in the NFL at home and are 7-2 in the most competitive division in football. Despite the appearance of game breakers or marquee names, they get the job done and get it done consistently. A Buccaneers' win would be one of the biggest upsets in football this season, but it all starts up front.
The front four, as well as the exotic blitz schemes Mike Smith threw in involving the linebackers and secondary, have to be in the face of Alex Smith all day long. They have to stuff Spencer Ware at the line of scrimmage, reminiscent of the run defense we witnessed early in the season.
More from The Pewter Plank
This article originally appeared on