Cowboys serve Redskins defeat for Thanksgiving, 31-26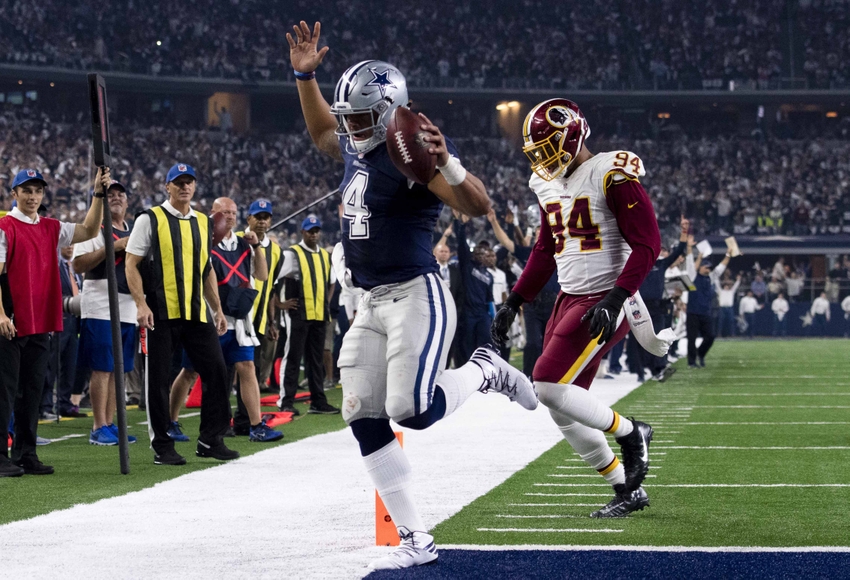 The Dallas Cowboys win their tenth straight game with a victory over the Washington Redskins on Thanksgiving Day, 31-26.
It is an annual tradition for America's Team to play on Thanksgiving Day. And winning has been a recent tradition for the Dallas Cowboys as they entered Thursday matchup riding a nine-game winning streak. And the Cowboys didn't disappoint their fans as they were able to outlast the surging Washington Redskins on Thursday afternoon, 31-26.
Despite allowing Redskins quarterback Kirk Cousins to throw for 449 yards and three touchdowns, the Cowboys offense was able to stay one step ahead of Washington the entire game. That was once again mainly due to the stellar play of two Dallas rookies.
Cowboys first-year quarterback Dak Prescott was once again outstanding under center, completing 17 of his 24 passes for 194 yards. Prescott also scored twice, once through the air and the other on the ground. It was also the rookie quarterback's fourth straight game without an interception.
Dallas rookie running back Ezekiel Elliott also had two touchdowns to go along with his 97 rushing yards on 20 carries. Cowboys wide receivers Dez Bryant and Cole Beasley both had five catches each. But it was wide out Terrance Williams that reeled in Dallas' lone receiving touchdown.
Defensively, the Cowboys struggled to contain Cousins and Washington's high-powered offense. Still, the "D" in "Big D" did just enough to allow their offense to stay ahead of the Redskins. Dallas linebacker Sean Lee led the team in tackles with a total of 14. Free safety Byron Jones and rookie cornerback Anthony Brown both finished the game with seven tackles each.
Although the Cowboys will celebrate their victory over a turkey dinner tonight, they'll have to be ready to play again by next Thursday as they are set to face the Minnesota Vikings at home. That matchup will be at the new U.S. Bank Stadium on December 1st, with kickoff scheduled for just after 7:25 p.m. CST.
This article originally appeared on