Three reasons Cowboys will beat Lions, continue playoff push
The Detroit Lions never have beaten a team with a winning record on the road with Matthew Stafford as their starting quarterback — 0-17 against teams above .500. Yes, this is true. Another note of intrigue is that only one of the Lions' 11 wins this season has come against a team that currently has a winning record.
So, do the Lions have much of a chance of defeating the Cowboys, one of the hottest teams in the NFL, in Dallas?
Probably not.
The Cowboys are on fire, as they've won their past four games by an average of more than 21 points. They're led by their offensive line, which paves the way for the NFL's top rusher, DeMarco Murray, who averaged 115.3 yards per game in 2014 (almost 20 yards more than his competition). Dez Bryant, who ranks eighth in the NFL with 1,320 receiving yards, and Tony Romo, who is leading the league in passer rating (113.2) and completion percentage (69.9), have flourished because of the Cowboys' success on the ground.
A Dallas victory is not a certainty, though; in the NFL playoffs we should expect the unexpected. Dallas' last playoff game was Jan. 17, 2010, when the 'Boys lost to the Minnesota Vikings, 34-3, in the NFC Divisional round. In fact, the Cowboys have won only one of their past eight playoff games, and Romo has struggled in big late-season games, too. But this Dallas team isn't about Romo.
Look for the Cowboys to handle business against the Lions on Wild-Card Weekend with one of the NFL's simplest, yet slaughtering, rushing attacks, an elite receiver playing for a new contract and an increasingly opportunistic defense. Here are those three factors in a little more detail.
Slaughtering made simple
Dallas' run game does not overwhelm defenses with complicated formations, shifts and motions; it's about as simple as it gets. I broke down a game earlier this season in which the Cowboys ran three plays (Zone, Stretch, and Bim-O) 95 percent of the time. They line up and simply dominate their one-on-one battles.
Detroit has the best rush defense in the NFL, allowing only 69.3 yards per game, but they aren't impenetrable. They gave up a season-high 152 yards and 4.0 yards per carry to the Packers last weekend. The run-stuffing Lions, led by defensive tackle Ndamukong Suh and linebacker DeAndre Levy, are a prideful group that will make Murray and Co. earn every yard. The Lions ranked second in the league in both yards and points allowed per game, and they'll be a profoundly formidable challenge for Murray and the Cowboys.
Let's look at an example of why the Cowboys have been so good on the ground and what the Lions are up against.
In the first photo, you'll see how the blocking schemes are drawn up for the lead stretch play of the Cowboys. Notice the Redskins have more defenders than the Cowboys can block to the play side of this formation — the "free hitter" or extra defender is circled in black.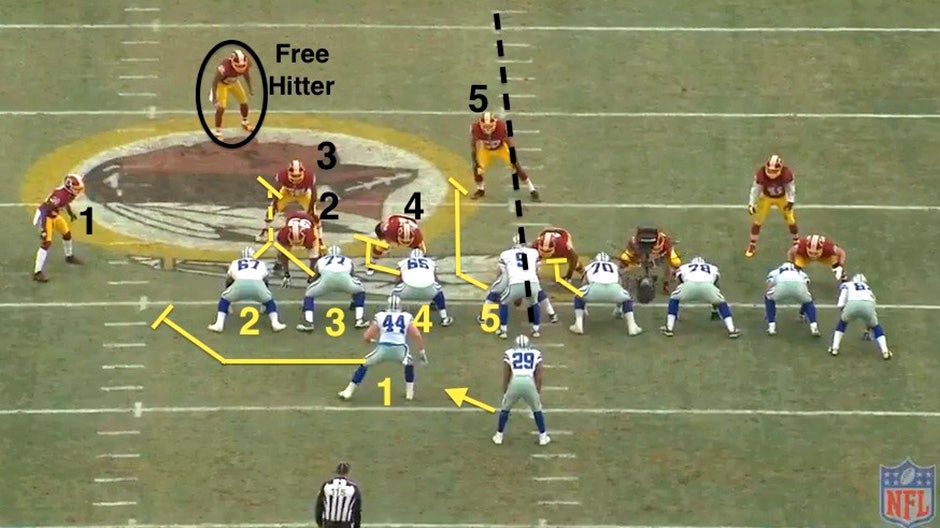 In the next photo you can see how each of the Cowboys' blockers are winning their one-on-one matchups, setting up a mano a mano confrontation between Murray and the safety.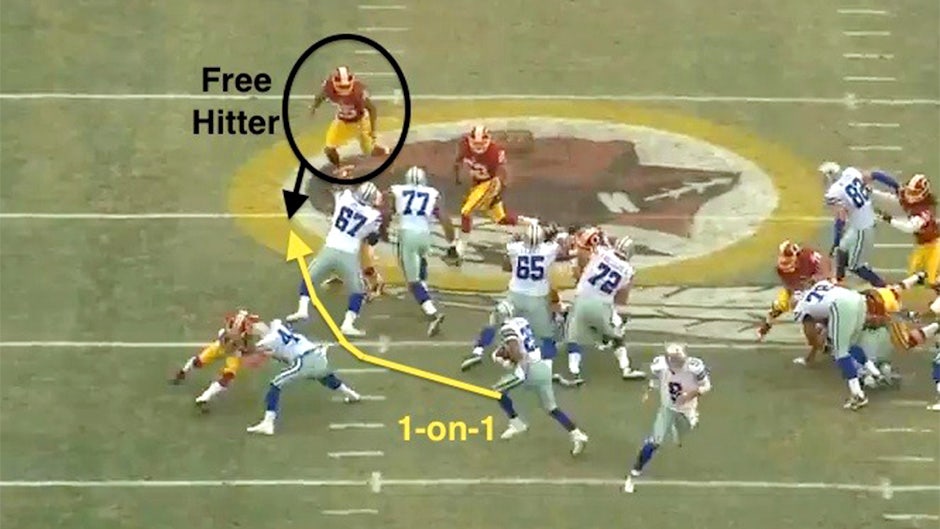 Finally, you can see that even when teams have Dallas outnumbered in the run game, Murray is good enough to make a man miss and make something out of what should have been nothing.
The Lions' only shot at slowing the Cowboys' run game will be if defenders can get off blocks and rally to the party, and their free hitters are able to win one-on-one confrontations with Murray by getting him on the ground.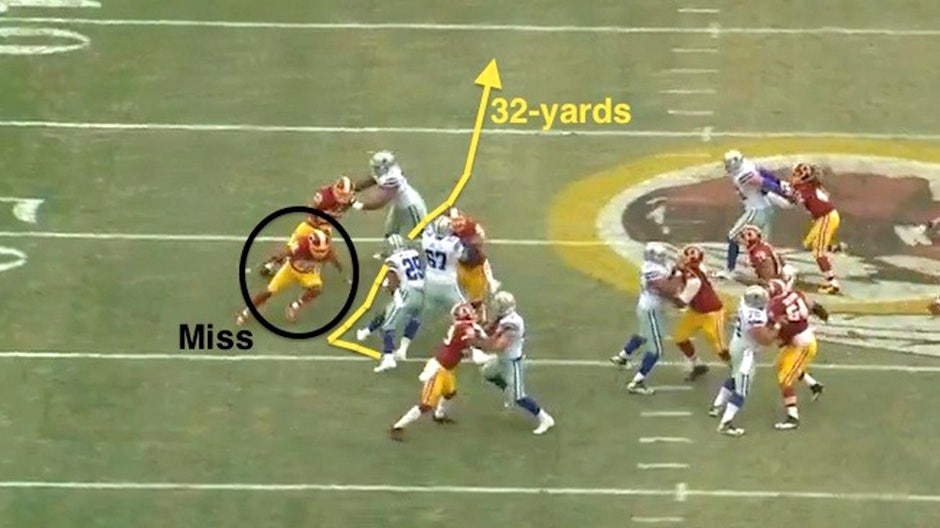 Dez will dominate Detroit
The Lions have allowed 2,239 yards after the catch (YAC) in 2014. Only the Oakland Raiders have allowed a higher percentage of YAC than Detroit (56 percent). What does that mean?
First of all, it means the Lions' stout run defense has come with a bit of consequence. When Detroit uses an extra defender in the box to stop the run, it puts their coverage players in one-on-one situations. Secondly, it means the Lions could be in trouble with Bryant aligned opposite them.
Bryant ranks seventh in the NFL with 886 YAC this season. He's been stepping up his game the past few weeks, snagging six touchdowns and 15 receptions for 286 yards in his past three games. He's also ranked seventh among all players (running backs included) with 212 yards after contact. It's as if his contract is up after the season or something. (*tongue firmly planted in cheek.*)
If the Lions sell out to stop the run (which they probably should), we'll likely see a lot of this:
Defense adds the dagger
Stafford was off his game last weekend, to say the least, as he completed only 48.7 percent of his passes against the Packers. He'll be on the road again this week where he has struggled all season. When playing away from the Lions' cage in Detroit in 2014, Stafford has completed only 54.1 percent of his passes for nine touchdowns, six interceptions and a 74.9 rating.
Stafford is going against a Dallas defense that was one of the most opportunistic defenses in December: They snagged seven interceptions in their past four games. Dallas has the best record (9-0) of any team in the NFL this season in games with a turnover margin of plus-1 or better.
Also, Dallas is 11-2 when the defense intercepts at least one pass and 5-0 when grabbing two or more interceptions.
While Calvin Johnson went bonkers on the Cowboys last season, catching 14 passes for 329 yards, that likely won't be the case this time. Johnson has topped 100 yards only five times all season.
There's a saying in NFL defensive meeting rooms regarding interceptions: "When they come, they come in bunches," and the Cowboys are realizing that at the perfect time. They'll beat Detroit this weekend and continue on their playoff push.
Coy Wire played college football at Stanford before a nine-year NFL career in Buffalo and Atlanta. He's a college football and NFL analyst for FOX Sports 1 and FOXSports.com. Follow him on Twitter @CoyWire.