Cowboys Dak Prescott, Jason Garrett: The Perfect Player/Coach Marriage?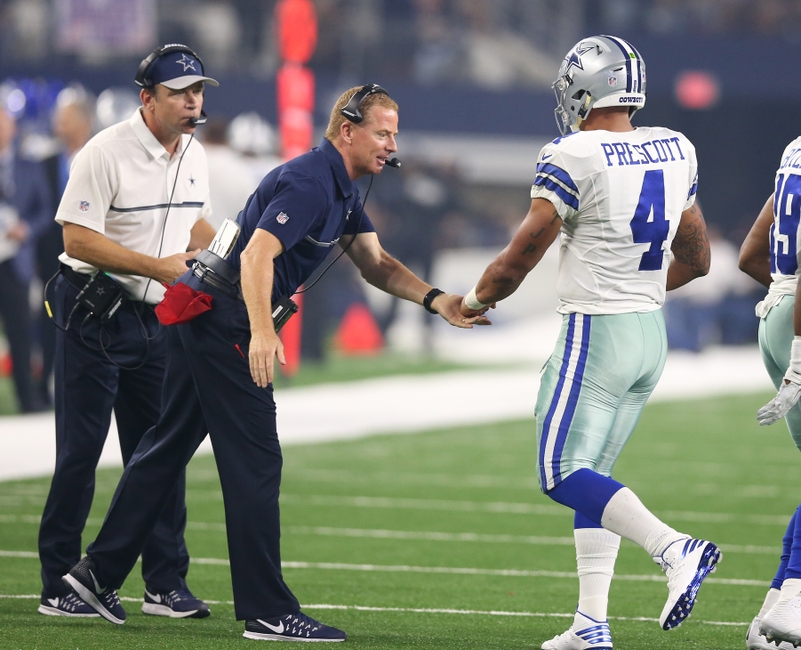 Is fourth round rookie sensation Dak Prescott the perfect quarterback to play for Dallas Cowboys head coach Jason Garrett?
We've all heard the phrase "a match made in Heaven". And considering how the Dallas Cowboys ended up drafting rookie quarterback Dak Prescott in the fourth round of the 2016 NFL Draft, maybe it was more of a shotgun wedding. But through 11 weeks of the NFL regular season, it certainly appears that Prescott and Cowboys head coach Jason Garrett make the perfect pair.
The Cowboys likely knew more about the former Mississippi State quarterback than any other team in the NFL. Not only did they coach against Prescott in the Senior Bowl earlier this year, but they also visited with him and worked him out several times before the draft. Despite their knowledge of the player, Dallas still attempted to trade up in April's event to take two other rookie quarterbacks instead of Dak.
When those attempts failed, the Cowboys settled on Prescott, drafting him with their compensatory selection late in the fourth round. And thank goodness they did!
After injuries were suffered by both quarterbacks Tony Romo and Kellen Moore, Prescott was pressed into the starting role. And his excellent showings in the preseason leaked their way into the regular one. Eleven weeks later, the Cowboys are 9-1, sitting atop the league standings. All with a 23-year old rookie, whom they actively tried to avoid taking during the draft, under center.
Now, it appears the Cowboys are all but done with Romo, their longtime veteran starter. Instead, opting to look towards to future with Prescott. And the future is now.
So, how could so many, even the Cowboys themselves, miss the mark when it came to predicting Prescott's immediate success in the NFL? I believe the answer lies in many underestimating Dak's drive for self-improvement, which I discussed in detail here, and his unique support system in Dallas. And the latter starts with head coach Jason Garrett.
Garrett was a quarterback himself, who bounced around the NFL for 15 years. From 1992 to 1999, he famously backed-up Hall of Fame quarterback Troy Aikman in Dallas. So Garrett is likely better equipped than most to help Prescott mature and grow quickly.
Throw in Cowboys offensive coordinator Scott Linehan, also a former quarterback. Add Dallas' quarterback coach Wade Wilson, who spent seventeen years himself in the NFL under center. Then consider they veteran players on the Cowboys current depth chart: Romo, Moore and Mark Sanchez. Prescott likely has more quarterback knowledge surrounding him in Dallas than any other rookie…anywhere.
But how about chemistry? What part does that play in this equation? You could certainly have all the knowledge in the world surrounding you, but if you don't get along with others well or aren't open to their suggestions; it could all be useless.
I think this is where the similarity between Prescott and Garrett really shines. Both appear to approach things the exact same way. Both are the epitome of consistency. Garrett is known for his repetitive answers, coaching style and frankly, his lifestyle. Even down to wearing the same type of clothing everyday.
Prescott echos that consistency in his life as well. Opting to practice and prepare over going to a Kanye West concert, or chasing endorsements. Dak, whose greatest attribute coming out of Mississippi State was his intangibles and leadership, seems to mesh perfectly with Garrett's methodical and consistent coaching style. Which is: Improve everyday. Focus on being the best player you can be, each and every day. Put in the work.
Prescott and Garrett seem to be the perfect player/coach marriage. And so far, that union has given the Dallas Cowboys it's longest winning streak in franchise history. The pair seem to be well on their way to becoming the next Belichick and Brady. All that's missing is the multiple winning seasons and four Super Bowl championships.
This article originally appeared on