Cowboys at Steelers: 3 things we learned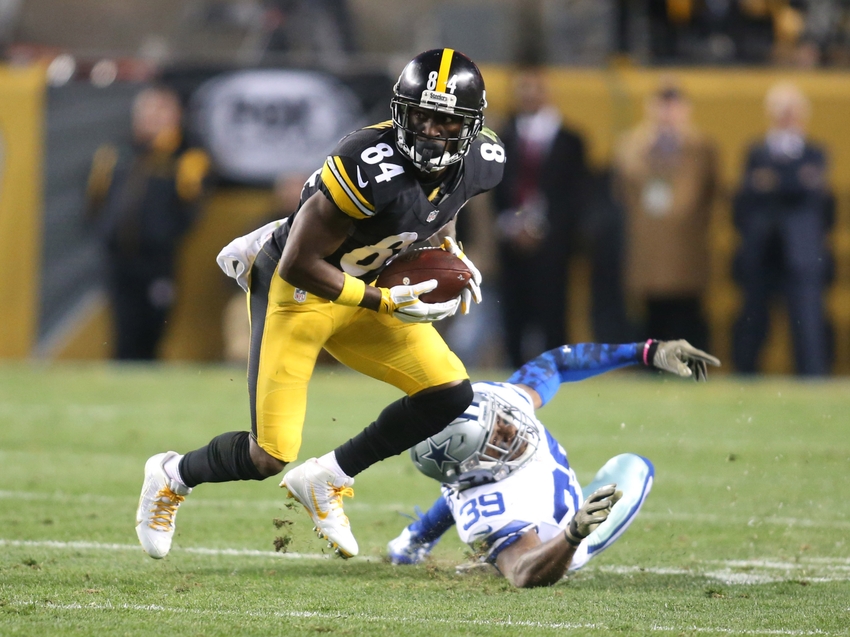 The Dallas Cowboys beat the Pittsburgh Steelers 35-30 at Heinz Field in Week 10. Here are three things we learned about both teams after this instant classic.
Admittedly, we probably knew most of these things before Week 10. For instance, NFL fans probably didn't need a reminder of just how good running backs Ezekiel Elliott and Le'Veon Bell are.
But it sure was fun getting one.
By the same token, quarterback Ben Roethlisberger and wide receiver Antonio Brown were the double act the Steelers relied on at the start of the season. Guess what, the Black and Gold will still only go as far as Big Ben and No. 84 can take them.
Le'Veon Bell is the best running back in football
He was on the losing end, but there's little else for Bell to feel down about after a stunning dual-purpose display. Pittsburgh's dynamic workhorse carried the ball 17 times for 57 yards. He also chipped in with 77 yards on nine catches.
Bell scored a touchdown both rushing and receiving. Just as important, he showcased the versatility and move skills defensive coordinators have nightmares over.
Bell is a mismatch every time he splits out or flexes into the slot. Offensive coordinator Todd Haley regularly moved his main from the backfield and out into space, and the Cowboys couldn't cope.
Now that Jamaal Charles of the Kansas City Chiefs is laid low by another injury, Bell is the undisputed dual-threat king at his position. No other NFL back can match his playmaking skills and value in both phases of offense.
But the king could soon find himself usurped by an upstart rival.
Ezekiel Elliott will become the best running back in football
He's not there yet. Not even after scoring three touchdowns and piling up over 200 yards of total offense on the road. But Elliott won't have to wait long before he's considered the best in the league at his position.
He turned this game on its head by taking a screen passes 83 yards to the house on 2nd-and-18. The play was a thrilling example of the track speed this nimble-footed runner with a power-back's frame can spring on defenses.
It was also a rare 80-plus yard effort from the Dallas offense, per ESPN Stats & Info:
Elliott is about more than splash plays though. He's also a closer, a clutch player who delivers when the game is on the line. It's what he did on two scoring runs in the final quarter to repeatedly deflate the plucky Steelers.
Cowboys head coach Jason Garrett knows he has a special talent in Elliott. He and offensive coordinator Scott Linehan have been wise enough to simply give the rookie the keys to the offense.
Elliott has responded by joining a very distinctive group in the league annals, per Elias Sports, via ESPN:
The Steelers' season still has life as long as Brown and Roethlisberger are around
Things aren't looking good for head coach Mike Tomlin and his Steelers. The team is 4-5, on a four-game losing skid and slipping out of contention in the AFC playoff race.
But don't give up on these Steelers just yet. Not when Roethlisberger and Brown remain one of the deadliest combinations in the league.
The former completed 37 passes for 408 yards and three touchdowns against the Cowboys. Brown caught 14 of those passes for 154 yards.
Yet there's more than just numbers to this dynamic duo. Indeed, there's an on-field rapport few quarterbacks and wideouts share.
Their symbiosis was best illustrated by the 15-yard scoring pass from Big Ben to Brown inside the final minute. It came after a superb, Dan Marino-esque fake spike from Roethlisberger and an impeccably ran fade route from Brown.
Here's the play, per the league's official Twitter:
Only implicit trust in one another makes a play like this happen. Brown and Roethlisberger have it.
The former still can't be covered, while the latter is back to his best in Haley's system.
These Roethlisberger and Brown-led Steelers will still be in the reckoning come playoff time.
This article originally appeared on