Cowboys at Giants: Preview, Prediction, Odds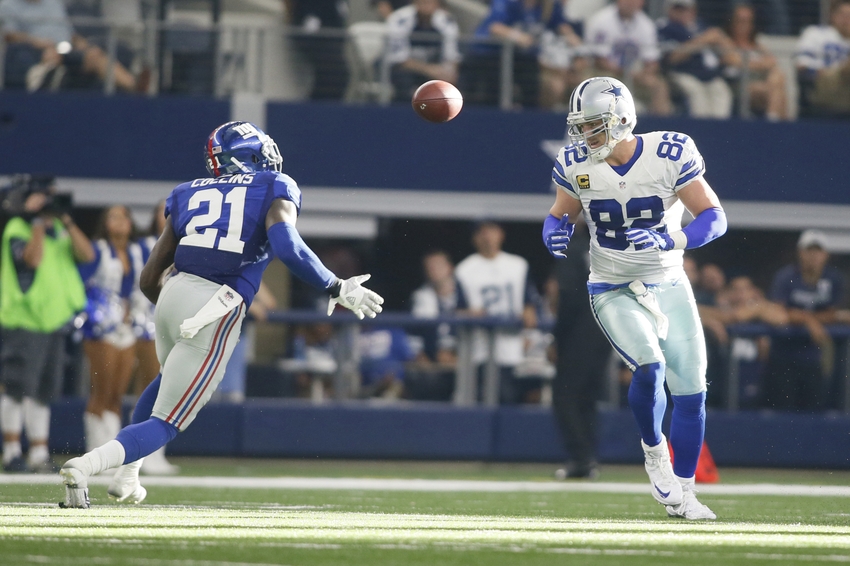 Dallas Cowboys vs. New York Giants  
The New York Giants like to remind people that the little blip on the NFL's hottest team's record is a result of their doing. That's right; for those who have forgotten, it was the Giants who topped the Dallas Cowboys, 20-19, way back in Week 1 of the 2016 season, a win that was aided when Cowboys receiver Terrance Williams fell asleep at the switch and failed to get out of bounds to stop the clock. That gaffe prohibited his team from rushing the field goal unit on for what might have been the game-winning score.
Since then, the Cowboys have won 11-straight games, their largest margin of victory being 25 points (over Cleveland) and their narrowest being two points (last week against Minnesota). In their last five games, the Cowboys' margin of victory has been 22 points versus the 84 points in their first six wins.
The Giants, meanwhile, blew their already slim chance at catching the Cowboys for the NFC East last week thaks to their uninspired 24-14 loss to the Pittsburgh Steelers. Still, the Giants are tied with Detroit for the third-best winning percentage (.667) in the NFC, with only Seattle and of course the Cowboys ahead of them.
But the Giants have problems, none bigger than losing defensive end Jason Pierre-Paul, perhaps their best run defender, for the rest of the season. It's going to take a village of relatively inexperienced guys to replace Pierre-Paul's talents, which is a scary proposition. The other problem the Giants bring into this game is an offense that, after 12 weeks, has yet to click consistently.
Teams need to be playing their best ball in November and December, but the Giants have done anything but play their best ball. There's no better evidence than the fact that their total offensive yards have declined in the last four weeks.
Let's look at the keys to victory for both teams.
Cowboys Keys to Victory
Get the Ball to TE Jason Witten.  Last week, the Minnesota Vikings managed to hold future Hall-of-Fame tight end Jason Witten to zero receptions. Prior to that game, the last team to accomplish that feat was none other than the Giants, who did it on Nov. 2, 2008.
The Giants have struggled this season to cover opposing tight ends, allowing the position 63 receptions for 793 yards and three touchdowns, including last week's 110-yard performance by Steelers tight end Ladarius Green, who also had a receiving touchdown. Look for the Cowboys to challenge the Giants with Witten this week.
Run Ezekiel Elliott at Jason Pierre-Paul's Replacement. As previously noted, Pierre-Paul has been a huge cog in the Giants run defense this season. When he was in the game, the Steelers had been held to just 31 yards on 11 carries, all of those by Le'Veon Bell.
When Pierre-Paul didn't return in the second half, the Steelers rushing game exploded for 87 yards on 18 carries, as Bell finished with 118 yards on 29 carries. Kerry Wynn will probably get most JPP's run-game snaps moving forward, but Wynn hasn't shown himself to have that quick twitch that can challenge Elliott, the league's rushing yardage leader.
Get DE Olivier Vernon Blocked. If Giants fans thought defensive end Olivier Vernon was mugged a lot last week, they probably haven't seen anything yet. Vernon finished last week's game appearing to have been held several times (none of which were called), but he still somehow managed to record two sacks, two tackles for a loss and two quarterback hits.
If defensive coordinator Steve Spagnuolo moves Vernon to JPP's left defensive end spot to take advantage of a plum matchup against Cowboys right tackle Doug Free, don't be stunned if Dallas devotes two guys to stopping Vernon cold in his tracks. 
Giants Keys to Victory
Get Tight Coverage Down the Field. The Giants are going to need all hands on deck in their front seven to stop the Cowboys rushing attack. Dallas, believe it or not, is not really a deep passing team—quarterback Dak Prescott has only completed 30 big pass plays of 20 or more yards (24th among NFL quarterbacks) and only eight of 40 or more yards (one fewer than Eli Manning's season total). If the Giants cornerbacks can get the Cowboys receivers covered one-on-one, that should allow them to devote an extra safety up in the box to curtail the bigger threat, which is the running game.
Spread the Ball Out. For as outstanding a receiver as Odell Beckham Jr. is, that the Giants have force-fed him the ball over the last two weeks is a big reason New York hasn't managed to crack 200 yards passing in either of those games. Seriously, when you talk about the Giants offense being predictable, it doesn't get any more predictable when the opposing defense knows who Eli Manning's pass target is going to be every time he drops back.
A quick review of the three games this season in which the Giants have passed for at least 300 yards all reveals the same thing: Manning spread the ball out to his top three receivers (Beckham, Sterling Shepard and Victor Cruz). These last two weeks, however, have seen targets to Beckham double up at either the expense of Shepard or Cruz, something that must stop if they want to get the passing game going again.
Stop with the Self-inflicted Wounds. Penalties, turnovers, dropped passes—you name it and the Giants have been guilty of committing it this season. At this point in the season, especially when jockeying for a postseason berth, these common preseason mistakes shouldn't be happening yet every week it seems the Giants offense is doing something stupid that ends up costing itself points.
Three times this year, the Giants have been penalized for 100 or more yards. Think about that for a minute—if the Giants got those yards back on any given drive, perhaps that might have meant a field goal or touchdown being scored, especially in some of those closes games. Over their last two games, the Giants have 13 penalties, five of which were offensive drive killers. As for turnovers, in that same two-game span, the Giants have had two interceptions and one lost fumble.
Unofficially, the Giants have had at least four dropped passes over that same time frame. When you play against the best teams, you must be at your best. And it goes without saying that the Giants offense has not been at their best on a consistent basis this year.
Odds
Point Spread: Dallas -4.5
Moneyline: Dallas -190, New York +170
Over/Under: 47
Prediction
The month of December is when a football team needs its rushing game to step to the forefront, and that's especially true when the weather forecast for the late-season night game is going to be a bone-chiller. The Cowboys have had this all season long, especially on the road where, as Fox Sports' Cameron DaSilva notes, Elliott has averaged 111.7 yards per game and has scored seven of his 12 touchdowns.
This is a bad matchup for the Giants, especially without Jason Pierre-Paul on the field. New York can talk all they want about stepping up, the next man up and so forth, but absent a perfect game, they will have to try again next season for their first season sweep of the Cowboys since 2011.
Pick: Dallas Cowboys: 27, New York Giants: 20
This article originally appeared on