Cowboys at Giants: Highlights, score and recap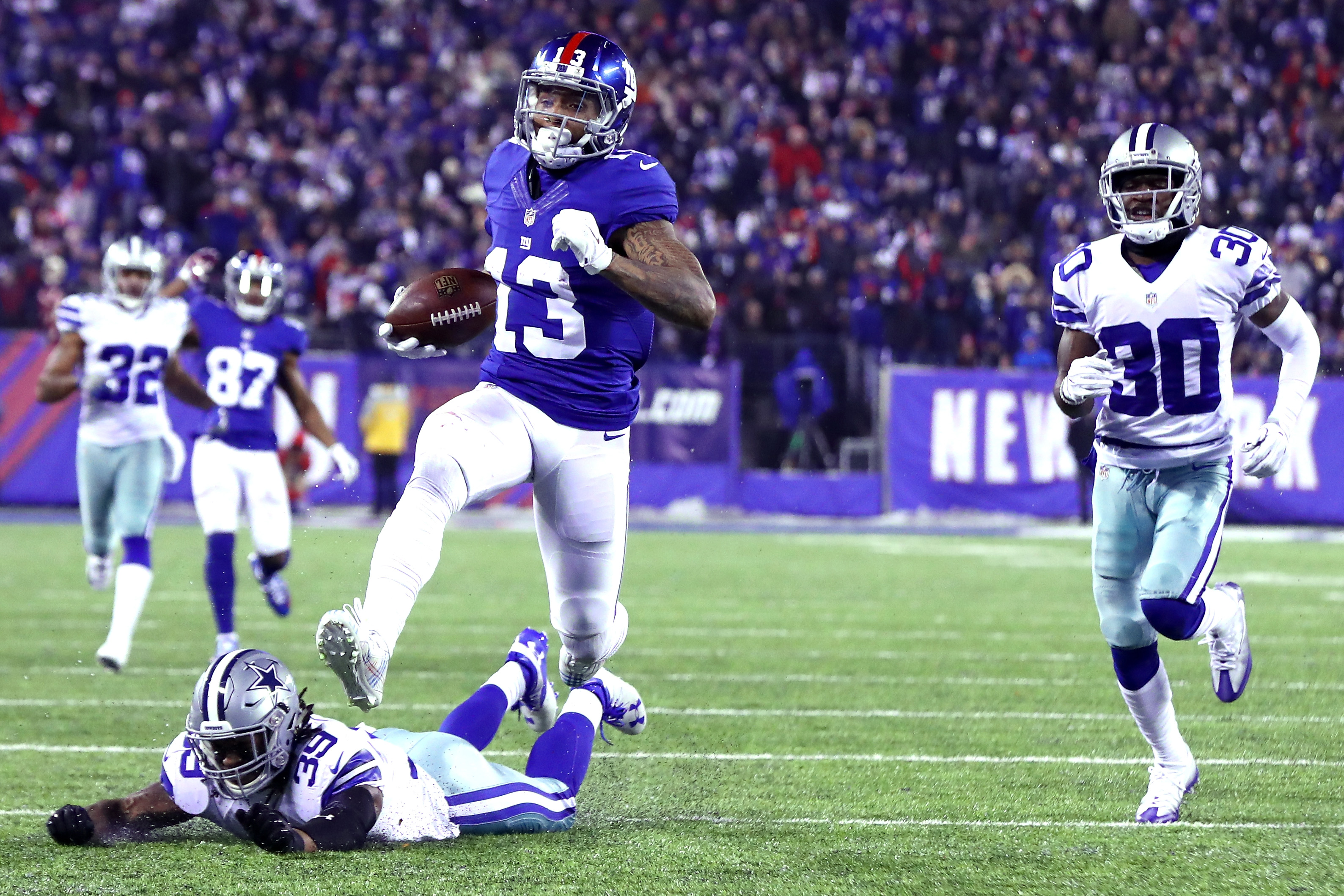 Behind a stout defensive performance, the New York Giants beat the Dallas Cowboys 10-7 on Monday Night Football. 
Many thought Monday Night Football's Week 14 matchup between the Dallas Cowboys and New York Giants would be a high scoring affair. On a night when both defenses stepped up at times, the Giants made more plays and got a timely touchdown from Eli Manning to Odell Beckham Jr. to beat Dallas, 10-7.
Dak Prescott went through one of his worst nights as an NFL quarterback, going just 17 for 33 for 165 yards with two interceptions, though he also threw for a touchdown. Ezekiel Elliott did surprising well against a stout Giants defense, rushing for 107 yards on 24 carries. Even if you take away his longest run of the game (15 yards), he still averaged nearly four yards per carry.
Though the Cowboys gave Manning fits for most of the night, they got tired towards the end of the game. He finished the night with 193 passing yards and a touchdown, going 17-for-25 with an interception.
Highlights
Clutch.
Anthony Brown dives in front for the INT!@DallasCowboys ball. #DALvsNYG https://t.co/kibBOOffyB

— NFL (@NFL) December 12, 2016
.@Dak fakes to Zeke…
And the Giants defense is fooled.@TerranceWill2 is wide open for the Cowboys TD! #DALvsNYG https://t.co/0pglJLEGVE

— NFL (@NFL) December 12, 2016
There goes @OBJ_3!
No one can catch him.

61 yards and the @Giants have the lead! 😱 #DALvsNYG https://t.co/KaGoAEod2u

— NFL (@NFL) December 12, 2016
.@OBJ_3 can't get out of the way!

The punt hits him…but the @Giants recover. #DALvsNYG https://t.co/rubbhejsXq

— NFL (@NFL) December 12, 2016
FUMBLE!

Eli is sacked by @Benny_b0y10 and Sean Lee recovers the loose ball.@DallasCowboys ball. #DALvsNYG https://t.co/vFE7BIEHaM

— NFL (@NFL) December 12, 2016
Dez slips.
Dak is PICKED.

Great play by Janoris Jenkins! #DALvsNYG https://t.co/xXL2BN9M5a

— NFL (@NFL) December 12, 2016
Three Stars
1. Odell Beckham Jr. 
The Cowboys have been very susceptible to big plays on defense this season. They sure were tonight, as Odell Beckham Jr. put up four receptions for 94 yards, including the signature play of the game, a 61-yard touchdown.
2. Ezekiel Elliott
In a losing effort, Elliott looked impressive against a very good Giants run defense. He was the driving force behind his team's offense, helping Dallas be somewhat balanced.
3. Eli Manning
Though Eli didn't have a strong start to the game, he quickly improved in the second half. He lost two fumbles and even threw a costly interception, but he led two scoring drives. When Manning needed to, he got yards.
Next Week
Dallas faces the Tampa Bay Buccaneers on Sunday Night Football at home in Week 15, starting at 8:30 p.m. ET. Meanwhile, the Giants host the Detroit Lions.
This article originally appeared on