Cowboys at Browns Recap, Highlights, Final Score, More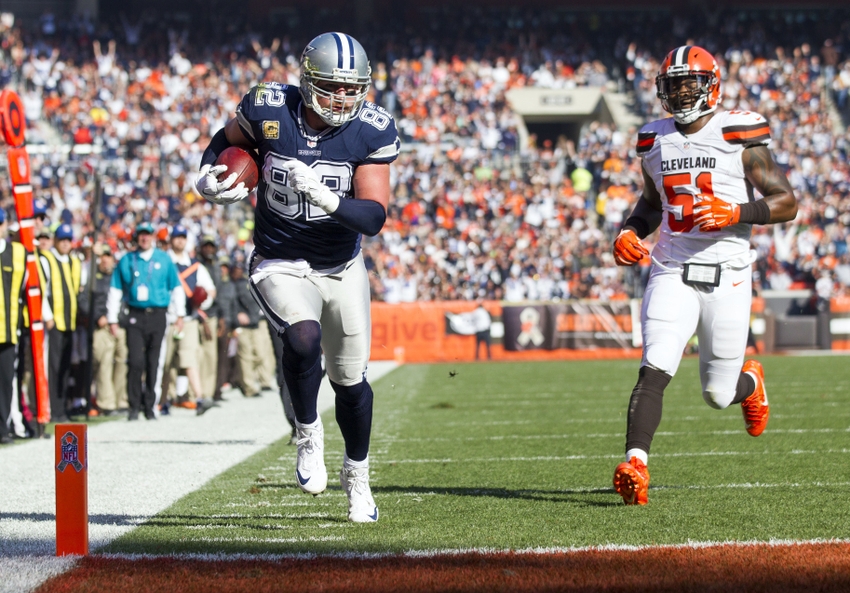 The Dallas Cowboys turned FirstEnergy Stadium into a home field of sorts  as they easily defeated the Cleveland Browns for their seventh consecutive victory

35

10
In the first quarter the Dallas Cowboys trailed early by a 3-0 score following a field goal by Cody Parkey. Jason Witten answered that with a convincing 26-yard score for the Cowboys, off a pass from Dak Prescott for the 7-3 lead. Witten got wide open as new Cleveland Browns linebacker Jamie Collins got mixed up with his coverage, leaving Witten all alone to the end zone.
The second quarter saw the Cowboys have touchdowns from Ezekiel Elliott (10-yard run) and Cole Beasley (6-yard reception) for a 21-3 lead. Cleveland managed to make the score a little closer with a 12-yard touchdown reception from Terrelle Pryor for a 21-10 halftime score and that ended up being all the scoring from Cleveland.
The Cowboys were not finished adding to their lead, dominating the third quarter with touchdowns from Elliott (8-yard run) and the first catch of the season from Gavin Escobar for a 2-yard score.
With the aforementioned scoring by the Cowboys, the Browns had no chance to be competitive against Dallas. Cleveland gave them extra chances and extra yards with too many offsides penalties. This was also the sixth-straight game where the offense of the Cowboys gained over 400 total yards, finishing with 423.
Three Stars
Jason Witten, Cowboys — The veteran of the Cowboys showed why he's still has a good amount left in the tank. Witten forced the Browns to add extra attention on him. Even still, he was able to have a solid game. Witten finished with eight receptions for 134 yards and one touchdown.
Maliek Collins, Cowboys — The defensive tackle took advantage of Cameron Erving being ejected in the first quarter. Collins caused some havoc with his play in the interior line with three tackles and two sacks. That type of game isn't too bad for a rookie.
Dak Prescott/Ezekiel Elliott, Cowboys — These two combined for much of the Cowboys offensive success once again. Prescott was 21-of-27 for 247 yards and three touchdowns with zero interceptions. Elliott returned to Ohio, rushing for 92 yards on 18 carries with two touchdowns in the win over Cleveland. The rookie duo just keeps moving along this season.
Highlights
There goes @EzekielElliott!

ANOTHER TD for the @DallasCowboys. #DALvsCLE https://t.co/AREbezi5f7

— NFL (@NFL) November 6, 2016
.@CodyKessler6 keeps the play alive.@terrellepryor adjusts accordingly.

TOUCHDOWN @BROWNS! #DALvsCLE https://t.co/qUpY4HFUvH

— NFL (@NFL) November 6, 2016
Get the ball to @ezekielelliott.
Get 6 points.#FeedZeke #DallasCowboys https://t.co/jthyfmkJ3w

— NFL (@NFL) November 6, 2016
Witten escapes Jamie Collins' coverage.
And @Dak takes advantage.

END ZONE. #DallasCowboys #DALvsCLE https://t.co/KUf1pOAc3S

— NFL (@NFL) November 6, 2016
Kessler.
Crowell.
44 yards.

MOVE THE STICKS! #DALvsCLE https://t.co/7OBNBAhCPt

— NFL (@NFL) November 6, 2016
Next Game
Week 10 will see Dallas on the road a second-straight week against the Pittsburgh Steelers at 4:25 p.m. ET. The Browns will play on Thursday Night Football at the Baltimore Ravens with a start of 8:25 p.m.
This article originally appeared on