Cowboys at 49ers Live Stream: Watch NFL Online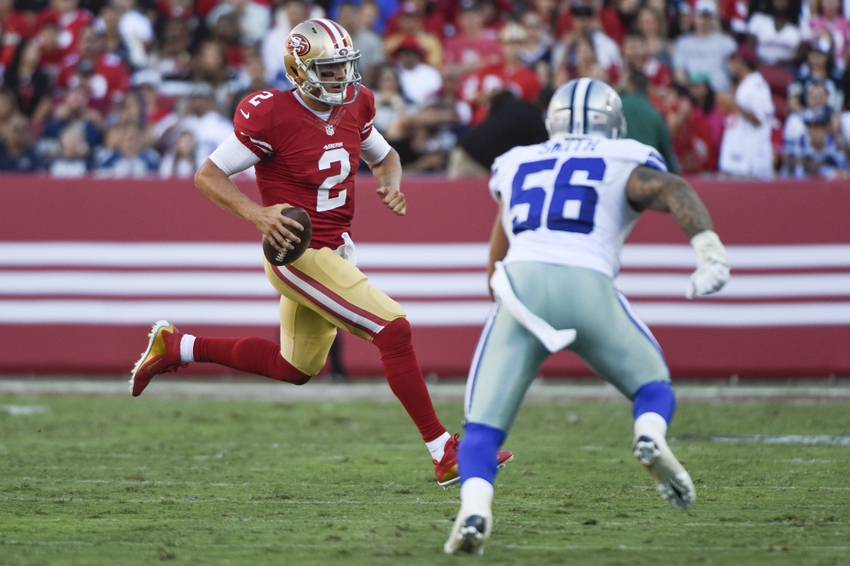 The Dallas Cowboys faces the San Francisco 49ers at Levi's Stadium on Sunday. Here's all the info you need to watch.
This classic rivalry doesn't hold as much intensity as it did in the 1980s and 1990s, but this Week 4 game for both the 49ers and the Cowboys is of great importance. A win by the Cowboys will put them with three straight wins before facing two playoff teams from a year ago.
A win by the 49ers will keep them from losing three straight, plus give them some momentum they are lacking as of late.
Players to watch in the game for the Cowboys will not only be the usual suspects in Dak Prescott and Ezekiel Elliott, but also watch to see how Ronald Leary plays at guard in starting for La'el Collins. For the 49ers, Blaine Gabbert simply has to produce more for this offense, or it will be more of the same for San Francisco.
The winner of this game will be the team who can play the best overall defense. Entering the game, the Cowboys defense is ranked 22nd in yards allowed per game (379.3), while the 49ers are right there with them in 20th at (377.3).
Though this game doesn't have that feel of nostalgia compared to past games of this rivalry, it does show just how far away these franchises are from what they once were. If a more positive outlook is needed, it can also remind us of what they can once again eventually become.
The NFC game is the late afternoon game for FOX, and for many this will be the 4:25 p.m. ET national "America's Game of the Week." The game can also be viewed on NFL Sunday Ticket or on NFL Mobile for Verizon subscribers. The broadcast team will be Joe Buck and Troy Aikman.
Details for Sunday's game are below:
Date: Sunday, Oct. 2
Start time: 4:25 p.m. EST
Location: Santa Clara, California
Stadium: Levi's Stadium
TV Info: FOX
Live Stream: NFL Sunday Ticket, NFL Mobile
The Cowboys are the favorites to win this game with a two-point spread. The 49ers have many issues this season, and facing the Cowboys in Week 4 won't be a good thing for them if the offense continues to build momentum. The Cowboys are facing various injury issues, so it could make this game closer, making it worth watching as the late afternoon game.
More from NFL Spin Zone
This article originally appeared on