Could Colts Continue to Deploy Darius Butler at Safety?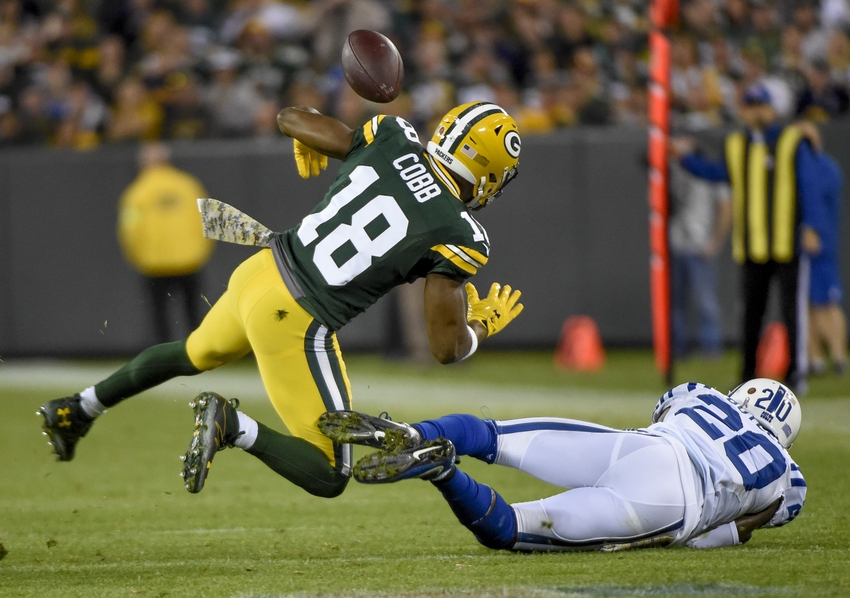 The Indianapolis Colts defense added a new wrinkle to their repertoire, as defensive coordinator Ted Monachino deployed the team's nickelback Darius Butler at safety instead against the Green Bay Packers during Sunday's upset victory.
The defensive gameplan worked to perfection, as the Colts utilized a secondary of Butler and Green at safety with Clayton Geathers–normally a safety, playing as a hybrid linebacker to smother the Green Bay Packers passing attack for 3 and a half quarters.
Also with the help of their friends, cornerbacks Vontae Davis, Patrick Robinson, and Rashaan Melvin–including limited action by Frankie Williams, the Colts secondary swarmed the Packers receivers, simply daring them to run the football without starting running back Eddie Lacy and only makeshift options:
"Our corners played their ass off, man," said Darius Butler via Colts.com's Andrew Walker. "And (Rodgers) missed some throws, too, but that's part of the game. They've got to make plays just like we do."

"Rashaan Melvin made some huge plays on (Jordy) Nelson. Nelson's obviously one of the special receivers in this league. Frankie (Williams) came up, he balled. Vontae (Davis), you know what he was going through this week. The guys just stepped up and showed their grit and finished this game."
The added wrinkle gave the Colts some much needed speed to their secondary at both safety and linebacker with Butler and Geathers respectively, while also improving the unit's coverage skills as a whole:
"Great job by Ted (Monachino) and the defensive staff of putting that plan together, playing D-Buts (Darius Butler) in the backend, and #26 (Clayton Geathers) down low. #32 (T.J. Green) at safety with D-Buts," said head coach Chuck Pagano on Monday following the upset win.
Butler has always impressed with his ball skills–he ranks 2nd on the team behind cornerback Vontae Davis in interceptions since 2012 with 11 total interceptions.
He added to that total on Sunday night, when he made a great diving interception in coverage at safety to pick off Aaron Rodgers with 8:49 left to go in the 3rd quarter on a 3rd and 11 pass:
"I was just reading Rodgers on that play," said Butler via Colts.com on the interception. "He went to one of his favorite plays, and I just kind of read it and I made the play."
His partner in crime also playing a fresh position, Clayton Geathers, also played well.
Per Pro Football Focus, the promising 2nd-year safety, turned hybrid linebacker was only targeted 3 times by Rodgers in coverage on Sunday, allowing 2 catches for a meager 14 receiving yards.
His head coach had high praise for the young hard-hitting hybrid linebacker, who had a really nice game overall:
"Clayton (Geathers) did a great job," said Chuck Pagano on Geathers Monday.

"He did a great job. As the game went on, he got better and better and better, and he gained confidence throughout the course of this game. Made some great plays. Not only in coverage, but in the run game."
Not that veteran starting safety Mike Adams has been the problem for the Colts pass coverage woes by any means, but it begs the question of whether the Colts could continue to utilize Butler at safety going forward next to T.J. Green–at least situationally.
A safety tandem of Butler and Green no doubt gives the Colts their fastest safety pairing on the roster. What the 35-year old Adams has lacked in speed, he usually makes up for it by his play recognition ability and exceptional ball skills.
However, Butler clearly bests him in the speed department with excellent ball skills as well to boot.
Nevertheless, the Colts will be playing some run-oriented teams in upcoming weeks following their bye week including the Tennessee Titans, New York Jets, and Houston Texans–with a meeting featuring the 6'1″, 225 pound Le'Veon Bell of the Pittsburgh Steelers also in three weeks.
Meaning that the Colts probably don't want to permanently replace the 5'11", 205 pound Adams with the 5'10", 188 pound Butler anytime soon if they want to actually stop the opposing team's run game at safety.
That being said, the Colts could continue to deploy Butler at safety situationally on obvious passing down situations.
If nothing else, it gives Monachino more flexibility in his defensive packages and can always be an easy-fix for adding much needed speed to the Colts defense on the field.
More from Horseshoe Heroes
This article originally appeared on