Cooper Kupp's NFL Draft diary relives his Senior Bowl week
Cooper Kupp (as told to Sam Gardner)
Cooper Kupp played wide receiver at Eastern Washington, where he set 15 FCS, 11 Big Sky and 26 school records during his career. The FCS' all-time leader in receiving yards, receptions, touchdown catches and yards per game, Kupp was a consensus All-American in each of his four seasons and is projected to be an early-round pick in April's draft. This is the first draft diary entry for Kupp, who will be documenting his NFL Draft experience at FOXSports.com.
It's tough to think of a more heartbreaking way to lose your final college game than the way we did on Dec. 17, when Youngstown State beat us on our home field in a national semifinal with an amazing touchdown catch with one second left to play. For a player as competitive as I am, every loss is difficult to take, but that one was tougher than usual and still stings to this day.
Fortunately, I didn't have much time to be sad or dwell on things, as within a few days I'd signed with Rep1 Sports and moved with my wife, Anna, to Irvine, Calif., where my journey to the NFL Draft began. And after a month of rigorous daily training, I finally got a chance to show my progress at the Senior Bowl in late January.
I arrived in Mobile, Ala., on Sunday the 22nd, and after I checked in, I immediately got to work, going through psychological and other testing for several hours. Then after that exhausting first afternoon, Monday was more of the same, with meetings and team interviews scheduled almost all day long, leaving little to no time to relax.
In some cases, there may be guys who dread interviews with scouts or NFL executives because there's nothing that's off-limits. They want to know what your family life is like, what kind of person were you growing up and why were you that kind of person, what kind of athlete you believe you are and why you play the game. And that's just the start.
That kind of questioning can be tough for some prospects to endure, but I actually enjoyed it because I believe that the more information a team has on you, the better they'll feel about possibly drafting you. And as far as I'm concerned, the more I can talk about who I am and what I believe, the easier it'll be for teams to fall more in love with me and the passion I have for the game.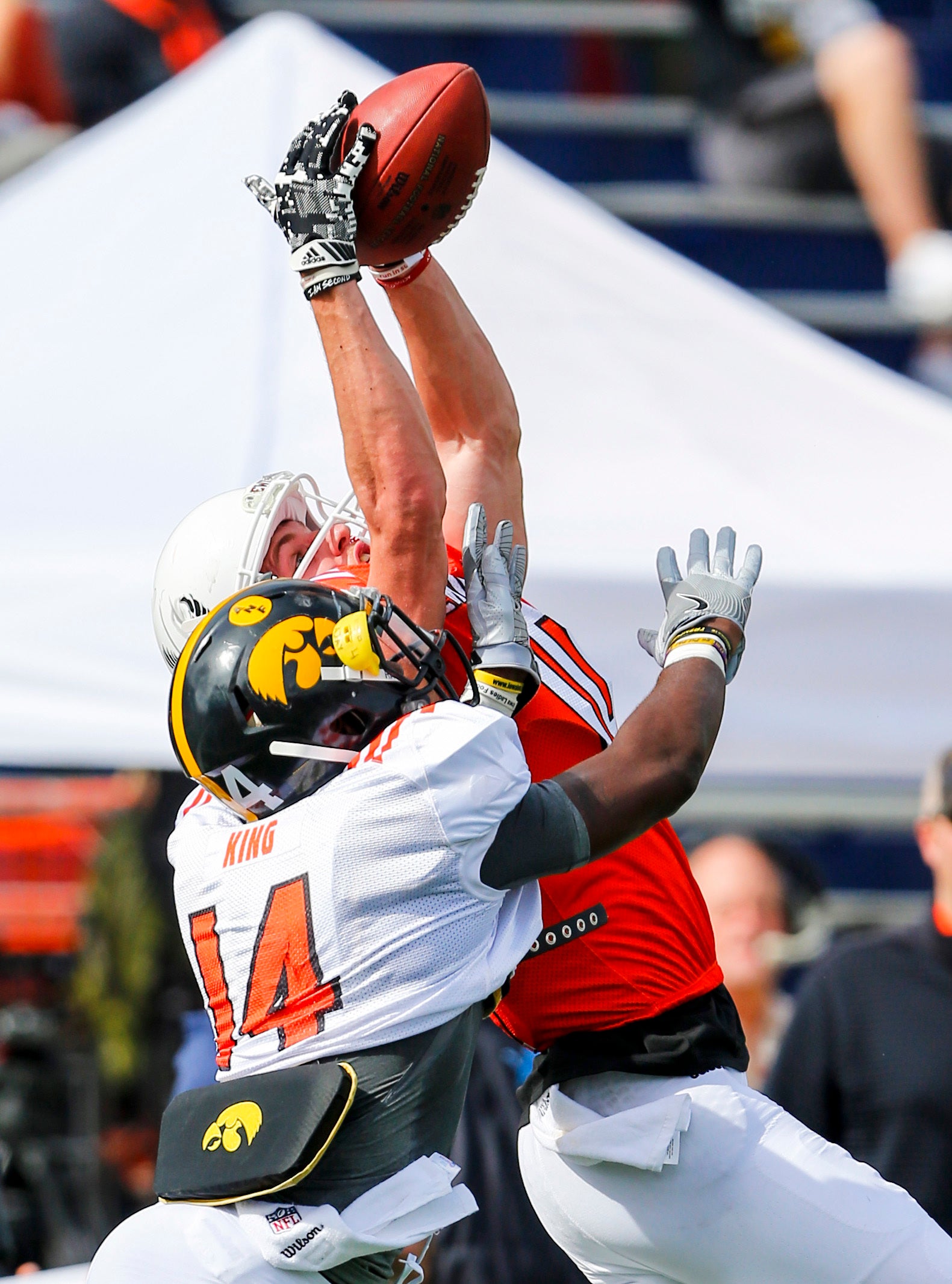 Plus, there's nothing more personal at the Senior Bowl than Tuesday's weigh-in.
They call it the "meat market" for a reason, and sitting in a room with 60 other guys in tights waiting to be measured in front of an audience is exactly as uncomfortable as you think. It's a weird situation, but you've got to go up there and do it, and at the end of the day, you weigh what you weigh and you're mostly just happy to put your clothes back on and go to practice.
We had our first practice Tuesday afternoon, and we moved non-stop the entire hour and a half. Like the rest of the week, there's no downtime during practice sessions, and you know you're being watched. But it really seemed to me that the guys who were enjoying that time the most — the guys that looked like they love being out there playing football— were the guys who were playing best.
For some, practices at the Senior Bowl can be tough to navigate because you're committed to your team and to learning the system but you also want to make sure you stand out in the eyes of those scouts in attendance. But in my experience during our three days of preparation, finding that balance was easy because I've always made it my goal to practice as hard as I play, no matter the stage.
Even at Eastern, I looked at my teammates like opponents trying to keep me from doing my job, so I always took the attitude that every rep is a game rep. And that's an approach that's mutually beneficial. At the Senior Bowl, I knew the guy lining up across from me in practice was someone we might need to win that game, so I wanted to push him to be better, just like I wanted to push myself.
Still, there was no better feeling all week than getting on the field for the actual game. After a day spent volunteering in the community on Friday, we finally suited up on Saturday, and it was refreshing to let everything else go for those few hours on the field.
Because at that point, you're not thinking through your offense anymore. You understand that the hay is in the barn, and there's no more preparation you can do. All you can do is go out there and let it rip, and to be able to do that and play freely, play fast and play alongside those guys you've been competing so hard with over the past few days is pretty cool.
The game is not the same, obviously, as a normal game, but football is fun, and when you can get all these guys together on one field, it's a really special thing.
As for how I did? I obviously heard some of the talk from people who thought I'd performed well throughout the week. How could I not? But garnering praise was never my goal to begin with. I know I'm my own harshest critic, and while I obviously wanted to do well, I didn't go into the week feeling like I had something to prove.
Instead, my goal was simply to be the person and the football player I know I am, and I believe I accomplished that. If I was able to create some kind of buzz as a result, that's great, but if I made any lasting impressions, I truly believe it's because I never felt pressure to do anything but what I've always done. And that's the same approach I'll take for the rest of my career.
You can follow Cooper on Twitter at @CooperKupp.