Comparing the First-Year Starting Quarterbacks After NFL Week Two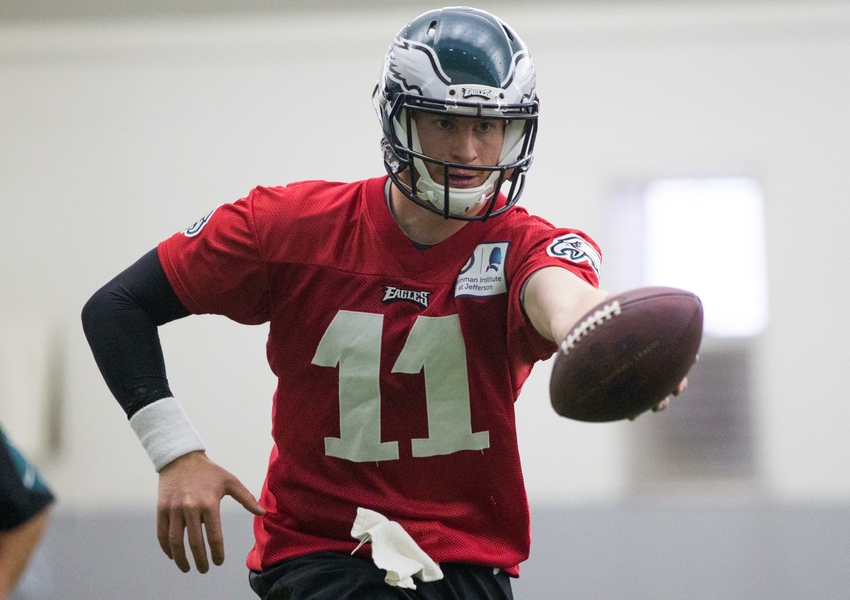 The NFL has been graced by a good amount of first-year starting quarterbacks thus far this season. How do they rank after Week 2?
Five NFL franchises gambled on first-year starting quarterbacks to open their campaigns. Which teams are winning the bets? Here's a look at the early contributions these first-year starting quarterbacks have made to their teams, listed in the order of their impact.
Jimmy Garoppolo – New England Patriots (second round, 62nd overall, 2014)
None of the first-year starting quarterbacks on this list faced as much offseason scrutiny as Jimmy Garoppolo. His much-anticipated Week One debut was a product of Tom Brady's four game suspension that came out of last season's Deflategate scandal. The third-year pro out of Eastern Illinois stumbled upon the tutelage of one of the greatest quarterbacks to ever play the game and into the system of one of the greatest coaches of all time in Bill Belichick.
Advantage Garoppolo.
So maybe it shouldn't have been all that surprising when Garoppolo impressed in his first two starts. He brutalized the vaunted Arizona Cardinals defense on the road in Week One by throwing for 264 yards (24 for 33) with a touchdown and no interceptions. Then he rolled into Week Two in Miami by hitting three different receivers with touchdown passes before exiting with a shoulder injury before halftime.
Garoppolo was flat out impressive in limited action. He looked poised in the pocket, was accurate on a majority of his passes, was in sync with his receivers, and proved he could move the New England offense efficiently. Through two weeks Garoppolo's quarterback rating of 117.2 ranks fourth in the NFL.
A sprained AC joint will prevent Garoppolo from returning on short rest for a Thursday night matchup against Houston in Foxboro. Third-round rookie Jacoby Brissett out of NC State, who was six of nine for 92 yards in relief against the Dolphins, will take his place under center. Should be interesting.
Even more interesting? What will Garoppolo's future look like in New England? With a top flight performance through his first six quarters of play, could the Patriots flip him for a pick in the same way they did Matt Cassel after the 2008-09 season? Or, do they see Garoppolo as the franchise leader after Brady fades off into the sunset?
It's much too early to make those kinds of predictions, but there is one sure bet in all of this: Tom Brady will be the starting quarterback of the Patriots in Week Five no matter what happens between now and then.
Carson Wentz – Philadelphia Eagles (first round, 2nd overall, 2016)
One of the true, rookie first-year starting quarterbacks on this list, Carson Wentz was chosen with the number two overall selection in this year's draft. Eagles' General Manager, Howie Roseman, traded multiple players and picks to create a package that would allow the Philadelphia Eagles to move up and select the gunslinger out of North Dakota State, despite knocks on his slow release and concerns about his ability to read NFL defenses.
Wentz was projected to have a redshirt season in 2016, sitting behind established starter Sam Bradford and expensive backup Chase Daniel. But the Eagles coaching staff liked what it saw in the preseason and gave Roseman the nod to trade Bradford and open up the future for Wentz. And so far, the future looks bright in Philadelphia.
In his debut against the Browns, Wentz threw for 278 yards (22 for 37) with two touchdowns and no interceptions. He stood tall in the pocket, delivered passes with defenders in his face, and appeared to have total command of the huddle. But experts said, "It was just the Browns." 
Wentz put those doubters to rest Monday night in Chicago with another efficient performance and another Eagles win. (box)  He threw for 190 yards (21 for 34) with a touchdown and, most importantly, no interceptions–continuing a string of 71 consecutive pass attempts without a pick.
What has been most impressive about Wentz thus far has been his fearlessness. He has not been afraid to leave the pocket and take hits from defenders. He has not shied away from looking deep down field or firing passes into tight openings. In only his second NFL start, he went on the road on Monday Night Football and lead his team to a decisive victory. The kid appears to be unflappable.
The fact is, through two weeks Wentz has looked every bit the part of an NFL quarterback. And a good one at that.
Dak Prescott – Dallas Cowboys (fourth round, 135th overall, 2016)
The Dallas Cowboys have to be happy with the play they've received from the darling among first-year starting quarterbacks, Dak Prescott. In the face of Tony Romo's back injury, which could keep the veteran on the shelf for up to twelve weeks, the kid out of Mississippi State has looked pretty darn capable.
Through two weeks, the rookie Prescott holds a 1-1 record and has shown poise in big situations. He even went out and set an NFL record for most pass attempts for a rookie without an interception (75), edging the old record (72) set by Warren Moon with the Houston Oilers back in 1984.
Against the New York Giants in Week One, Prescott threw for 227 yards (25 for 45) and kept the Cowboys in the game until Eli Manning hit Victor Cruz with the go-ahead touchdown pass with less than four minutes remaining.
Against the Washington Redskins in Week Two, Prescott had a similar stat line (292 yards, 22 for 30), but this time showcased his ability to keep plays alive with his feet by plunging across the goal line on a six-yard score in the first half. It was his first NFL touchdown. He also kept the Cowboys offense churning late in the game to preserve his first win as a starter.
The one issue with Prescott, however, has been his inability to push the ball downfield. Through two weeks, he's averaging just under seven yards per completion and has been unable to get deep threat Dez Bryant adequately involved in the offense.
If Prescott continues to rely only on check downs and short tosses to his tight ends, you have to wonder if the Dallas defense will be able to keep this team in games against opponents outside of the NFC East, which appears to be the weak link of the NFC.
Brock Osweiler – Houston Texans (second round, 57th overall, 2012)
Six foot seven, 240-pound Brock Osweiler, out of Arizona State, is one of those "not quite" first-year starting quarterbacks. He actually started four games for the Broncos in 2015 in place of an injured Peyton Manning. The cameo role in Denver earned him a new contract and a starting role with the Houston Texans in the offseason. Osweiler joins this list because this truly is his first time being "the guy."
Through two weeks, Osweiler isn't quite putting up the numbers he was at the end of last season with the Broncos. The Texans are 2-0, with wins over the Chicago Bears and the Kansas City Chiefs. Osweiler threw for 231 yards (22 for 35) with two touchdowns and an interception against the Bears, and added another 268 yards (19 for 33) through the air with a touchdown and a pick against the Chiefs in Week Two.
The good news? Oweiler has shown great chemistry with rookie receiver Will Fuller and Pro Bowler DeAndre Hopkins, hitting on deep routes to each in both games. The bad news? Osweiler has struggled against the blitz and has shown streaks of inaccuracy. Case in point: Osweiler felt the pressure of the Chiefs rush late in the first quarter on Sunday. He panicked, threw off his back leg, and fired a red zone pick into the waiting hands of Chief's corner, Marcus Peters.
Negatives aside, Osweiler isn't going anywhere. He comes armed with a big contract and his Texans are 2-0. Much like the situation in Denver, Houston's stout defense (nine sacks and four turnovers forced through two weeks) will allow the team to continue winning games in spite of Osweiler's sluggish start.
Trevor Siemian – Denver Broncos (seventh round, 250th overall, 2015)
Throughout the preseason, it looked like Trevor Siemian's opportunity to be included on a list of first-year starting quarterbacks would not come in 2016. But when veteran stop-gap Mark Sanchez proved ineffective (see: turnover machine), Coach Gary Kubiak handed the reigns to the kid.
The Northwestern product looked serviceable in a Super Bowl 50 rematch win over the Carolina Panthers in Week One. He threw for 178 yards (18 for 26) with a touchdown pass to running back C.J. Anderson. But he also threw two picks and took two ugly sacks that almost proved deadly in the slim, 21-20 victory. (box)
Siemian's performance in Week Two against the Indianapolis Colts was eerily similar. He threw for 266 yards (22 for 33) with no touchdowns and a terrible interception that would have gone for six if Colts safety Darius Butler didn't pop a hamstring as he was breaking into broad daylight.
It is true the Broncos are 2-0 with Siemian at the helm, but the numbers don't lie. This guy has been rather pedestrian. The Broncos offense owes much of its success over the past two games to the tough running of Andersen (166 rushing yards, two touchdowns), and to one of the most intimidating offensive lines in the league.
And the wins? They are more a product of a nasty, ball-hawking defense than anything else. The Denver defense had five sacks, created two turnovers, and scored 14 points in Week Two alone. This group, lead by Vonn Miller, has already amassed 12 sacks and created four turnovers in the season's infancy.
A strong running game and a tenacious defense may be all Trevor Siemian will need to hold down the starting job. He's made all the routine throws and the Broncos have proven they need nothing more than that to win ball games. But if he falters? Let the Paxton Lynch era begin.
If there's one thing the 2016 NFL season has delivered to fans through Week Two, it's a glimpse of the future. Though it's much too early to project the final destinations of these first-year quarterbacks, it should at least be entertaining to watch them either grow into Pro Bowl-caliber signal callers, or shrink into oblivion the way of Ryan Leaf.
No In-Editor Preview for SI Videos
Video Details
ID: 5131789729001
Source: SI
This article originally appeared on