Comparing Stafford and Brees through 104 Games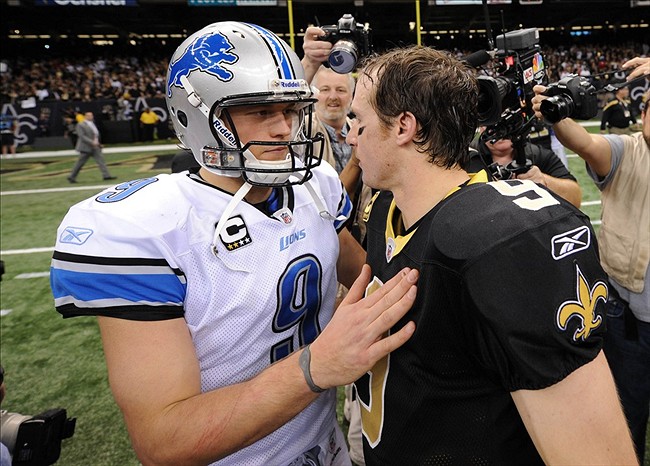 How do Stafford and Brees stack up?
Matthew Stafford has set his share of NFL and franchise records in his seven and a half seasons, but Drew Brees has been doing it for nearly 16 years and doesn't seem to be slowing down. Brees has 30 touchdowns already in 2016, with five games remaining. It is his ninth straight season with at least 30 passing TDs.
A few months ago, I did a career stat comparison between Matt Stafford and Andrew Luck where I found out that each QB had exactly 101 TD passes through their first 55 games (the amount Luck had played up to that point.) So, since Detroit is headed to New Orleans to take on Drew Brees, I thought I'd do a similar comparison between Stafford and Brees. Stafford has played 104 games up to this point, so that will be our magic number for this comparison.
Drew Brees through 104 NFL Starts
25,289 Passing Yards
160 Passing Touchdowns 
96 Interceptions
89.3 QB Rating
Brees, like Stafford, had a rocky start to his NFL career, battling through injuries. His own team gave up on him and drafted Phillip Rivers in the 1st-round while he was still in San Diego. Luckily for Brees, Sean Payton and the Saints believed in him. Brees led the Saints to the Super Bowl in 2009, beating Jim Caldwell's Indianapolis Colts. Brees has a higher rating, but as you can see below, Stafford has more yards and touchdowns.
Matthew Stafford through 104 NFL Starts
28,859 Passing Yards
182 Passing Touchdowns
103 Interceptions
87.1 QB Rating
Stafford was the first overall pick in 2009 and made his first career start in New Orleans during the Saints' Super Bowl season. Fortunately for Stafford, the Lions invested considerably more in him than what the Chargers used on Brees — the 1st pick of the second round in 2001. The Lions stuck by Stafford and most would agree it was the right decision. He is on par with Brees through his first eight seasons, but in his ninth season Drew Brees led the New Orleans Saints to a Super Bowl win. If Stafford wants to become the next Drew Brees, he needs to do this for Detroit…
Follow SLR Editor Matt Urben on Twitter @MattUrben88
More from SideLion Report
This article originally appeared on