Colts vs Jaguars Week 4: Highlights, score, and recap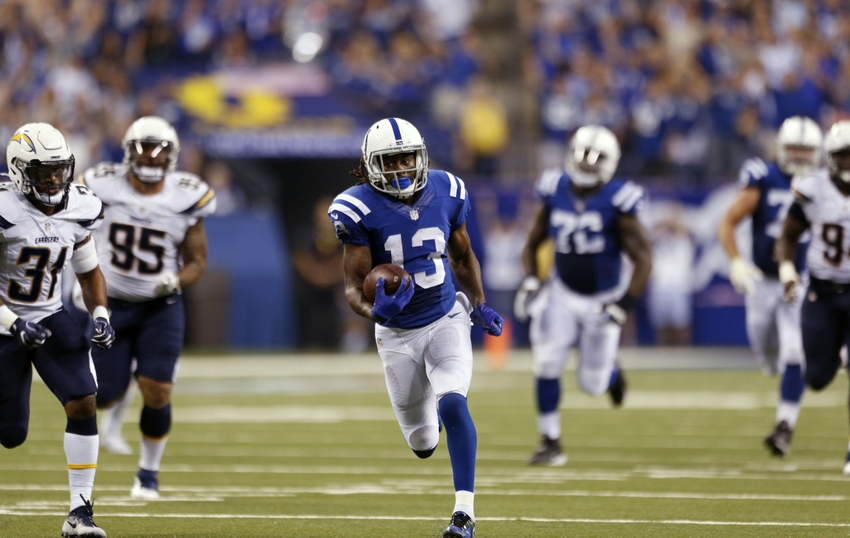 The 0-3 Jacksonville Jaguars were looking for their first win of the season when they hosted the 1-2 Indianapolis Colts on Sunday in London.
The supposedly-improved Jacksonville Jaguars are still looking for their first win of the season.
They've tried twice in Florida (2 home losses) and once in San Diego. So much for the continental United States.
So now it's over to London, where Gus Bradley's team hopes to leave there after their tilt with the Colts with a jolly old expression on their faces.
It's been a rough start for a Jacksonville club that so much more was expected from. One problem has been the play of third-year quarterback Blake Bortles, who's thrown for 843 yards and five scores but is responsible for all seven of Jacksonville's turnovers this season.
Meanwhile, the Indianapolis Colts haven't been much better. The team rallied to beat San Diego last Sunday for its first victory of 2016 but like the Jaguars, their quarterback has been the guilty party when it comes to mistakes. The Colts have committed four turnovers, all coming in the last two games and all by Andrew Luck.
All told, the Jaguars have lost six straight games dating back to last season. But their last win came in Week 14 of '15 courtesy of a 51-16 blowout of Chuck Pagano's club at Jacksonville.
So are the Colts primed to be knocked off by the Jaguars once again? Indianapolis' defensive unit doesn't strike a lot of feat into opponents and if Bortles can find a way to hang onto the football, his team is more than capable of pulling off the mini-upset. So far neither of these AFC South rivals have done anything to suggest that either will be a playoff team this winter. But it is early.
Highlights Posted Live as They Happen
Three Stars
1. Chris Ivory
The 2015 AFC rushing leader made his season debut last week with his new team against the Baltimore Ravens and was limited to a paltry 14 yards rushing on 12 carries. But that should change against an Indianapolis defense that can be had on the ground. The Chargers ran for only 37 yards last week against the Colts but Chuck Pagano's team allowed a combined 250 yards rushing in their losses to the Lions (116) and Broncos (134).
2. Julius Thomas
Opponents have done a pretty respectable job keeping Jacksonville wideouts Allen Robinson and Allen Hurns under wraps so far this season. Thomas has totaled 11 catches for 148 yards and one touchdown so far this season and he'll get some opportunities against the Colts' underneath coverage. Of course, quarterback Blake Bortles has to avoid the mistakes he's made to start this season.
3. Andrew Luck
The six-year pro has struggled a bit the last two weeks, although he did rally his team to a win over the Chargers last Sunday. Luck has already thrown for 913 yards and six touchdowns but has committed four turnovers the last two weeks and three have been taken back for scores. Win or lose, he'll keep the Colts in this game as the Indianapolis running attack remains an uncertainty.
Odds
Despite playing in London for the fourth straight year (and this being a "home" game), the Jacksonville Jaguars were a 2.5-point underdog to the Colts in Sunday's contest.
Next Week
It's a tricky week for the Colts, who will host the Chicago Bears next Sunday following their trip to London. The Jaguars are off next week but will travel to the Windy City in Week 6 to face these same Bears.
This article originally appeared on