Colts Place Kendall Langford on Injured Reserve; Promote Christopher Milton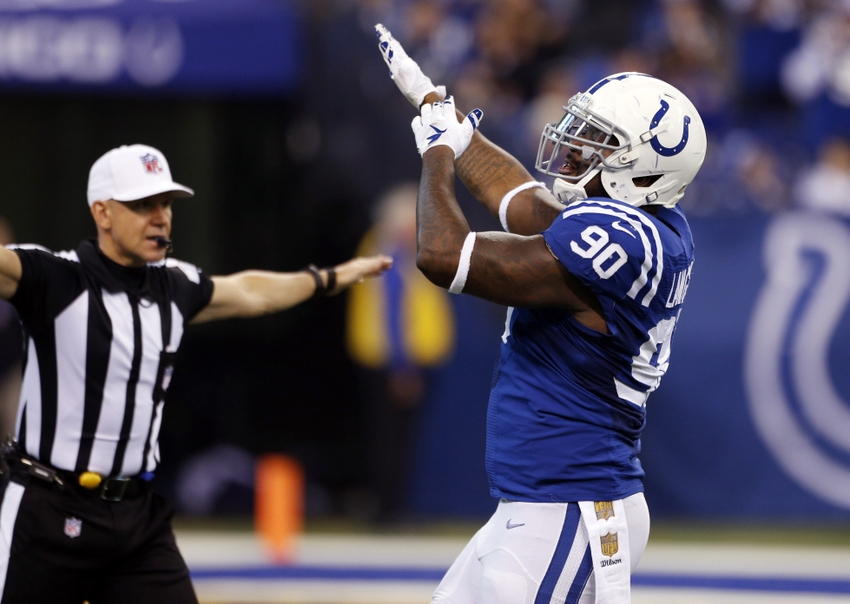 The Indianapolis Colts announced on Saturday that the team has placed starting defensive lineman Kendall Langford on injured reserve with a lingering knee injury.
In his place on the 53-man active roster, the Colts have promoted cornerback Christopher Milton from the practice squad in a corresponding roster move.
Obviously, it's a major blow to the Colts defensive line.
The 30 year old defensive end had a clean-up surgery for a 'chondral defect' this past offseason for the Colts, but only initially missed the preseason.
However, Langford never regained his prior form, as he was still suffering from complications of the injury.
After starting the team's first 7 games, Langford was eventually shut down to fully recover from his knee injury. The 9-year veteran simply didn't look like the same player that the Colts saw last season, when he was the team's most valuable defensive lineman for the entire year–tying the team high with 7.0 sacks.
He had missed the team's last 3 games and was already declared 'out' for Sunday's game against the Tennessee Titans.
While it's not surprising that Langford has ultimately been shut down for the season, it is interesting because earlier this week head coach Chuck Pagano was 'hopeful' that Langford could actually return to practice in the coming days.
It's unclear whether Langford suffered a setback to his knee or whether the knee is simply not responding the way both parties hoped it would given the rest of a few weeks.
The positive news is that fellow starting defensive end Henry Anderson was a full participant in practice all week which lessens the loss of Langford. However, the team's other veteran defensive end Art Jones is currently listed as 'questionable' with an illness, which could impact the Colts defensive line depth.
However, apparently the Colts aren't too concerned about their depth in the defensive trenches, as the team promoted cornerback Christopher Milton off the practice squad instead of a defensive lineman.
The undrafted rookie cornerback out of Georgia Tech signed with the Colts following this year's NFL Draft and spent all offseason with Indianapolis. He appeared in all 4 of the team's preseason games, recording 3 tackles, 2 passes defensed, and an interception.
However, Milton was part part of the team's final 53-man roster cuts and was subsequently re-signed to the team's practice squad where he's spent the season until his promotion to the active roster on Saturday.
It's worth noting that the Colts could also use additional depth at cornerback, as starting cornerback Patrick Robinson is 'doubtful' with a groin injury.
Milton should contribute immediately on special teams, and potentially even see some action in nickel packages for the Colts if further injuries at cornerback arise.
More from Horseshoe Heroes
This article originally appeared on