Colts Jordan Todman Named AFC Special Teams Player of the Week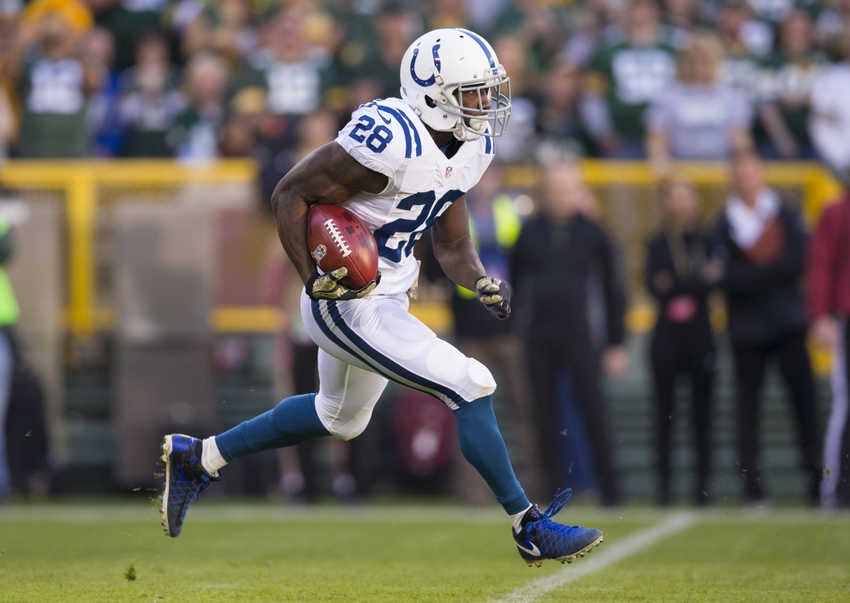 The NFL announced that Indianapolis Colts kick returner Jordan Todman has been named the AFC Special Teams Player of the Week following his opening 99-yard kickoff touchdown return against the Green Bay Packers in his team's 31-26 victory:
It's worth noting that Todman is the Colts 1st special teams returnman to win the award since T.Y. Hilton accomplished the feat in Week 12 of 2012.
Ever since the team's primary kick returnman Quan Bray went on injured reserve following Week 6, Todman has assumed the role, returning 7 kickoffs for 276 total kick return yards (39.4 y/rt) and last weekend's touchdown return.
Obviously, the opening kickoff touchdown return was a huge momentum boost for the Colts coming out of the gate at Lambeau Field and set the tone for the rest of their upset win:
"The first one, man, it was great blocks," said Todman on the pivotal play via Colts.com. "I seen a couple guys fall down, and Fergie (Josh Ferguson), Ferg hit me with a nice block, got me released, and I seen some open grass, and it was off to the races after that. I gave everything I got and was to finish, and it was a great feeling."
However, Todman wasn't necessarily done on the evening–later returning a kickoff in the 2nd quarter from 6-yards deep in his end zone for 61-yard kickoff return. Setting up the Colts offense close to scoring position at the Green Bay 45-yard line.
Todman joins teammate Adam Vinatieri in receiving such an honor, the latter who was awarded AFC Special Teams Player of the Week for his Week 5 performance earlier this season.
Obviously, it's a great honor for an underrated player, who has also done other gritty, under-the-radar work on special teams for much of the season.
More from Horseshoe Heroes
This article originally appeared on