Colts Injury Update: Dwayne Allen Returns to Practice, But T.Y. Hilton Still Hampered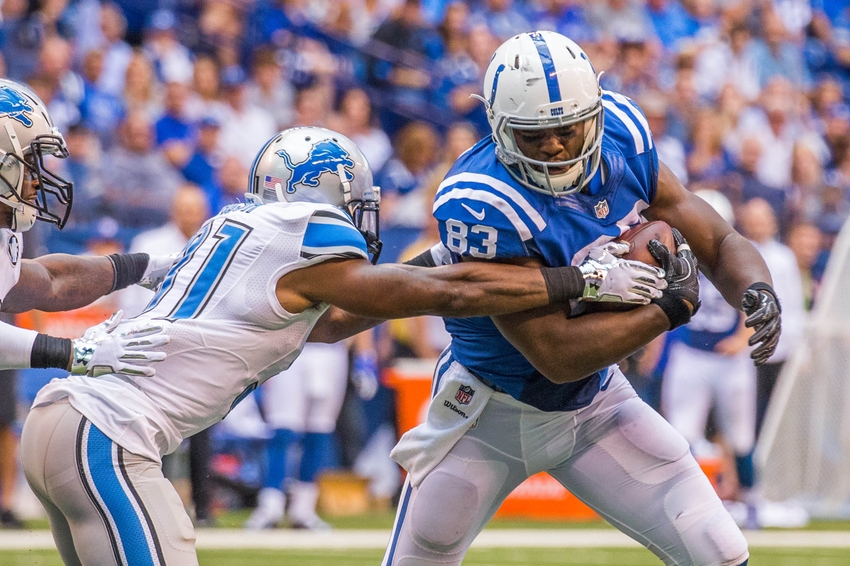 The Indianapolis Colts received some encouraging news on Wednesday, as starting tight end Dwayne Allen was able to practice–albeit on a limited basis:
Dwayne Allen working in the side as practice begins. Has a helmet. Working with trainers for now. #Colts

— George Bremer (@gmbremer) November 2, 2016
It's worth noting that the 5th year tight end has missed the team's last two games with an ankle injury, but is currently on the optimistic side of his initial 3-5 week timetable for recovery.
The return of Allen may explain why the team elected to waive 3rd-string tight end Chase Coffman Tuesday in favor of promoting backup cornerback Frankie Williams off their practice squad–which otherwise seemed like a somewhat risky roster proposition.
While it looks as though Allen still has a ways to go in determining his availability for Sunday's game against the Green Bay Packers, it looks as though he may have a shot of actually playing.
Otherwise, the team was given some discouraging news, as starting wide receiver and top playmaker T.Y. Hilton remains unsure of his status for Sunday–having been held out in order to rest a sore hamstring:
T.Y. Hilton said he's not sure if he will play this week. Said the hamstring injury came on the first drive Sunday. Going to rest today

— Kevin Bowen (@KBowenColts) November 2, 2016
Meanwhile, it's worth noting that both starting shutdown cornerback Vontae Davis and swing-tackle Joe Reitz remain in the league's concussion protocol and did not practice.
Joining them in being unable to participate in practice was starting offensive guard standout Jack Mewhort, who head coach Chuck Pagano still had no definite timetable for his return saying, "Just trusting the doctors, listening to them," on a tricep injury that continues to keep him out.
If Mewhort and Reitz are out, the Colts would likely switch rookie Joe Haeg back to starting right tackle, while backup Jonotthan Harrison would take over the starting left guard position.
However, the team did have wide receiver Chester Rogers return to practice on Wednesday, who will assume the punt returning responsibilities again if healthy–a definite area of concern after a sequence of muffed punts last weekend by his replacements.
Rogers could also be the elevated 3rd-wide receiver if Hilton is in fact unable to go for Sunday alongside Donte Moncrief and Phillip Dorsett.
It goes without saying, but it looks as though the Colts will have to battle through a number of injuries offensively for Sunday's game.
More from Horseshoe Heroes
This article originally appeared on