Colts at Jaguars: Preview, Predictions, and More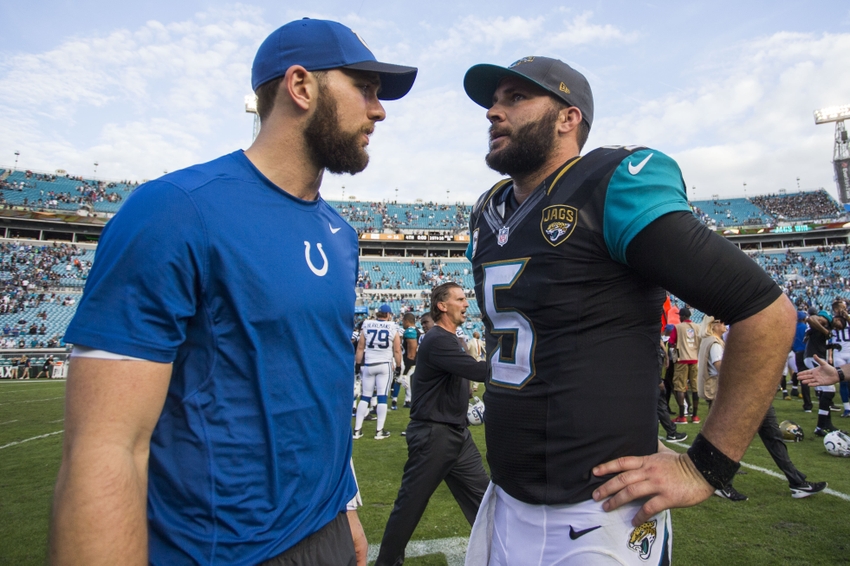 Indianapolis Colts vs Jacksonville Jaguars
The first London game of the season will feature the Indianapolis Colts and the Jacksonville Jaguars. Both AFC South teams have not had their seasons get off to good starts, as they have a combined 1-5 record. Now they meet across the pond in Week 4.
The Colts were the only one of the two teams to get a win this season. On a miraculous play, Andrew Luck, and T.Y. Hilton were able to connect on a deep pass to beat the San Diego Chargers.
A recent injury to J.J. Watt of the Houston Texans has made the AFC South a very winnable division. The Texans might really struggle without Watt on defense, and the Colts could look to capitalize. Due to the Colts having a 1-2 record so far, they will need a win against the Jaguars.
For the Jaguars, things have not gone to plan so far this season. After having a nice offseason, the Jaguars still don't appear to be a threat in the AFC South. Their recently upgraded defense is still struggling, and quarterback Blake Bortles has regressed so far. This isn't the recipe for success for the Jaguars, who need a win to keep their season alive.
Colts Keys to Victory
Due to the game being in London, we will likely see a game that will have its fair share of mistakes. The Colts have been prone to turnovers in recent years, and protecting the ball will be a focus. Luck has played well so far this season with six touchdown passes and two interceptions.
Keeping Luck protected in the pocket is always important for the Colts. In addition to the offensive line needing to protect Luck, they will also have to create running lanes for Frank Gore. A balanced attack on offense with limited mistakes should be enough for the Colts to defeat the Jaguars.
Jaguars Keys to Victory
For the Jaguars, there is a lot that they need to improve upon. Bortles has a lot of potential as we have seen, but he needs to turn it around this week. The Colts defense is not a very good one, and Bortles could easily gain his confidence back. Throwing more interceptions than touchdown passes so far this season is unacceptable from Bortles.
While Bortles has clearly struggled, he hasn't had much help from the running game. As a team, the Jaguars are averaging just 2.8 yards per carry. Whether it be T.J. Yeldon or Chris Ivory, the Jaguars need to get their running game going.
Odds
Line: Colts -2.5
Over/Under: 49
Moneyline: Colts -140, Jaguars +120
Prediction
Games in London can always be hard to predict due to the travel. However, there isn't much to like about the Jaguars right now. While the Colts haven't played well either, they at least have some momentum from Week 3.
Pick: Indianapolis Colts: 31, Jacksonville Jaguars: 27
This article originally appeared on