Colts Antonio Cromartie, Jonotthan Harrison Expected to Start, as 'Next Men Up' on Depth Chart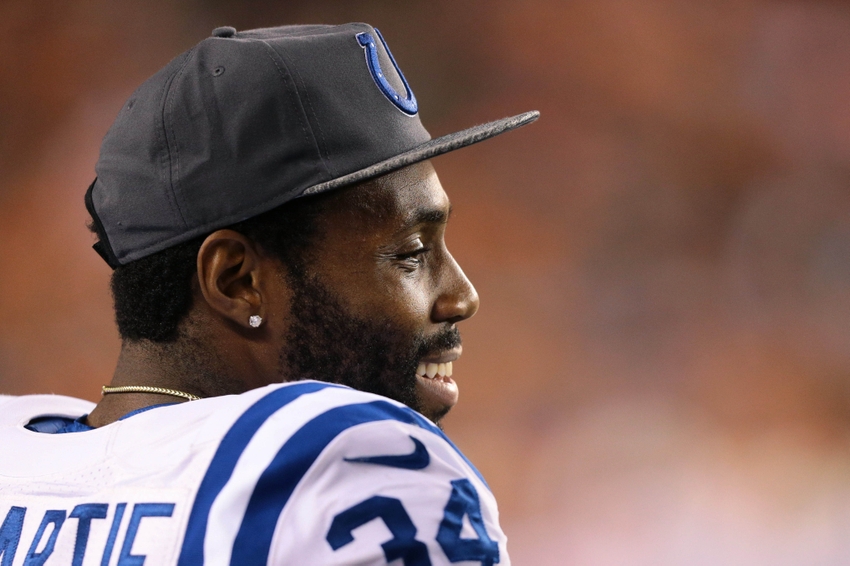 With a rash of recent injuries, both cornerback Antonio Cromartie and center Jonotthan Harrison are expected to make spot-starts for the Indianapolis Colts' regular season opener.
The Indianapolis Colts released their latest depth chart on Tuesday, and it looks as though because of injuries, there will be some fresh faces at new spots:
Specifically, it looks as though cornerback Antonio Cromartie and converted offensive guard Jonotthan Harrison are the projected starters for Sunday's game against the Detroit Lions due to injuries to Vontae Davis and Jack Mewhort respectively.
Due to Davis' severe ankle injury, the Colts signed Cromartie two weeks ago, as the veteran cornerback has a wealth of starting experience with 133 career starts in 158 games. He has great familiarity with head coach Chuck Pagano's defensive system, having previously played a similar man coverage scheme under Rex Ryan while with the New York Jets.
The Colts should insert Cromartie into the starting lineup and have no real qualms about whether he'll be lost in the defensive system. The bigger question will be whether Cromartie's conditioning is up to par, having remained unsigned by a team for nearly the entire offseason and with no played preseason games under his belt.
Otherwise, Harrison has been a starter for the Colts offensive line before–only at starting center instead. The 3rd-year interior offensive lineman already has 19 career starts under center while with the Colts; however, he's projected to start at offensive guard this time around.
In theory, Harrison's transition to offensive guard should be a smooth one. He'll be less tasked with the mental aspects of the game regarding calling protections, snaps, and managing play clock at the line of scrimmage and can simply play football. He has the physical strength and brute power to be a road grader for the Colts at guard in the ground game.
It's worth noting that Sio Moore (if healthy) will be making his first start with the Colts, having appeared in 12 games for the Colts this past season. He'll replace departed inside linebacker Jerrell Freeman in the middle–playing alongside returning veteran D'Qwell Jackson.
If Moore can't go, it looks as though either holdover Josh McNary or rookie Antonio Morrison could receive the spot-start at inside linebacker in his absence.
More from Horseshoe Heroes
Likewise, the Colts could very well be starting another rookie, T.J. Green, at safety while projected starter Clayton Geathers recovers from a foot injury–who looks like he won't quite be ready in time for the opener.
Additionally, while veteran Kendall Langford (knee) is expected to start at defensive end, it looks like either Zach Kerr or T.Y. McGill will receive the start on the other side in relief of 2nd-year pro Henry Anderson, who like Geathers, doesn't appear to be a go for this Sunday–rehabilitating from a knee injury.
Either way, there will be a number of Colts making spot-starts in the absence of key starters for Sunday's opener due to a slew of injuries that has decimated the depth chart.
This article originally appeared on