College Football Week 4: 5 Games NFL Fans Need to Watch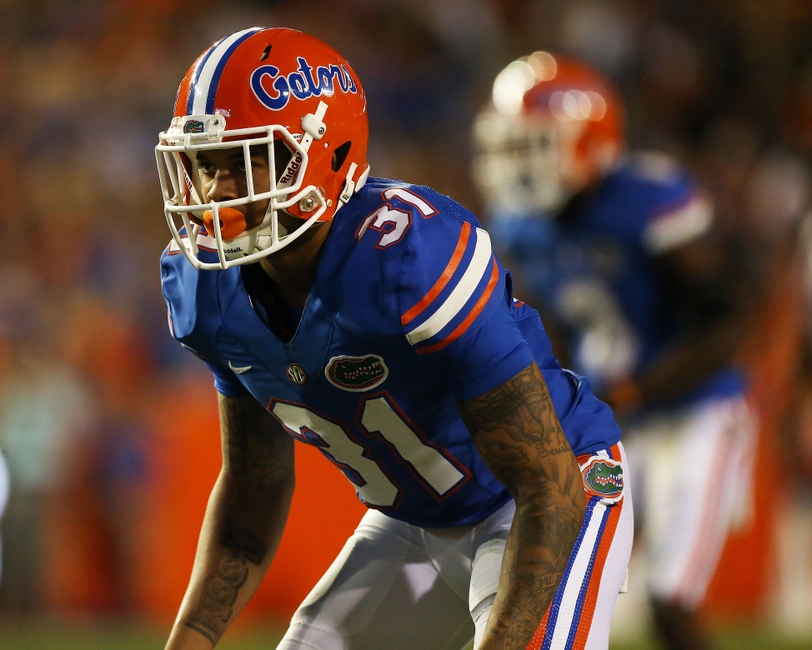 Which five college football games in Week 4 of the season should NFL fans have their eyes on, watching on Saturday?
We're only entering Week 3 of the 2016 NFL season, meaning there's still hope for most teams. However, faith has already been lost by many fans regarding their team's chances. Some may even be resigned to watching out for the 2017 NFL Draft. Thus, they now have a vested interest in what happens in college football in each week.
Though Sunday's belong to the NFL (as do Thursday and Monday nights, as well), Saturday's are all about the college football world. However, NFL fans have something for them, too. In the ranks of the collegiate level, you have the chance to watch the future stars of pro football. You just have to know the right places to look.
For those who aren't well-versed college football fans, though, you might not be aware of which players and teams you need to be watching each week. That's where we've got you covered.
As we enter Week 4 of the college football season, there are some titanic matchups on the docket. Moreover, the big-time 2017 draft prospects will be tested and showcased to the world. But specifically, there are some matchups and players worth watching more than others.
These are the five Week 4 college football games that NFL fans need to be watching on Saturday.
5. Stanford at UCLA (8 p.m. ET, ABC)
Just like every time that this iteration of the Stanford Cardinal are on the field, eyes will gravitate towards running back Christian McCaffrey in this game. The projected late-first-round prospect for 2017 can do it all. He has an uncanny blend of speed, vision, and general grit that make him an all-purpose monster. Frankly, I think having him fall out of the top-15 would be a steal for whoever picks him up in the draft. If you check out this game, you'll see what I mean.
However, McCaffrey isn't the only thing that should keep NFL fans tuned into this one on Saturday night. UCLA quarterback Josh Rosen won't be eligible for the 2017 NFL Draft as a true sophomore. That said, fans of teams that could be in the market for a quarterback in 2018 need to keep an eye on this young man.
Though the performance and/or production hasn't consistently been there for Rosen, the talent is there. For such a young player, the mechanics, arm-strength, and generally every other physical tool that the Bruins quarterback has are remarkable. If he can start showing a higher level of consistency against quality opponents, he could be the first quarterback off of the board in 2018. He'll have the chance to start proving that in Week 4 against Stanford.
4. Penn State at Michigan (3:30 p.m. ET, ABC/ESPN)
Back to 2017 NFL Draft prospects, there aren't many players that create quite the amount of hype as Michigan Wolverines star Jabrill Peppers. I wish I could give you a position for Peppers, but you'll see him do just about everything under the sun for Jim Harbaugh and the Wolverines. He's a safety, a linebacker, a return specialist, and has even lined up as a running back at points throughout his career. Oh, and he's succeeded at all of these. You have to check out the versatility and playmaking that Peppers is going to bring in this matchup.
Once again, though, there's more than just one reason to watch this game than its biggest star. Also from Michigan, a player to keep an eye on would be tight end Jake Butt. Not only are he and his family incredibly self-aware and hilarious regarding their sophomoric last name, but the dude can also flat-out ball.
With tight ends becoming so important in NFL offenses, have a sure-handed and big pass-catcher at the position can be pivotal. Butt is every bit of that and more. While he may not be the next Rob Gronkowski, he could easily consistently be what a Greg Olsen is to the Carolina Panthers. He probably won't be a first-rounder, but my money is on Butt being the best tight end in the 2017 draft class—even over O.J. Howard from Alabama.
3. Louisville at Marshall (8 p.m. ET, CBSSN)
You're probably looking at this right now and wondering what in the hell the Louisville Cardinals taking on the Marshall Thundering Herd has to do with the top-end of the 2017 NFL Draft. Quite honestly, the answer to that question is not much. However, you honestly just need to tune in to see what Louisville sophomore quarterback Lamar Jackson is doing. No. Seriously. You have to see this dude.
You may look at the fact that he's the Heisman Trophy favorite right now and think that, yeah, it's only been three games. But man, oh man, have those three games been wildly impressive. He's improved his throwing struggles from last season a great deal, but is also 100 percent electric when he takes off and carries the pigskin. Suffice it to say, he's a star-in-the making.
For all of the electricity, though, Jackson's NFL prospects are curious. That's why it's interesting to be watching Jackson before he's going to be eligible for the draft. You want to see him be more than just an incredible college quarterback. He needs to start developing the nuances of the position to where he can play to his strengths at this level and at the next. Plus, watching him play this season is just plain fun.
2. Arkansas at Texas A&M (9 p.m. ET, ESPN)
Myles Garrett is a name that surely fans looking ahead to the NFL Draft are familiar with. In a modern NFL where pass-rush is king, the Texas A&M Aggies star defensive end is the best of his class. And while this Aggies team led by Garrett has been impressive through the first three weeks of the season, they have their biggest test coming to Kyle Field on Saturday. That is to say, they'll be playing a high-quality Arkansas Razorbacks team.
When you think about Arkansas in the SEC, you always think about a solid quarterback, but an offense that thrives off of their running backs. Thus, this Razorbacks team doesn't just offer a big test to the Aggies as a whole. Individually, we'll also see Garrett be put to the test.
Garrett can clearly get to the quarterback on dropbacks and such. However, he's not quite as explosive or effective against the run. Moreover, you want to see him be able to get off the line and attack backs in the backfield on quick throws into the flats. He'll have the opportunity on Saturday to show how he's grown or progressing in those areas as those are Arkansas types of plays. And NFL fans hoping to see the next dominant defensive lineman should tune in to check it out.
1. Florida at Tennessee (3:30 p.m. ET, CBS)
If Garrett doesn't do it for you and you're looking for future defensive stars in the NFL, look no further than the Florida Gators in Neyland Stadium to take on the Tennessee Volunteers. For both teams, there are just an abundance of top-tier defensive players. With two solid offenses taking the field in a huge SEC matchup, this is definitely a college football game that NFL fans should have a vested interest in.
For the Volunteers, you have to start with Derek Barnett on the line. The dude is a flat-out beast and can really blow up an offensive play in an instant. Those same things can be said of linebacker Jalen Reeves-Maybin. What'll be interesting with Maybin, though, is that he's coming off of an injury that's been hampering him. Hopefully that won't cost him a good performance in a huge game. Also keep an eye on Cameron Sutton in the secondary as he's a playmaker, though he does need overall work in coverage.
The majority of the conversation for Florida on the other hand is going to be in their secondary with Jalen Tabor. We've all seen the promise that former Gators cornerback Vernon Hargreaves III has shown already—and some believe Tabor might be even better. With him and other potential mid-round steals on the Florida defense, you'll definitely be wanting to catch all of the defensive promise coming from both of these teams.
This article originally appeared on