College Football Playoff: Penn State has a Path to Top 4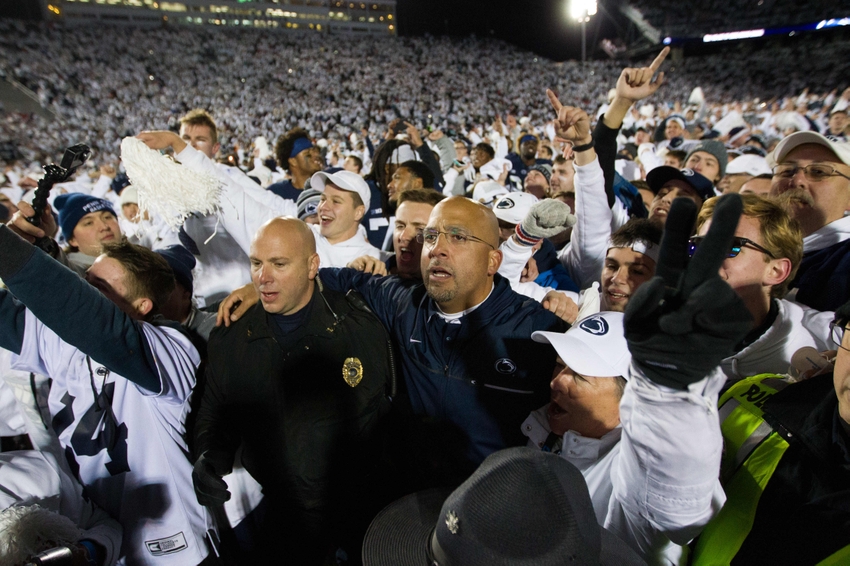 Penn State has a legitimate path to the college football playoff
A month ago Penn State fans were clamoring for the firing of head coach James Franklin. Today, they are praising the eighth ranked team in the country that has a legitimate shot at making the college football playoffs.
Penn State needs help, like any other team in this race, but the goal is achievable. Here's what Penn State would have to do to make the college football playoff.
1.Beat Rutgers and Michigan State (aka win-out)
This is easily achievable with Rutgers and Michigan State being two of the worst teams in the Big Ten this season.
2.Ohio State beats Michigan in the final week of the season
After Michigan lost to Iowa this past weekend, it created a scenario where the Big Ten East was up for grabs. Should the Buckeyes beat Michigan, tie-breaker scenario's and conference head-to-head situations would send Penn State to the Big Ten playoffs.
3.Penn State beats (presumptively) Wisconsin in the Big Ten Championship in Indianapolis
Both teams have a very good defense and flash a quality rushing attack. This game could go either way, and will play huge factors towards the final rankings.
If those three things happen (Penn State wins out, Ohio State beats Michigan, and Penn State wins the Big Ten) the college football playoff committee could place the Nittany Lions in their first college football playoff.
A playoff scenario that would come out of this would most-likely feature an undefeated Alabama team, the ACC champion (Clemson or Louisville), and two Big Ten teams.
Presumably, the final top four would look as follows:
Alabama
Clemson
Ohio State
Penn State
When you look at strength of schedule, the only two losses Penn State currently has is to Michigan (currently a top four team) and a one-score game to Pittsburgh, who knocked off Clemson last week.
This is an offense that is averaging 35 points per game with a future Heisman contender (Saquon Barkley) and a young quarterback in Trace McSorley leading the way. They've scored over 40 points in their last three games, all of which were within the Big Ten. Defensively, Penn State has all of their stars back healthy, namely linebackers Jason Cabinda and Brandon Bell.
There is still a lot of football to be played, and as we saw last week anything can happen. But for a program to go from unbearable sanctions to a possible playoff scenario, you have to credit the players and coaches who fought to get to where they are today.
More from NFL Mocks
This article originally appeared on