Colin Kaepernick was benched again in a meaningless game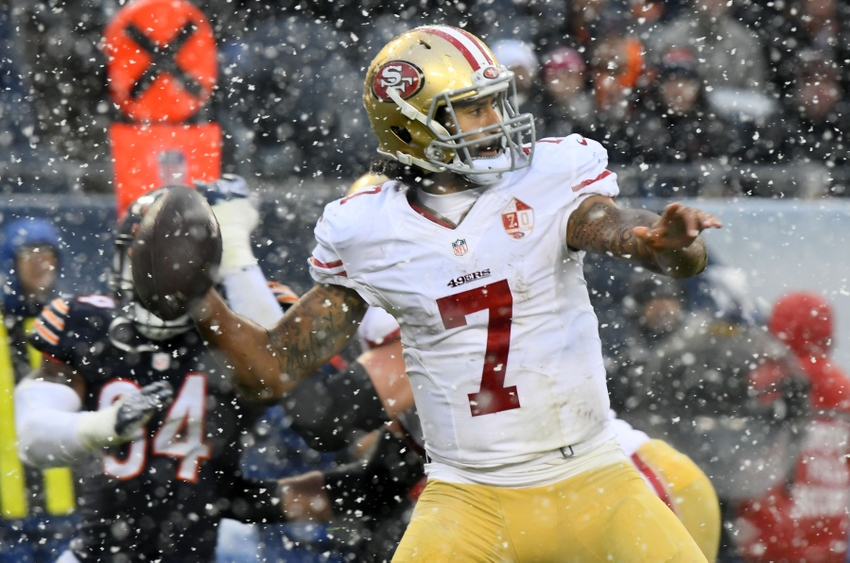 San Francisco 49ers quarterback Colin Kaepernick was benched in a relatively meaningless week 13 matchup against the Chicago Bears…
San Francisco 49ers quarterback Colin Kaepernick was benched again on Sunday afternoon.
Is anyone really surprised?
Kaepernick and the 49ers are 1-11 this season, and were destroyed in Chicago by a very weak Bears team. He was pulled after starting the game with one completion for four yards on five pass attempts.
It was a good thing pretty much no one was watching…
The future of Kaepernick in San Francisco is bleak. The 49ers have now benched him twice, and he re-structured his contract this year so that he could void at the end of the season, becoming a free agent. Prior to this debacle against Chicago, it was reported that he would void the contract at the end of the season…
#49ers QB Colin Kaepernick will void his contract & become a free agent after 2016, sources say. But don't rule out a return to SF in 2017.

— Ian Rapoport (@RapSheet) December 4, 2016
While Rapoport implores us not to rule out a return to the 49ers next year, it's pretty clear that a reunion isn't happening if he tests the market. It seems like his days in San Francisco are long gone.
This season, Kaepernick has been much more prominent in headlines that deal with social issues rather than his position of employment, and he's been absolutely terrible at the latter.
Since basically rejecting the Denver Broncos starting quarterback position, Kaepernick started the season as the backup, moving into a starting role, and back to the bench. He doesn't look even remotely close to the same player that helped lead the Niners to the Super Bowl a few years ago.
In fact, that game seems like it was a lifetime ago with all that has gone on in the world of Colin Kaepernick since then.
Who knows what his NFL future holds? It certainly won't be as a locked in starting quarterback anywhere.
More from NFL Mocks
This article originally appeared on