Colin Kaepernick Back, Throwing Long Touchdowns (Video)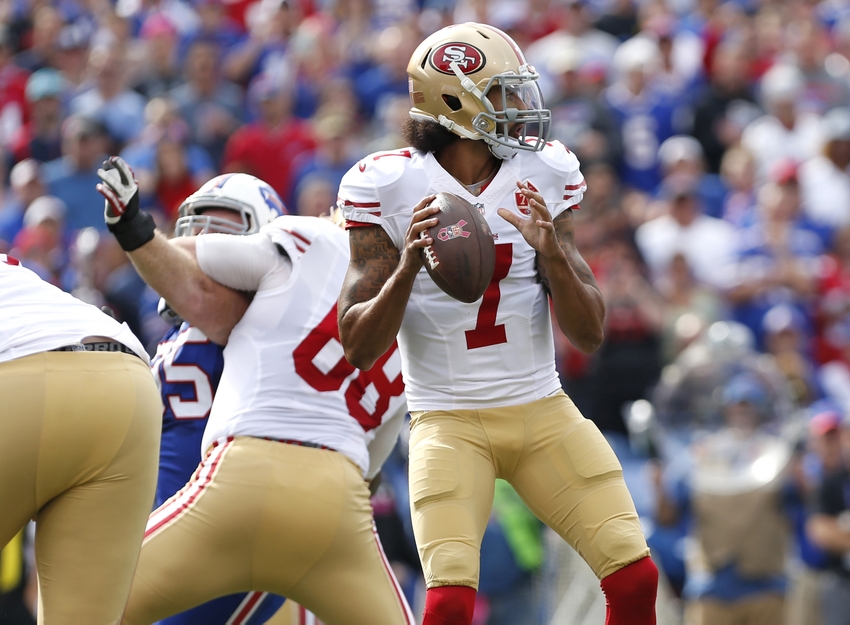 Colin Kaepernick is back under center for the San Francisco 49ers and back to his old ways, throwing his first touchdown pass of 2016
Amidst all of the controversy surrounding his protests, people soon forget that Colin Kaepernick led the San Francisco 49ers to the Super Bowl once upon a time. With Chip Kelly naming him the starter for the Niners for their Week 6 matchup with the Buffalo Bills, they hoped that form would return. At least early on in his first game back, it looked like he hadn't missed a beat.
Trailing 7-3 early in the second quarter, Kaepernick and the 49ers were looking to earn some points to stay within striking distance. They did that and more on one big play thanks to the new starting quarterback and Torrey Smith.
Smith ran a deep route down the right side of the field and the Bills absolutely blew the coverage. With his speedster wide-open down the field, Kaepernick threw a dime right in Smith's bread-basket. From there, it was off to the races to the end zone—and you aren't catching Smith in that kind of situation:
Kap goes DEEEEEEEP.
Got 'em.

That's a 53-yard @49ers TD! 😯 #SFvsBUF https://t.co/Uk8P2GZI2y

— NFL (@NFL) October 16, 2016
It's been a while since we've seen Kap doing that. That was his first touchdown pass since Week 6 of the 2015 season.
After their Week 1 win, the 49ers have struggled mightily with Blaine Gabbert at the helm. At the very least, the hope is that Kaepernick will rejuvenate the offense in the Bay Area. From the looks of it, he's off to doing all that and more.
This article originally appeared on