Colin Kaepernick: 5 Possible Landing Spots for 49ers QB in 2017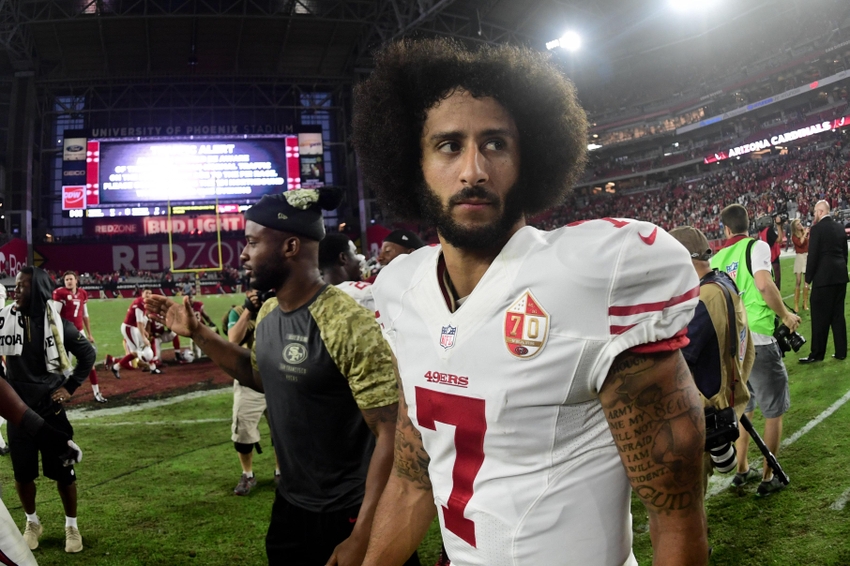 San Francisco 49ers quarterback Colin Kaepernick can opt out of his current contract after this season. This prompts a question — where will he play in 2017 if he won't call Santa Clara home?
The San Francisco 49ers could easily be without quarterback Colin Kaepernick next season.
Kap's current contract allows him to opt out of the deal after 2016 is finished, thus making him a free agent capable of signing with any team willing to have him.
Let's forget whether or not Kaepernick should stay with the Niners moving forward for a moment. He still could, especially if general manager Trent Baalke leaves, and continue his work under head coach Chip Kelly (assuming he stays too).
But that is another argument for another time.
Kaepernick's numbers this season aren't terrible, certainly by last year's measure. Yet those stats aren't exactly enough to inspire confidence he can return to the kind of player he was back in 2012 and 2013.
Will he ever reach that status again? Maybe. Under the right circumstances and with the proper coaching staff, anything is remotely possible.
The problem is Kaepernick is already viewed as a "has been" and not someone teams would want to invest in heavily.
That limits the options where Kaepernick could go, especially if he expects to continue being a starter.
Still, let's look at five possible destinations that would make some sense if Kap departs the 49ers this offseason.
No. 5: Cleveland Browns
Oh, to be the winless Cleveland Browns.
There is zero excitement, outside of likely landing the No. 1 overall pick in the NFL Draft, for Cleveland this season. None.
Cody Kessler? Josh McCown? Who starts under center next year for first-year head coach Hue Jackson? Is either really an option?
The gut would say Kessler, because he's the future. Yet is he going to be the answer?
Maybe. But bringing in Colin Kaepernick would certainly add a little more interest to the Browns in 2017. As of now, the team has no playmakers, outside of wide receiver Terrelle Pryor, and adding Kap might make things slightly more interesting.
And remember when ESPN's Adam Schefter reported Kap wanted to play for Jackson last offseason?
This could still happen.
No. 4: New York Jets
Colin Kaepernick also said last offseason, per Manish Mehta of the New York Daily News, he would have liked to play with the New York Jets.
No deal between the Jets and 49ers ever took place, of course. But New York is probably wishing it had. Just look at the disaster of a season the Jets have had under center.
A key player in this situation is incumbent (sort of) quarterback Ryan Fitzpatrick, who signed a two-year deal with New York — along with a voidable 2017 — to remain under center with the Jets this season.
And this season has been a disaster for Fitzpatrick and the Jets. Backup QB Geno Smith is out for the year. Who else? Bryce Petty?
Assuming Fitzpatrick is gone next year, the Jets will be scrambling.
So maybe Kaepernick gets his wish after all.
No. 3: Denver Broncos
Broncos rookie quarterback Paxton Lynch is the future for general manager John Elway. That much is known. But when he sees regular starter's reps is another question.
Right now, that is being performed by Trevor Siemian — a relatively unknown name prior to 2016.
It makes sense the near-deal San Francisco and Denver had in place to send Colin Kaepernick to the Broncos. We know the story: the two teams disagreed on salary, and Kap didn't want to take a pay cut.
Siemian has been workmanlike, if not great, under center. Denver controls him on the cheap through 2018, so it would make perfect sense to continue rolling with him until Lynch is ready.
But Elway has been intrigued by Kaepernick before. So if the Broncos' undoing down the stretch winds up being due to poor quarterback play, it wouldn't be out of reach to suggest Kap calls Denver home in 2017.
No. 2: Washington Redskins
Washington Redskins quarterback Kirk Cousins is going to get paid this offseason. Just take a look at the money he's making in a contract year this season, via Over the Cap:
Whether Cousins re-signs with the 6-3-1 Redskins, who look like a legitimate playoff contender, is anyone's guess.
Let's assume, for a moment, he signs elsewhere in 2017. That opens up a major void. That leaves backups Colt McCoy and rookie Nate Sudfelt.
Not exactly promising options.
Signing Kaepernick might be the emergency choice here should Cousins walk.
No. 1: Arizona Cardinals
Let's face it. Quarterback Carson Palmer is nearing the end of the road. At 37 years old, one has to wonder just how much he has left in the tank. And whether or not his aging body can hold off the ever-worrisome injuries.
The problem with signing Colin Kaepernick is Palmer is already under contract through 2018. And the cap hit, should Arizona cut him, would be significant:
In all likelihood, Palmer is still going to be the guy next year. But the 4-5-1 Cardinals have to be thinking of the future.
They should be thinking about a strong reserve option too.
Here's where Kap to Arizona makes sense. The chances of Palmer suffering another injury between now and Week 1 of 2017 is high. And that risk carries over through all of next season. 2014 showed us what happens when the Cardinals lose Palmer.
Kaepernick wouldn't come in as a day-one starter here. But he'd be a worthy backup option should Palmer go down.
Which team Kap lands with next year, if he leaves, is anyone's guess. And who knows what other general managers around the league think of his services.
Until then, let the speculation continue.
This article originally appeared on