Cleveland Browns: Week 9 NFL power rankings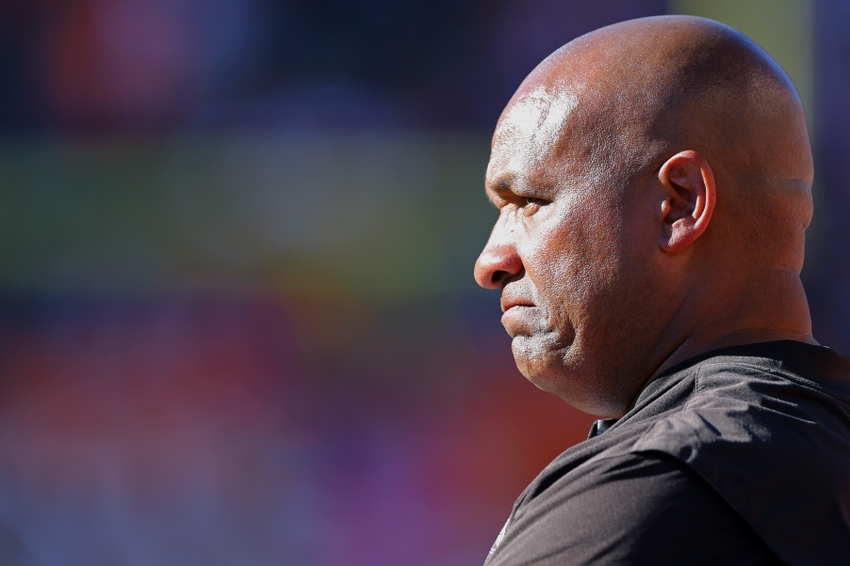 The Cleveland Browns keep trying, but they just can't find a win. That is why they take up their familiar spot at the bottom of the weekly power rankings.
The Cleveland Browns have hit the midway point of the 2016 NFL season with an 0-8 record.
It is the first time the Browns have lost consecutive games to open a season since 1975, a year that saw the club finish at 3-11 in Forrest Gregg's first season as head coach.
Those Browns would bounce back the following year by finishing at 9-5 and just missing out on a three-way tie for the AFC North title after a loss on the season's final weekend.
Whether or not the current team is on a similar path remains to be seen, but with the way things are going, head coach Hue Jackson would probably sign up for nine wins next season in a flash.
More from Dawg Pound Daily
"Obviously, we have reached the halfway point in the season, which to the team I called the second quarter of the season. We are not anywhere close to where we want to be or where we hope to be," Jackson said on Monday. "Our players came in today like the normally do, very excited about getting into the tape and seeing what we can do better. It is a resilient group that works extremely hard. They understand our process. We cannot undo yesterday. We can just learn from it and grow from it.
"There are always lessons in losses, and we have had several so there have been a lot of lessons to learn. Hopefully, we keep growing from it. I don't detect anybody falling off or discouraged. We are disappointed to a man, to a coach because we haven't been able to get it done, but we are not discouraged. We are determined to stay after it and keep working at it, and we will continue to do so."
While the effort is there (most of the time), the Browns have not been able to find a way to grab that first win, which is reflected in the weekly NFL power rankings.
Cameron DaSilva at Fox Sports:
No. 32: Getting Josh McCown back helped the offense, but there are still glaring holes as they were unable to beat the Jets after jumping out to a 20-7 lead. They should be sellers at the deadline, not that the NFL is ever really a buyers or sellers league. Cleveland must seriously consider trading Joe Thomas and Joe Haden to get additional picks to build the defense around Jamie Collins, whom they acquired Monday from the Patriots. (Pittsburgh No. 10, Cincinnati No. 20, Baltimore No. 21)
Chris Simms at Bleacher Report:
No. 31: Josh McCown gives the Browns a much, much better offense. But he also handed Cleveland's first win away. His back-to-back fourth-quarter picks turned a competitive game into something Browns-like. For the first time in weeks, I can't excuse Hue Jackson's club. I can excuse Terrelle Pryor, though. He put up 101 yards on Darrelle Revis (which isn't rare anymore, but still) in the first half alone. That he didn't receive 10 more targets in the second half is a coaching failure. (Pittsburgh No. 11, Cincinnati No. 16, Baltimore No. 23)
Elliot Harrison at NFL.com:
No. 32: #GPODAWUND, man. If the Browns had beaten the Jets on Sunday, I guarantee that would have been the rallying cry. Two fresh faces to discuss here … Jamie Collins, who came over from New England in a shocking trade on Monday, should instantly make the defense better. And Josh McCown, back in the lineup after being out for over a month, gave the offense some aerial life. While McCown didn't exactly light the world on fire, you could probably tell why teams were so interested in him this summer. This dude easily gives the Browns their best chance to win. The deep-ball interception was forced, granted, but McCown was trying to give T.P.S. a chance to elevate and make a play. I was more disappointed in the late clock management. (Pittsburgh No. 11, Cincinnati No. 19, Baltimore No. 24)
ESPN:
No. 32: When you haven't won a game and you've had six different quarterbacks throw a pass through eight games, you're going to find yourself at the bottom of the standings. If Week 1 prognostications are any such indicator, our power panel had a hunch that Cleveland was going to struggle this season, even before it all went down. (Pittsburgh No. 8, Cincinnati No. 13, Baltimore No. 20)
No. 31: The Jamie Collins trade makes a lot of sense for them. They need playmakers. They can afford to front-load a big contract for him. If someone else signs Collins next offseason, they'll get a compensatory pick that'll make up for the one they gave up. It's hard to find a downside. (Pittsburgh No. 9, Cincinnati No. 17, Baltimore No. 24)
This article originally appeared on