Cleveland Browns: Week 14 NFL power rankings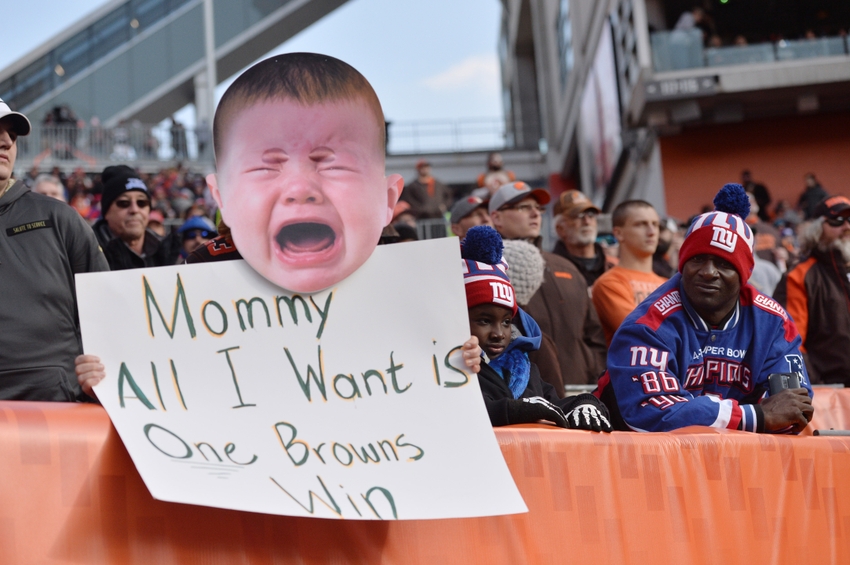 The Cleveland Browns may not receive much love in the weekly NFL power rankings, but a look around the league reveals the Browns in better shape than many believe.
The Cleveland Browns were on a bye last week, which means that they did not have an opportunity to extend their current losing streak to 16 games.
But it also gave us at Dawg Pound Daily an opportunity to take a good look around the rest of the NFL and one thing became abundantly clear.
The Browns are not the worst team in the league.
That may be of little consolation, especially given the reality of an 0-12 record this season, but automatically putting the Browns at the bottom of any power rankings simply by virtue of their record is to be quite lazy.
The New York Jets may have three wins, but judged by what took place Monday night against the Indianapolis Colts, the Jets have clearly quit on head coach Todd Bowles – which is something no one can say about the Browns and head coach Hue Jackson. Plus the Jets are about to enter salary cap hell as they are a projected $8 million-plus over the salary cap for next season.
The Jacksonville Jaguars may have two wins, but according to ESPN, they are on the brink of securing a top 5 draft pick for the sixth consecutive season, something that has not happened since the common draft era began in 1967. Plus they are saddled with turnover machine Blake Bortles at quarterback.
More from Dawg Pound Daily
The San Francisco 49ers may have one win, but are coming off a game where, according to ESPN Stats & Information, Colin Kaepernick became the first quarterback in NFL history to take five sacks and throw for less than 5 yards in a game. (You read that right: Kaepernick finished Sunday's game 1-of-5 for four yards; the 49ers as a team passed for six yards.)
That is not to say that everything is strawberries and cream for the Browns, who still have major issues on defense, injury concerns along the offensive line, and no quarterback on the current roster that should see the field in 2017.
But rather to point out there is losing, and then there is losing with a purpose, which is what this season has always been about for the Browns.
So even though the record may not reflect it, through 12 weeks of the season the Browns are doing exactly what they need to be doing to get better, no matter what an arbitrary power ranking may say about the team.
Cameron DaSilva at Fox Sports: 
No. 32: The Browns didn't lose this week! Sometimes a bye is the best you can hope for. (Pittsburgh No. 12, Baltimore No. 19, Cincinnati No. 27)
Chris Simms at Bleacher Report: 
No. 32: I can't drop the Browns any lower than the last stop in these rankings. Cleveland was on a bye in Week 13. (Baltimore No. 9, Pittsburgh No. 10, Cincinnati No. 24)
No. 32: The Browns joined the Titans in wrapping up the bye weeks for this season, just in time for Cleveland to get healthy enough to lose another game. Or will they? The Browns next host the Bengals, who have struggled mightily on defense in 2016. Cincinnati likely will be without A.J. Green, and the Bengals have won only one game on the road this season (by one point versus the Jets in Week 1). So you're telling me there's a chance. Go Browns. (Baltimore No. 8, Pittsburgh No. 9, Cincinnati No. 24)
No. 32: Our Football Power Index (FPI) gives the Browns a 30.6 percent chance of beating the Bengals at home this week, their best odds to win a game the rest of the season. FPI gives the 0-12 Browns a 38 percent chance of completing the imperfect season. (Pittsburgh No. 5, Baltimore No. 6, Cincinnati No. 24)
No. 32: The Browns claimed former Cardinals first-round pick Jonathan Cooper off waivers in October and he'll start for them at right guard on Sunday. It's the kind of low-risk move that could pay off for the Browns. Cooper was the seventh overall pick of the 2013 draft for a reason. (Pittsburgh No. 9, Baltimore No. 12, Cincinnati No. 25)
This article originally appeared on