Cleveland Browns: Week 13 draft position and NFL power rankings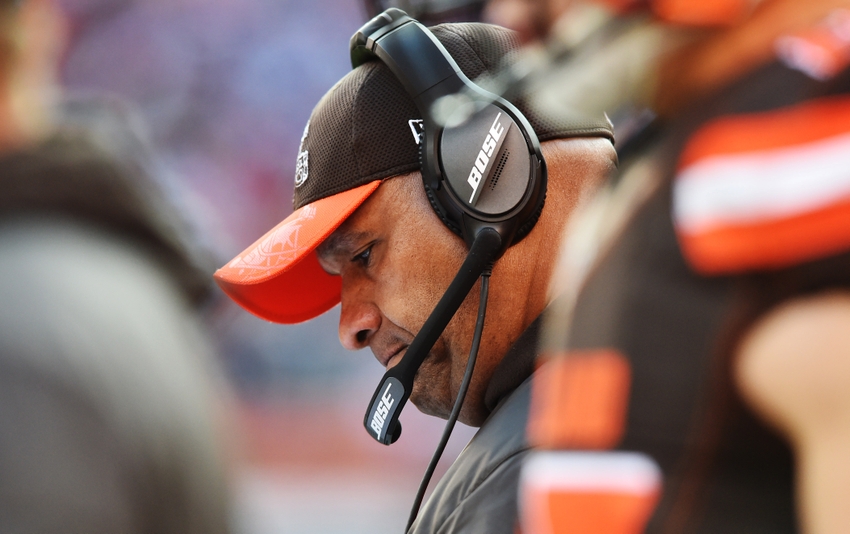 The Cleveland Browns may be at the bottom of the NFL power rankings, but they currently hold the lead in the race for the draft's top pick.
As the NFL's only winless team, there is not much suspense about where the Cleveland Browns fall in the various weekly NFL power rankings.
Whether or not the Browns deserve to be at the bottom is a bit debatable, perhaps, as there is some discernible difference between an 0-12 team clearly rebuilding for the future and a one- or two-win team floundering through the season.
More important than where the Browns lie in an arbitrary ranking of the league's 32 teams is where they sit in the all-important race for the top overall pick in the 2017 NFL Draft.
As it currently stands, the Browns hold not only their own first-round pick but also the first-round selection of the Philadelphia Eagles. That selection did not look so hot three weeks into the season when the Eagles were 3-0  — thanks in large part to wins over the Browns and Chicago Bears, who are currently a combined 2-21.
But now that the Eagles are facing real competition — and teams have film on alleged Hall of Fame quarterback Carson Wentz – the Eagles have lost six of their past eight games and that draft pick is once again looking sweet.
The Browns are currently in control of the No. 1 overall pick and would also select anywhere between No. 10 and No. 14 with the Eagles pick, based on the current standings and how the tie breakers ultimately shake out.
While the Browns keep an eye on the Eagles, they have to be careful not to slip up and lose their grasp on the top pick. The Bears and Jacksonville Jaguars both have an insurmountable two-game lead on the Browns, but the San Francisco 49ers have just one win and loom as a threat over the final month of the season.
Because the 49ers currently have a weaker strength of schedule than the Browns – .559 vs. .573 – if Cleveland somehow manages to win a game and finishes the year tied with the 49ers, San Francisco would claim the top pick based on the tie breaker.
And wouldn't that be a fitting end to the season?
The 49ers best bets for a win should come the next two weeks when they travel to Chicago to face the Bears and then host the New York Jets. They also have a Christmas Eve date with the Los Angeles Rams and rookie quarterback Jared Goff.
Here's hoping the 49ers can pull out at least one of those games and give the Browns some breathing room.
Now, on to the rankings.
Cameron DaSilva at Fox Sports: 
No. 32: The Browns hung in there with the 8-3 Giants, but Josh McCown simply isn't good enough to win many, if any, football games. Cleveland just has to hope it can win one game this season to avoid the embarrassment of 0-16. At least it's close to locking up a top-three pick. (Pittsburgh No. 12, Baltimore No. 19, Cincinnati No. 27)
Chris Simms at Bleacher Report: 
No. 32: I've called for Josh McCown to lead the winless Browns for weeks. You saw why in Week 12. McCown isn't Tom Brady, but he gives Cleveland its greatest chance to win one (one!) game in 2016. Some of the downfield throws he made to Terrelle Pryor and Corey Coleman on Sunday confirm that. If only Cleveland's offensive line played at that same level. New York's pass rush nailed down seven sacks and rattled McCown enough to force the game-turning fumble returned for a touchdown by Jason Pierre-Paul. That should be a priority for coach Hue Jackson in free agency and the draft. (Baltimore No. 12, Pittsburgh No. 13, Cincinnati No. 24)
No. 32: Well, if you made it this far down the Week 13 Power Rankings, we salute you. If you didn't happen to catch Cleveland's game this weekend, the Browns lost by two touchdowns, which counts as a close game for them these days. If you haven't perused the standings lately, they're 0-12. Josh McCown put in a solid day's work, minus a costly fumble. The running game was absent again — unless you count how Cleveland is sprinting toward the No. 1 pick. (Baltimore No. 13, Pittsburgh No. 14, Cincinnati No. 27)
No. 32: The Browns enter their bye week 0-12, but let's focus on the positives. The Browns have converted a league-best 10 fourth downs. Terrelle Pryor Sr. is eighth in the NFL in receiving. The team is eighth in average yards per rush. Christian Kirksey is second in tackles. The Cavs are 13-2. (Pittsburgh No. 9, Baltimore No. 13, Cincinnati No. 28)
No. 32: Hue Jackson was late to his postgame press conference, arriving almost 40 minutes after the game was done. Marla Ridenour of the Akron Beacon Journal said Jackson was late because he had a long meeting with upper management. Jackson insisted the meeting had nothing to do with his job security. I believe that. However, I also know Browns owner Jimmy Haslam has been impatient and unable to stick to any plan, and it would set the Browns back again to push the reset button if they go 0-16.(Pittsburgh No. 11, Baltimore No. 15, Cincinnati No. 26)
More from Dawg Pound Daily
This article originally appeared on