Cleveland Browns: Week 10 NFL power rankings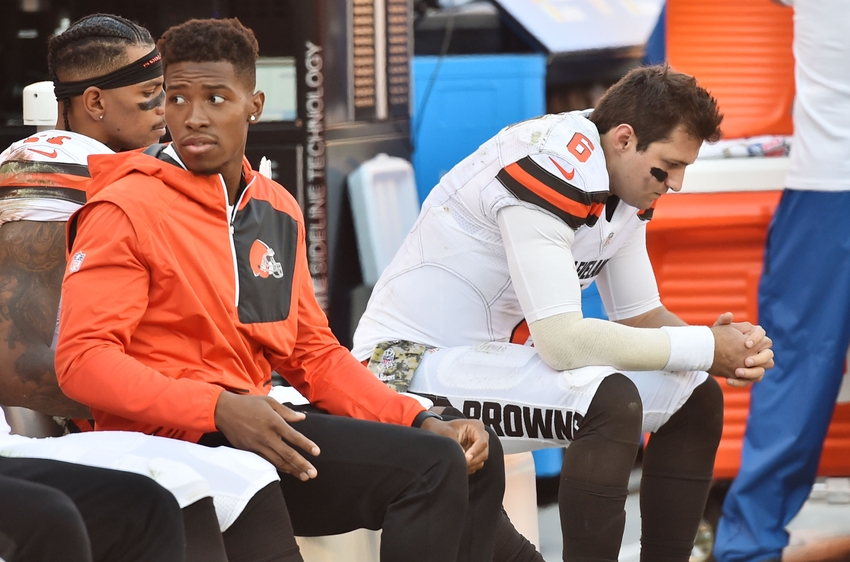 The Cleveland Browns are just seven games away from immortality. How does an 0-9 team rank in the weekly NFL power rankings?
The Cleveland Browns can't do it … can they?
It seemed unlikely when the season kicked off in September that the Browns would run the table and post the NFL's first 0-16 season since the Detroit Lions pulled it off in 2008.
With just seven games to go, and with an offense that can't score more than 14 points and a defense that can't give up less than 30, it seems more and more likely.
"We really can't worry about that kind of stuff. All we can worry about is this week," tight end Gary Barnidge said on Monday. "We can't worry about the future games and stuff. We can only worry about what we have coming up this Thursday. The rest of it will play itself out."
While 0-16 may seem like a foregone conclusion, linebacker Christian Kirksey is having none of that talk.
"We're not going to go 0-16," Kirksey told cleveland.com. "That's for a fact. We're not doing that. Things are going to get on a roll, and we've just got to keep fighting."
The Browns will take up the fight again on Thursday when they make their lone primetime appearance of the season in a game against the Baltimore Ravens. Until then, let's see where they sit in the weekly NFL power rankings.
Cameron DaSilva at Fox Sports:
No. 32: The Browns remain the worst team in the league and are in serious danger of going 0-16. While they don't lack effort on the field, their underwhelming talent and youth is a problem on both offense and defense. At least rookie QB Cody Kessler has played relatively well and avoided mistakes this season.(Pittsburgh No. 15, Baltimore No. 18, Cincinnati No. 25)
Chris Simms at Bleacher Report:
No. 31: Do you want to win a football game? Hue Jackson needs to answer that question. By sitting Josh McCown—the superior quarterback—he's signaling to his team it's all about 2017. Cleveland's defense needs to ask itself the same question. It was undoubtedly outclassed Sunday against Dallas' physical attack. I'm surprised coordinator Ray Horton didn't come up with something new or different to plug all the Cowboys' running lanes. (Baltimore No. 17, Cincinnati No. 18, Pittsburgh No. 19)
No. 32: While we're on the subject, the most fight the Browns employed on Sunday was from Cameron Erving, who went all Adonis Creed on Cowboys defensive lineman David Irving. In a related vein, the last time Cleveland toppled Dallas was in Irving, Texas, back in 1994. The late, great Eric Turner stopped Jay Novacek just short of the goal line in a game that ultimately sent the Browns to the playoffs. Anyone remember that? Red-zone defense was a problem Sunday, as Dallas went 3 for 3 in the RZ. Make that 4 for 4. Wait, make that 4 for 5. Yeah, I was typing this blurb while watching the second half. Cleveland did finally stop the Cowboys inside the 20 … when Mark Sanchez knelt down in victory formation.(Baltimore No. 19, Pittsburgh No. 20, Cincinnati No. 21)
ESPN:
No. 32: 0: The Browns remain the only winless team in the NFL this season. It's the first time since 1975 that the franchise has started 0-9. 15 percent: According to NFL FPI, the Browns have a 15 percent chance of losing out. No other team has more than a 5 percent chance of doing so. (Cincinnati No. 8, Pittsburgh No. 9, Baltimore No. 15)
No. 31: "We're not going to go 0-16," Browns linebacker Chris Kirksey told cleveland.com after Sunday's loss. "That's for a fact. We're not doing that." While you can't pick any game as The One the Browns will win, you give any NFL team seven shots at a win and odds are it'll get one. I don't think they're going winless. (Pittsburgh No. 10, Cincinnati No. 18, Baltimore No. 24)
More from Dawg Pound Daily
This article originally appeared on