Cleveland Browns vs. Dallas Cowboys: Q&A with The Landry Hat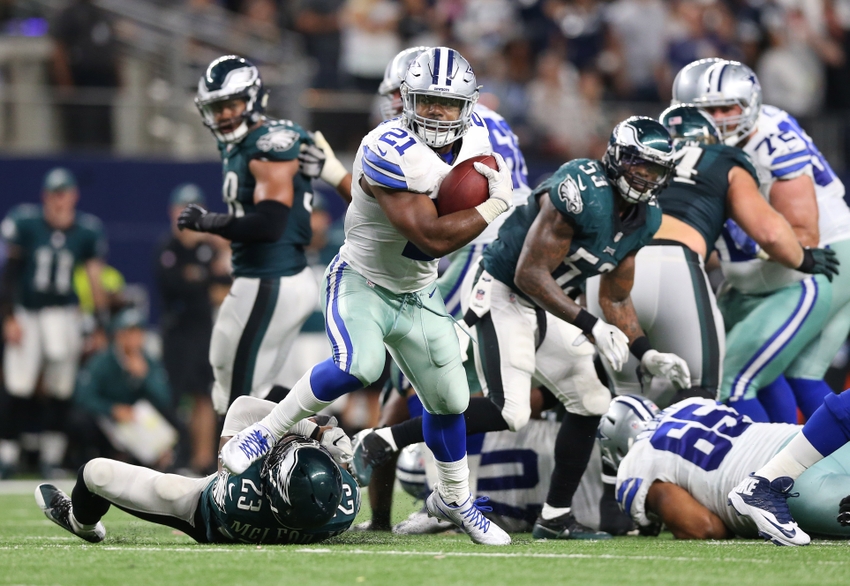 The Cleveland Browns will host the Dallas Cowboys on Sunday. We caught up with Steven Mullenax from The Landry Hat to talk about the game.
The Cleveland Browns will take their winless record onto the FirstEnergy Stadium field on Sunday against the 6-1 Dallas Cowboys.
The Cowboys are riding a six-game winning streak behind rookie quarterback Dak Prescott, who has to be one of the biggest surprises on the season. Cleveland, on the other hand, has lost 26 of its last 29 games dating back to the 2014 season.
Dallas also has the league's top rushing attack at 164.9 yards per game, while the Browns counter with the 31st-ranked rushing defense, giving up 143.8 yards per game and 4.8 yards per rush.
To learn a bit more about what the Browns are getting themselves into this week, we turned to Steven Mullenax from The Landry Hat for a Q&A on the game.
Question: So who is the quarterback going to be on Sunday?
Steven: Dak Prescott. Dallas Cowboys owner and general manager Jerry Jones announced that fact right after their win over the Philadelphia Eagles last Sunday night. The quickness in which Jones made the announcement, which he clarified as simply his own belief, have many believing Prescott has been cemented as the starter under center.
Question: Seriously, though, how impressive has Dak Prescott been this season and what will happen if/when Tony Romo is cleared to play?
Steven: Prescott has been very impressive. In fact, the 23-year old has looked like a wily veteran for most of the season. In Sunday night's overtime victory over the Eagles, Prescott finally looked like a rookie. He missed reads, struggled with accuracy and forced the ball to All-Pro wide receiver Dez Bryant far too many times. But Prescott was able to pull his game together, tie the game to take into overtime and led a game-winning drive. It showed fans that he can play like a rookie and still find a way to win.
Question: Ezekiel Elliott is off to a great start – 799 rushing yards and 5 yards per carry – and the Browns are 31st against the run. Are we going to see him go over 1,000 yards on the season this Sunday?
Steven: I don't believe so. Elliott hasn't rushed for more than 157 yards in a contest this season, so 201 yards seems like a stretch. But the Cowboys game plan is to establish the run regardless of the ranking of the opposing defense, so expect plenty of Zeke early and often. If the game gets out of hand, don't be surprised to see Dallas turn to back-up Alfred Morris to spell the rookie runner.
Question: The Dallas pass defense looks to be a weak spot. Is there something there that the Browns can exploit?
Steven: Absolutely. The Cowboys will be without two starters in their defensive secondary on Sunday. Both strong safety Barry Church (arm) and cornerback Morris Claiborne (groin) will miss multiple games due to injuries they suffered in Sunday's game against the Eagles. In their place will likely be four-year safety J.J. Wilcox and sixth-round rookie cornerback Anthony Brown. Both players are excellent tacklers but could certainly be exploited in coverage.
Question: Who is a player (or players) that Browns fans may not be familiar with to keep an eye on this Sunday?
Steven: On the defensive side of the ball, I'd have to say defensive linemen Terrell McClain and David Irving. McClain is a beast on the inside of the Cowboys defensive line and likely their best player on it. Irving made a splash against the Green Bay Packers by recording a whopping three forced fumbles in 19 snaps! Although he has a tendency to disappear far too often, the second-year defender can be a Pro Bowl-level talent in spurts.
Question: What's the prediction for Sunday? 
Steven: Despite the fear by many Cowboys fans that this might be a "trap" game, I'm not afraid of Dallas taking the Browns lightly. They''ll be fully prepared and will not underestimate a winless team.
This Cowboys team has won six-straight games lead by two talented rookies. Nothing I've seen through the first eight weeks of the regular season indicates to me that they will struggle in Cleveland. Especially considering the fact the Cowboys have defeated three teams this season (Philadelphia Eagles, Washington Redskins and the Cincinnati Bengals) that have defeated the Browns so far this year.
Dallas Cowboys 34, Cleveland Browns 20
More from Dawg Pound Daily
This article originally appeared on