Cleveland Browns three-round 2017 NFL Mock Draft
Sayre Bedinger/FanSided via NFL Mocks

Fansided
The Cleveland Browns need plenty of help in the 2017 NFL Draft. Here's how they can upgrade their roster in a big way with key young players…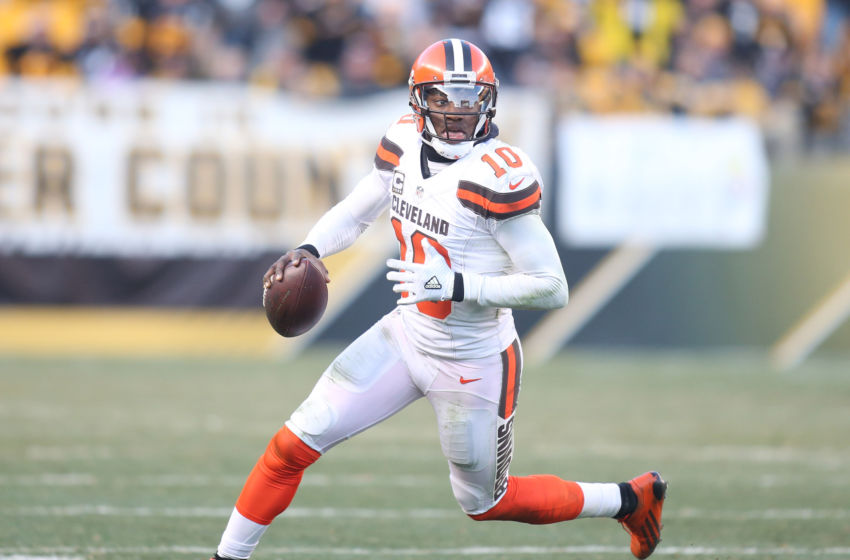 The Cleveland Browns are a mess, but it's clear that after a 1-15 season, they are embracing the process and really being patient with a complete overhaul of the franchise.
To be honest, that's probably exactly what they have needed. I don't even know if the foundation is fully in place for the Browns right now, but it feels like this is a team that, at any moment, could become very interesting.
That moment might come this offseason, as the Browns are armed with two first round draft picks, a very interesting new defensive cornerstone piece in Jamie Collins, and the top overall pick in the draft. They also have four of the top 51 selections overall, and the flexibility to add even more picks if they want.
I would have to imagine this will be one of the most active teams come time for the draft, and certainly one team in prime position to upgrade their roster. Here's an idea for how the first three rounds of the draft go wind up going for Cleveland…
1st Overall: Myles Garrett, ED, Texas A&M
I could certainly see the Browns going after a quarterback with this selection, but it will be hard to pass on the top defensive talent available in this year's draft. There will be some huge decisions to be made, but the Browns have one year left of Robert Griffin III, and they also have last year's third rounder Cody Kessler, who didn't set the world on fire but also out-played mine and many others' expectations in his rookie season.
Enter Myles Garrett, who has a chance to be the most dynamic and most impactful players from this year's draft class in general. The Browns bought low on Jamie Collins from the New England Patriots, and he's likely to receive a long-term extension or the franchise tag. Pairing him with an elite prospect like Garrett would be an outstanding beginning of a defensive rebuild in Cleveland.
Garrett has all the makings of an elite edge defender, equally capable against the run as he is against the pass and getting after the quarterback. Don't mistake Garrett for another former elite edge rushing prospect to come out of Texas A&M, however. This player is going to be able to have a similar impact on games as Von Miller, but won't be used the same at the next level really at all.
This is the most important pick of this new Cleveland regime. They can't miss, so they have to take a prospect that is almost certain to be a star.
12th Overall (from PHI): Leonard Fournette, RB, LSU
It's going to be tough not to project a quarterback in the first round for the Cleveland Browns, but if I'm playing the role of general manager, this is something that I would seriously consider. If there's a run on quarterbacks after the first overall pick, and there very well could be, who are you going to take at no. 12 overall?
Mitch Trubisky?
The Browns can't hedge all their bets for the future on someone who has started a baker's dozen games in college, and someone who is far from a sure thing. There are no certainties in the NFL Draft, but for my money, I'd take a shot at getting potentially the best offensive player in the draft in Leonard Fournette.
My guess is, by this point, the Browns aren't going to have a chance to get Dalvin Cook. He should be a top 10 selection, but I could see Fournette falling out of the top 10, and this would be a good move. Isaiah Crowell has proven himself capable when needed, but the Browns lack any sort of dynamic threat at the running back position.
Plus, this team lacks identity offensively. Injuries have played into that, but the possibilities with Fournette are endless. He's a rare talent and someone that can create offense. Even in Cleveland.
33rd Overall: Patrick Mahomes, QB, Texas Tech
For me, there's no more intriguing quarterback prospect in this year's draft class than Patrick Mahomes. Of course, if you know me, you know I have a deep love for DeShaun Watson, but that's a post for another day.
If the Browns opt to pass on quarterbacks in the first round, there's a decent chance they could take one in the second. Whatever quarterback the Browns draft, they will have a chance to start on opening day. I know Mahomes has a ton of work to do in getting up to speed with an NFL offense coming from Texas Tech, but the raw skills are there for this kid to be a stud at the next level.
His football instincts are off the charts. His arm strength is phenomenal. His athletic ability allows him to extend plays and create offense with his legs. There's no doubt about it, Mahomes has big time NFL potential and I think he can realize it much more quickly under the tutelage of Hue Jackson.
51st Overall (from TEN): Budda Baker, S, Washington
It's time for a secondary overhaul in Cleveland, starting with the safety position. Budda Baker doesn't have elite measurables but his productivity and excellence in coverage will be most-welcome in the back end of this defense.
He makes plays all over the field, racking up 71 tackles, 10 tackles for loss, three sacks, two interceptions, six pass breakups, and a forced fumble. The Browns really have no one at safety that is irreplaceable, so Baker would have a decent chance of stepping into a starting role right away with this team.
Baker was a consensus first-team All-American this past year for the Huskies. He's been a standout ever since he stepped foot on the field for Washington and would be a big time pickup for Cleveland at this point in the second round.
65th Overall: Jourdan Lewis, CB, Michigan
Lewis isn't the biggest cornerback prospect, but he's one of the best man-to-man corners I have seen in college this season.
This kid is just a playmaker in every sense of the word. He closes on the ball incredibly well, plays physical for his size, and is instinctive. He knows what the quarterback is trying to do, and he's capable of running routes for a receiver.
He's not flawless as a prospect, as his size can be a detriment against bigger receivers and in the running game, but on the opposite side of Joe Haden, this is a player that can make a huge impact right away in the NFL. I think the Browns would be coming away with yet another instant starter here at the top of the third round, getting one of the best individual players from one of the best defensive units in college football.
This article originally appeared on