Cleveland Browns: Terrelle Pryor key to team's first victory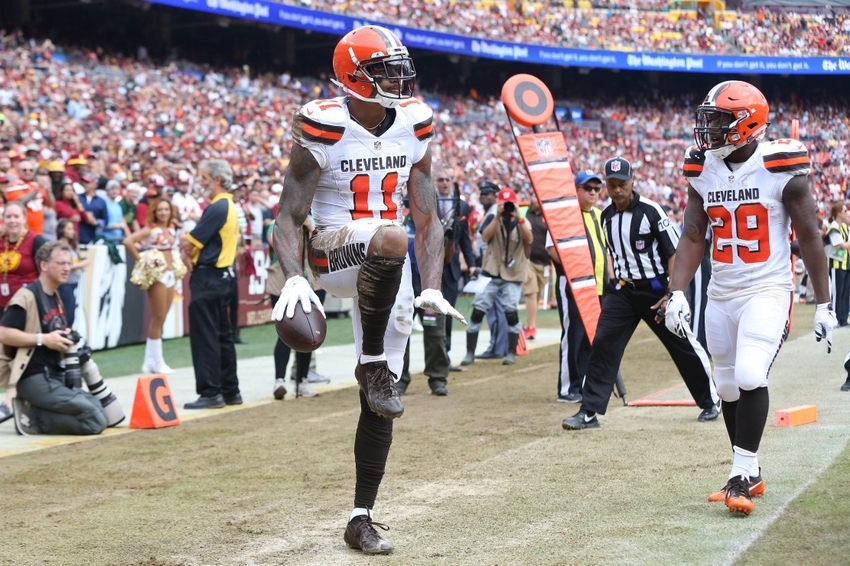 If the Cleveland Browns are going to pick up a win in 2016, Terrelle Pryor will need to be involved in all aspects of the offense during the final four games.
After 12 weeks of losing, it would be nice if the Cleveland Browns won just so we could stop talking about 0-16. The team just needs to pick up a single win to make 1-15 sound like great news.
But if the Browns are going to do the improbable and pick up a win, one player in particular will have to step up and do it all for the Browns on offense. That player is Terrelle Pryor.
Pryor had a big game in Week 12 against the New York Giants, hauling in 12 catches for 131 yards, but was unable to score a touchdown. That made it three straight games with a touchdown for Pryor.
It is hard to blame Pryor for only having four touchdowns on the season as he has had to try to find chemistry with more quarterbacks in 12 games than some receivers may play with in an entire career.
Pryor reaching the end zone isn't a necessary recipe for success, but he does need to be used in all facets of the offense if this team is going to pick up a win in the final four weeks.
The one time the Browns used Pryor in every way possible came in Week 3, when the Browns were a made field goal away from beating the Miami Dolphins and getting off to a respectable 1-2 start. Pryor finished that game with 144 receiving yards, 21 rushing yards, and 35 passing yards.
Since then, Pryor has added a total of zero yards to his rushing total, while the thought of using him in the passing game has also faded. After using this formula in the closest game of the season, why not go back to it this Sunday against the Cincinnati Bengals? Is there really anything to lose?
Hue Jackson must center the offense around Pryor on Sunday. No matter who starts at quarterback, things aren't going to go smoothly. Putting Pryor back there in Wildcat formations at least adds an extra element for the Bengals to defend, instead of just blitzing every time on the Browns' obvious run or pass formations.
This does not mean Pryor should line up in the backfield 20 times on Sunday, but he needs to add some element of surprise to the offense. Pryor has not even had a single rushing attempt in the past six games. If the rest of the offense is doing so bad, Jackson should let the best player on the field get as many touches as possible.
More from Dawg Pound Daily
This article originally appeared on