Cleveland Browns: Terrelle Pryor a Lone Bright Spot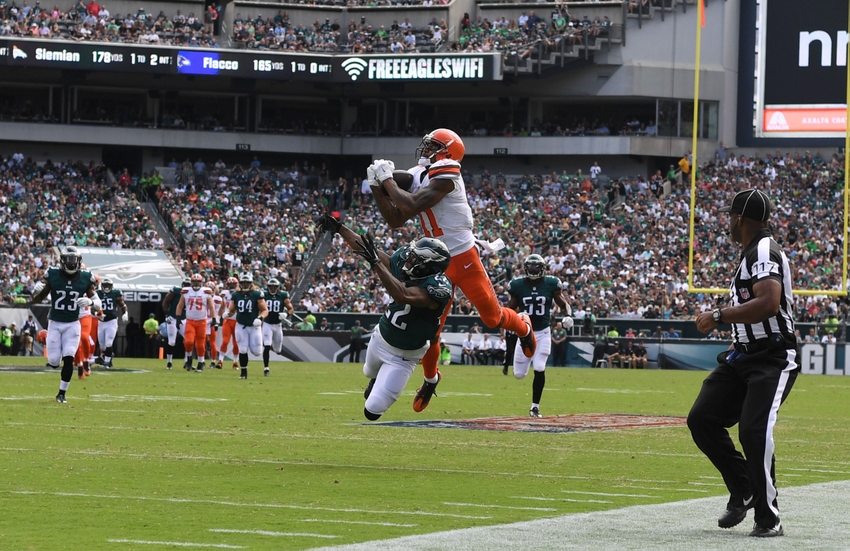 Terrelle Pryor is finally contributing as a wide receiver in the NFL. He's the bright spot in the Cleveland Browns offense
For the Cleveland Browns, this is a bit of a throwaway season. Since Week 1, the team has started a myriad of quarterbacks. The offense isn't great and the defense is bad. This team currently sits with a winless 0-5 record, and the chances of them making the playoffs are slim-to-none.
Despite all the negativity, though, Terrelle Pryor is giving Browns' fans something to be happy about. I've been on the Terrelle Pryor wide receiver bandwagon since the day he announced he was converting from quarterback.
Seriously, it was one of the first things I posted on Spin Zone. How much did I believe in Pryor? So much so that I literally wrote another piece the following year, still praising his athletic ability.
Here's an excerpt from that piece:
"I would go as far as saying when he was a quarterback, Pryor was the unquestioned best athlete at the position, with names like Russell Wilson, Colin Kaepernick and Robert Griffin III as close seconds … The player who once refused to switch to wide receiver because of his desire to make it as a quarterback has embraced the change and won't let anyone outwork him."
Pryor's receiver renaissance has been a long time coming. The guy deserves it. Pryor worked his you-know-what off to make the smooth transformation. Although Pryor is surprising some, his success shouldn't come as a complete surprise. You could make the serious argument that he's one of the best natural athletes in the entire league.
The one thing that held Pryor back from making noise at the receiver position was catching ability. Obviously, catching passes in laid-back, pre-game warm ups is different from catching passes in a real-life game. Pryor needed to adjust to game-time situations in which he would be corralling passes. That doesn't happen overnight, so it was surely going to take some time.
It seems like he's got the catching aspect down pat. What's Pryor doing now? Well, acting as a proverbial Swiss-Army Knife for the Browns offense, that's what.
He's been the best thing about the Browns' passing attack. Pryor is giving Cleveland its best wide receiver since Josh Gordon lit up the gridiron back in 2013. While it's awesome to see Pryor shine as a receiver, my absolute favorite thing about his transformation is his swagger. He's an Ohio State product, so his confidence shouldn't surprise anyone.
On his first touchdown reception of the year—I'm willing to bet more will be on their way—Pryor mimicked LeBron James' signature celebration. Simply put, Pryor oozes bravado on a team that desperately lacks it. Pryor is also engaging in off-field antics as well, which is commonplace in today's NFL.
Before the Browns' clash with Washington, Pryor had some choice words for Josh Norman.
Despite Cleveland losing that game, it takes some stones to attack one of the league's top corners. Pryor's made a fantastic impression on the Browns organization. During a recent edition of the NFL's Around the League podcast, the staff noted that Pryor is the lone untouchable on Cleveland's roster.
What that means is the Browns would trade former All-Pros like Joe Thomas, or Pro Bowlers like Joe Haden. The Browns will not, however, cut ties and jettison Pryor. Essentially, Pryor is a guy whom the Browns plan to build the offense around.
More from NFL Spin Zone
This article originally appeared on