Cleveland Browns: Stop Betting on Volatile Situations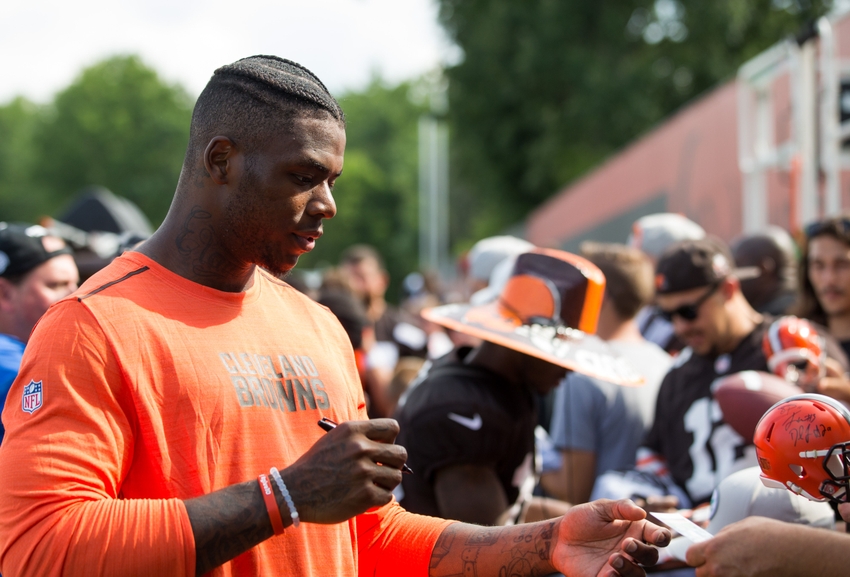 One of the issues that has held the Cleveland Browns back, especially in recent years, has been their continuing effort to both invest in and rely on idiots.
It has been announced that Josh Gordon is not going to come back to the Cleveland Browns after his suspension. Rather, he is checking himself into a rehab facility to take a more aggressive approach to his treatment and recovery. As great as that sounds, it is coming off as more of a PR play by Gordon to get out in front of yet another off field incident. Either way, the Browns got nothing for and nothing from Gordon.
First, I hope Gordon can finally get his life under control and get healthy for his sake. And if he can do it for another team, assuming any of the other 31 teams want to take him, so be it. The bottom line is the Browns need to move on and stop letting him hold them hostage.
Gordon's potential has held this team hostage since his All-Pro performance in 2013 when he was the best receiver in the week in only 12 games. Three years later, the team gave him his umpteenth chance and he appears to have blown it. Fortunately, this team did prepare for life without Gordon by drafting four wide receivers in the 2016 NFL Draft.
Gordon is only the latest example of this insistence on trying to take a shortcut to building a good team. The Browns managed to step through a minefield of elite talent in the first round of the 2014 NFL Draft and take two of the biggest busts in their team's history with Johnny Manziel and Justin Gilbert.
Idiot may not be politically correct, especially when substance abuse becomes involved, but it applies when the problems they had were known about before they were drafted. And they make the people who bet their jobs on them look stupid and none of them are still employed by the team.
Gordon has not gone a year without a drug related issue going back to high school. He was kicked out of Baylor because of drug use. Baylor. The program headed by Art Briles that helped cover up any number of sexual assaults and other felonious behaviors. The same Baylor program that felt Shawn Oakman, currently waiting for court due to a sexual assault charge, was deemed a good enough role model to have speak to the team after a victory this year.
That program said Josh Gordon was too much of a problem and had to go. The Browns used a second round pick on him in the supplemental draft in 2012. And in a shocking turn of events, his problem with drugs carried over into the NFL where it has never gone away. Chance after chance, the team kept him.
Joe Banner tried to trade Josh Gordon during his tenure with the team. The Banner led Browns had a deal in place to send Gordon to a team (believed to be the San Francisco 49ers) for a second round pick, but the move was nixed by owner Jimmy Haslam before it could go through.
Manziel had substance abuse issues in college. He had a counselor for alcohol during his time at Texas A&M and his father made news when he publicly stated that he felt his son used alcohol to cope among other concerning statements in a magazine article that came out well before the draft.
The Browns took him anyway and Haslam, in a press conference, famously told the media the team had no idea about the issues Manziel was dealing with when they got him. Either a complete lie (most likely) or saying the organization was too stupid to do their basic homework on a prospect. Manziel's rookie year was a complete waste and it didn't get much better in his sophomore campaign.
The Browns never even met Justin Gilbert before taking him eight overall in the same 2014 NFL Draft. People who had gotten a chance to meet Gilbert came away with major concerns about his personality. That it was his personality that was holding him back as a technical corner at Oklahoma State and he basically thought he was too good to bother learning how to play it.
The Browns selected him anyway and that attitude was a major problem. Gilbert was either late or missed any number of meetings because he overslept and he was outplayed by most every corner on the team in practice. He was unusable on the field. It never improved and two years later, Gilbert has been shipped to the Pittsburgh Steelers for a sixth round pick in the 2018 NFL Draft.
Here are three major investments by the Browns. Two firsts and a second round pick. Those players held the team hostage in they tried to address their particular positions, how they had to use roster space on them and had to try to cater to them to try to make them work. They set the team back. In all, the Browns got one great 12 game stretch from Gordon in 2013 and a sixth round pick in the 2018 Draft.
The Browns must stop betting on idiots. So much is made of talent and how teams can't win the Super Bowl with choir boys. Maybe that's true, but like any business, the teams that have the most success are built on people that are reliable. There are players who make mistakes, but it's imperative for the Browns to do their research as to who gets it and wants to be an NFL player and who doesn't.
In the 2016 NFL Draft, the Browns did a great job. Not a single player selected had off field issues of any kind. And miraculously, they managed to find talented football players. It can be done.
This doesn't mean the Browns have to avoid every single player that has had some sort of incident off the field.
They have to find a good answer to the following question: Is that mistake typical of their character or was it an isolated misstep and one they aren't likely to repeat? Whether it's marijuana, a DUI or something else, some things shouldn't necessarily be viewed as deal breakers. They aren't good, but aren't the end of the world.
Along with that, it makes a big difference as to when the team is taking the guys with character question marks. Is it on the first two days of the draft or is it on day three?
A good example may prove to be Dak Prescott. A fourth round pick out of Mississippi State by the Dallas Cowboys, Prescott may have knocked himself right out of contention for the Browns and knocked himself down draft boards because of a DUI arrest not long before the draft. If that was an isolated mistake and out of character for Prescott, the Cowboys may well have gotten a steal.
Obviously if Prescott has more issues going forward, the Browns and other teams that passed on Prescott may look smart. For now, the Cowboys look brilliant as Prescott has been outstanding this season in relief of an injured Tony Romo.
Even if the Cowboys ultimately get burned on the Prescott pick, it wasn't a massive investment. His play to this point may already have more than accounted for the fourth round pick used to get him.
Browns defensive lineman Armonty Bryant seems to fit in the 'idiot' category. He got a DUI almost immediately after being drafted by the Browns in 2013 in addition to having some drug related arrests while he was in college. Bryant is currently serving a suspension because of a felony drug arrest from this past Christmas.
Bryant was also picked in the seventh round. The risk and investment is next to nothing. If he's a problem, they can get rid of him. If Bryant is picked in the first or second round, they probably have to deal it at least for a little while. Should the Browns cut Bryant immediately after his reinstatement, they've already gotten their money's worth on him.
Fans will cite success stories like Tyrann Mathieu as a reason to bet on someone with a horrible track record. What they fail to acknowledge or accept is that Mathieu's success was based so much on where he went when he was drafted.
Mathieu was selected by the Arizona Cardinals and the team had done their homework with former LSU Tiger and teammate Patrick Peterson regarding Mathieu. Not only did they feel good that Mathieu was committed to football, but they had someone who knew Mathieu in house who was willing and able to help him stay on the right path.
The Browns didn't have that guy for Mathieu. Had the Browns selected him, maybe he still succeeds and is every bit the player he is for the Cardinals but it's quite possible that the lack of an influence like Peterson would have had him continue on the same path he was during his time in Baton Rouge.
The Browns need to use their top picks on foundation players. That goes beyond just talent. It goes to the character of the team. Who are the Browns going to be on the field as well as off of it? Players like Joe Thomas, Joel Bitonio, Chris Kirksey and seemingly Terrelle Pryor. Hopefully players like Danny Shelton, Corey Coleman and Carl Nassib can be added to those ranks.
The Browns have positions they have to address in this year's draft, but if the 2016 draft class was a clue, who they are is just as important as what they can do. With a scouting staff in place for the full year, it might be easier to get more of a feel for risk/reward of character questions but they should stick closely to the formula they had this past year, especially early in the draft.
There is no shortcut to being good in the NFL. Teams need to have a franchise quarterback and they have to be built on reliable players to have any type of sustained success. They don't have to be saints but they need to be reliable. The amount of stress serial idiots put on an organization from top to bottom does lasting damage, which has plagued the Browns. If this regime is to be successful, it must stop betting on idiots, be it in the draft or free agency. To this point, they seem to have the same idea.
This article originally appeared on